Research conducted by Google showed that 53% of users drop off if a site loads its content in three seconds. Hence, having the best CDN providers is a must to improve the site's speed and performance.
Well, that's true!
The loading speed of your website does matter and has a significant influence on user experience (UX) and conversion rates. When it comes to loading time, it's called Latency. And, of course, most of you have experienced it already.
Latency is the delay when you access a website before it fully loads the content to appear on the screen. Several factors cause this delay duration, but mainly because of the distance between you and the server where the website stores the content.
And there, CDN providers come in as a workaround. CDN is designed to shorten such a distance so that audiences all around the world can see your site in just less than 2 seconds.
In this article, we'll learn:
Let's read on to know more!
What is CDN?
CDN stands for Content Delivery Network. As its name stands for, this is a network that delivers content. It is a network of servers distributed geographically to help people across the world swiftly load web pages.
CDN oversees a quick transfer of the site's static contents such as images, HTML pages, videos, and CSS/JS files. These files are then cached in a network of servers so that CDN will serve users with copies of web pages from the nearest server location.
We did not even know that we interact with CDN every single day. No matter what content you read and watch on the website, there are CDNs behind every single text, image, or video loaded to your PC or desktop.
These days, CDN has its popularity among website owners and developers. No wonder most of the web traffic is now served via CDNs, even for major websites like Amazon and Netflix.
How Do CDNs Work?
As explained earlier, CDNs function to minimize the distance between your web's server and the visitors. A CDN caches the static content of your website and stores it in multiple locations or known as Points of Presence (PoPs).
Each PoP has caching servers in charge of delivering the site's content to visitors within its proximity. In other words, the content is provided to visitors from a closer source. Hence, CDNs can detect where the visitor's requests come from, and that way, the visitors have a faster loading time to see the webpages.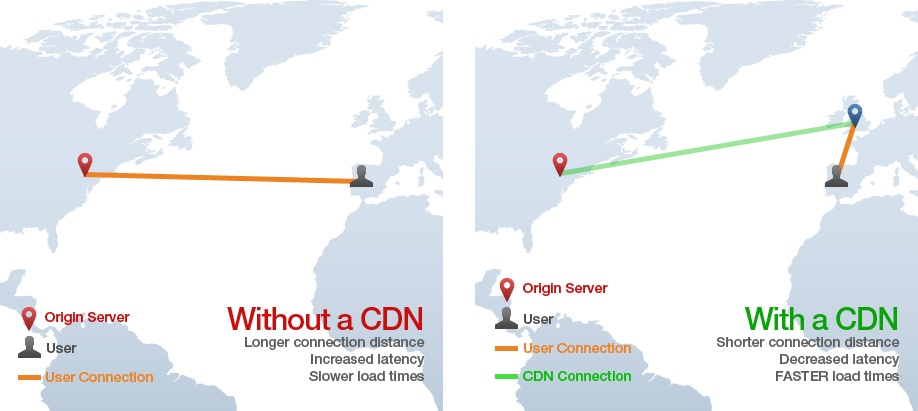 In a nutshell, CDN helps distribute your content in a cached version in so many places worldwide. As a result, it won't be time-consuming for visitors located far from the host server.
Let's say visitors from Indonesia access your UK-hosted website; it will be done through the nearby PoP, Singapore, for instance. They will see your site's content much faster instead of having their request travel over the Indian and back.
As we know that CDNs work to reduce the page load time, it does bring more benefits to your website.
Let's see what those are…
Why Are CDNs Important?
Best CDN providers will help you provide a much better UX that can attract customers and SERPs. You can leverage the existence of CDNs if you run an eCommerce business that is really eager to expand the sales area. Here are the benefits of using CDN on your website
1. Enhancing Website Security
Malicious attackers are the biggest threat in the digital world, where all kinds of transactions are done through the internet. Hence, the core competency of CDN is to serve cloud-based solutions and information security.
A Content Delivery Network can enhance website security by mitigating DDoS attacks and protecting websites from spammers over content delivery.
2. Elevating SEO Performance
As everyone knows that the faster a website is, the higher it will be ranked by search engines.
CDNs can speed up the website's loading time so that it is trusted by Google. That's a plus point to set your site apart from others that do not use CDNs.
Given that search engines prefer safe and fast websites, activating SSL is a must, and you can get it for free in some best CDN providers.
3. Reducing Latency and Increasing Website Speed
Well, CDN can hamper the wrong things to occur, such as Latency. As mentioned earlier, CDN stores static content such as HTML pages and images on multiple servers worldwide.
Therefore, when visitors access your site, CDN will point it to the closest server to them. This can reduce the server load and speed up the loading time of your site at once.
4. Reducing Bandwidth and Disk Usage
Bandwidth and disk usage are the primary expenses for using website hosting. Oftentimes, bandwidth can exceed existing capacity when there is huge traffic to the website.
Hence, you can use CDN to reduce the required amount of bandwidth to overcome the incoming requests to the server. CDNs help the origin server transfer the site's data through caching and store them in the Points of Presence (POPs).
5. Skyrocketing Content Availability
Since CDNs have POPs spread geographically, it increases website content availability. What we mean by availability is your website can be accessed by lots of visitors from all over the world.
Besides, CDN can handle requests from these visitors so that they can come to your website faster. And, of course, this helps skyrocketing conversion rates.
Best CDN Providers for WordPress
Everyone can set up a CDN on their site as it is not just for a business website. You can put it on in less than 5 minutes. Here we've picked out the best CDN providers to help accelerate your website, no matter how popular or extensive it is.
Those on the list are:
Without further ado, let's explore each CDN's features so you can determine which one is best for you.
1. Cloudflare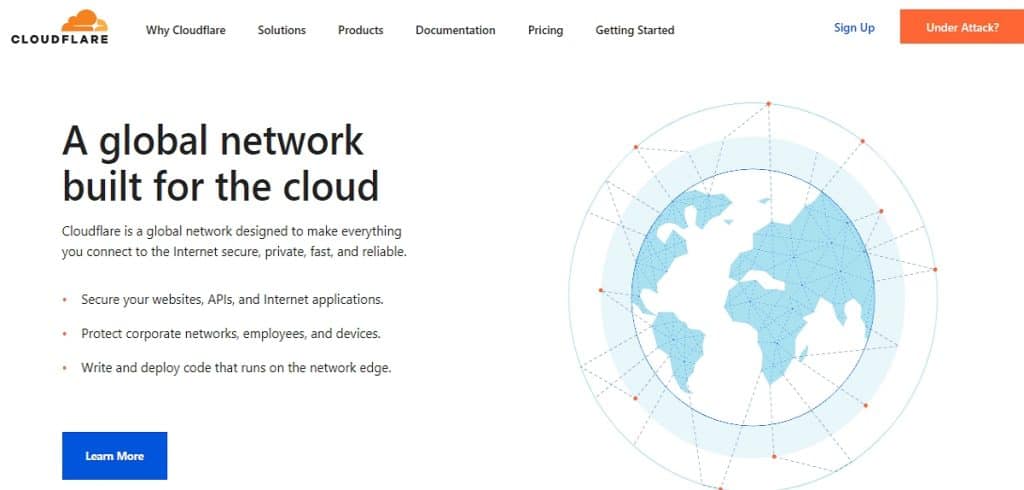 We believe that most of you are familiar with Cloudflare, a web performance and security company based in the US. Cloudflare CDN helps speed up websites by distributing its content on servers around the world.
Cloudflare has its spot in the ease of use and reliability of the services. No wonder Cloudflare is by far the most well-known free CDN solution as it occupies the most significant piece of the pie on the market.
Besides, Cloudflare is simple to set up since there is no need to write or even edit a single line of code. Update DNS nameservers to activate Cloudflare, and it will automatically kick in its service.
Nonetheless, should you be curious to take a look further, you will be surprised with its expert-level features and functionality. Among those are free SSL certificates, DDOS protection option, bot management, and many others.
Features Highlight:
Provide API for advanced users who want to take over the control of content caching and purging actions
POPs in 200 cities across six continents
Static and dynamic content delivery
HTTP/3 Support
Web Application Firewall (WAF)
HTTP2 prioritization
Image resizing request
2. KeyCDN
It's exciting to find out the best CDN provider that is not a US-based company. KeyCDN is from Switzerland, with its focus on data redundancy and customer experience.
KeyCDN is supported in a number of site-building apps like WordPress, Drupal, Joomla, and Magento. This is a good pick for those who need an easy-to-use budget CDN. Additionally, it fully supports IPv6 and has 34 data centers worldwide.
Furthermore, you can also find other additional features such as Block Referrer that blocks domains hotlinking content or image processing and custom Let's Encrypt SSL that keeps your site safe and trusted by visitors.
Features Highlight:
Gzip compression
Instant purge
Origin shield
Log forwarding
DDoS protection
Header control and zone alias
Real-time reports
3. MetaCDN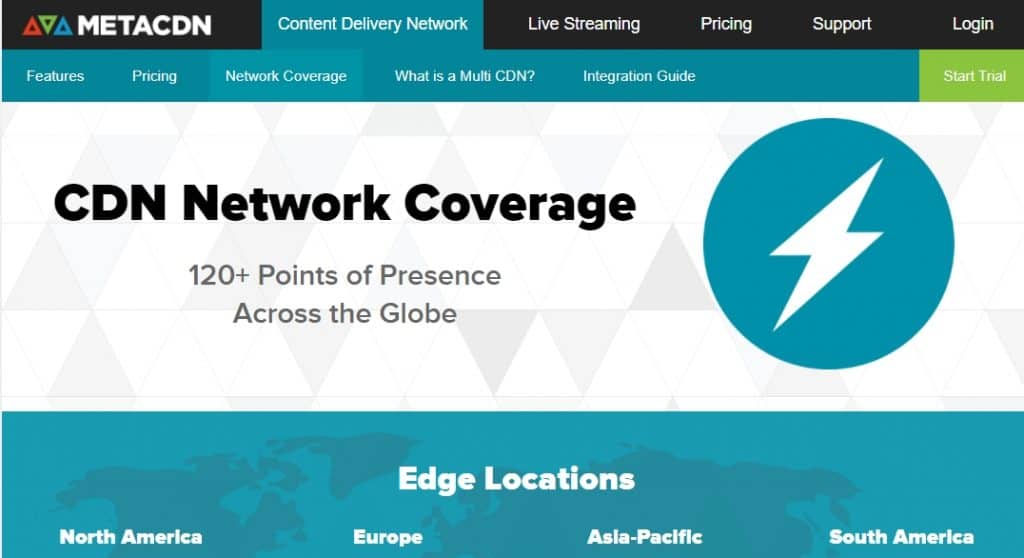 Another CDN service to give it a try is Australia's MetaCDN. It is indeed more than just an average CDN provider as it has 120+ POPs across four continents.
It leverages the services of the best cloud providers such as Verizon EdgeCast, AWS, and Azure. As a result, clients can access a robust network of optimized servers.
Due to its intelligent routing, MetaCDN can lower the Latency as your content loads from the location closest to the user, which accelerates website performance.
Besides, it has Quick Purge functionality that enables users to remove content from CDN servers with a push button. Also, you can keep an eye on everything by taking a peek at the MetaCDN dashboard that gives you detailed statistics and analytics.
Features Highlight:
Multi CDN networks
Smart routing
Quick purge
Credit rollover
Redundant backup system
4. Google Cloud CDN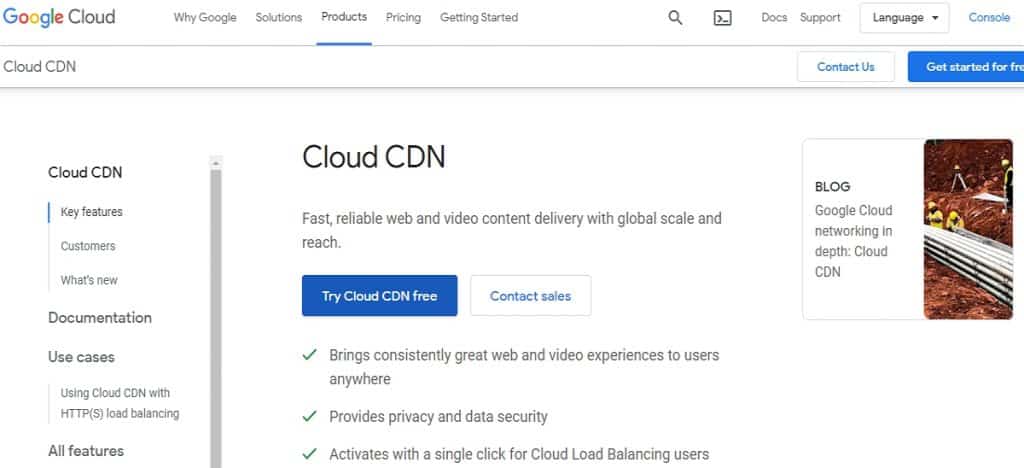 As its name refers to, Google Cloud CDN is a content delivery network that takes advantage of globally distributed POPs. It also leverages its presence to provide users with a better UX with the fastest and most optimized CDN.
Google Cloud has a highly scalable and reliable infrastructure that makes video and web content delivery more efficient. It also peers edge caches with all major end-user ISP to achieve interconnected points in the network.
Other than that, your site will get a unique single global IP address from this CDN provider. Therefore, your website can deliver content with consistent performance for both desktop and mobile versions.
Features Highlight:
Google Cloud integration
Real-time monitoring
Hybrid and multi-cloud architectures
Anycast architecture
HTTP/2 and QUIC
Free TLS/SSL certificates
5. Amazon CloudFront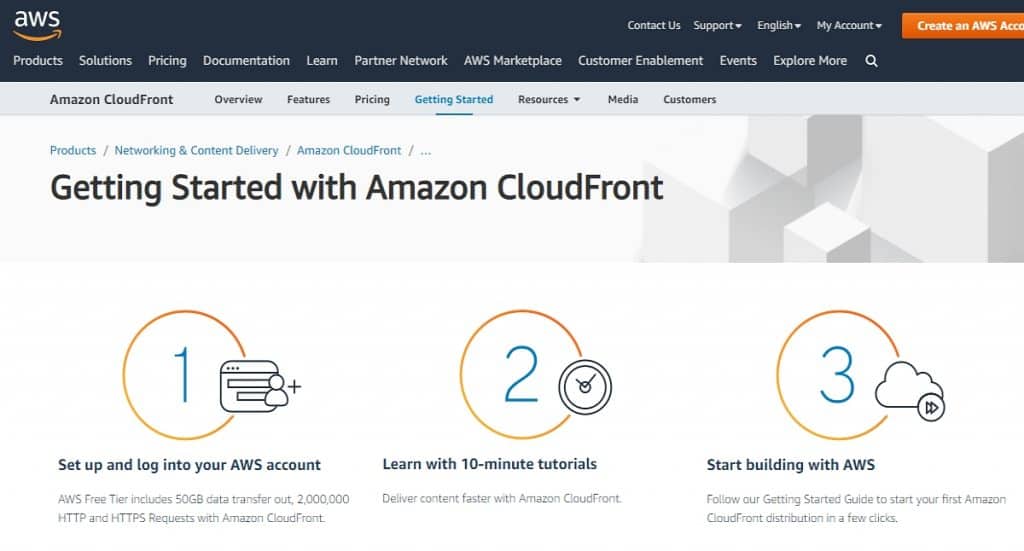 Amazon CloudFront is a highly customizable CDN offered by Amazon Web Services (AWS). As you might expect, CloudFront is fast, reliable, and has many advanced features.
With the help of cutting-edge technologies over a hundred edge servers in all continents, Amazon CloudFront can deliver impressive speed to end-users.
You can activate and use CloudFront without doing anything with the setting. However, a setup is needed for optimal results. You are allowed to customize the setting, such as enabling automatic Gzip compression for much better speed.
Another feature that sets CloudFront apart from other providers is the in-depth analysis showing details of the visitors such as used OS and device type. Also, you will be able to set up alerts to warn you if the data transfer usage reaches its limits.
Features Highlight:
HTTP and WebSocket protocols support
Full-featured API
Robust security (AWS Shield, AWS Web Application Firewall, AmazonRoute 53, HTTPS, SSL/TLS)
Callout:
Keep in mind that with all these advanced features, CloudFront does not offer free tech support.
6. Microsoft Azure CDN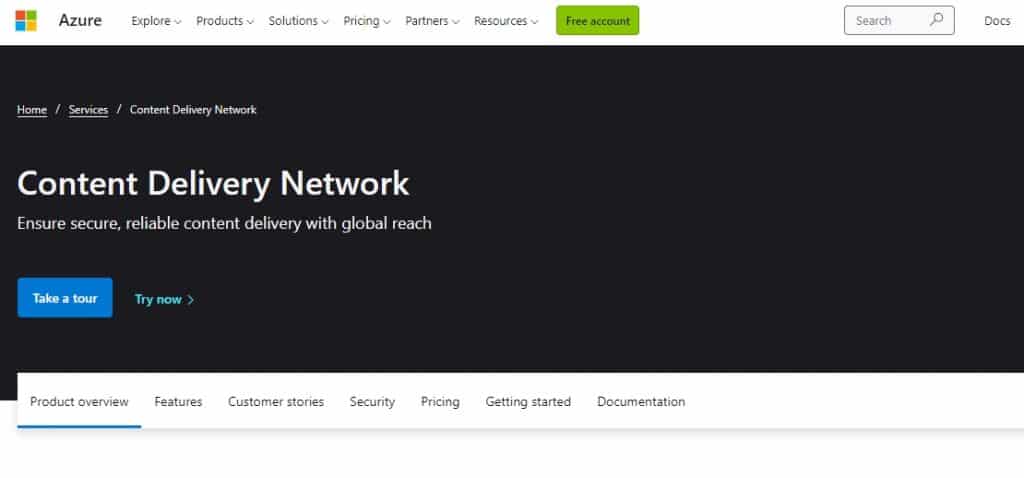 As we know that Microsoft Azure is a cloud computing service to build and manage applications and services, including CDN. Azure CDN operates globally and supports delivery for video, audio, images, applications, and other static contents.
As of September 2021, Azure CDN has 116 POPs (aka Edge locations/servers) in 100 metro cities worldwide. Therefore, you can leverage it to cache static assets of your website geographically so that visitors get a better user experience.
Although this CDN is under Microsoft, it does not apply to Microsoft's edge servers. It instead uses other networks: Standard Verizon, Standard Premium Verizon, and Standard Akamai.
Unfortunately, this is not the cheapest offer in terms of pricing as you may find after all that the price for using Microsoft technologies is worth paying.
Features Highlight:
DDoS Protection
HTTP Support
Dual-Stack Support (IPv4 and IPv6)
Query String cache
Fast purge
Real-time CDN status
7. Image CDN by JetPack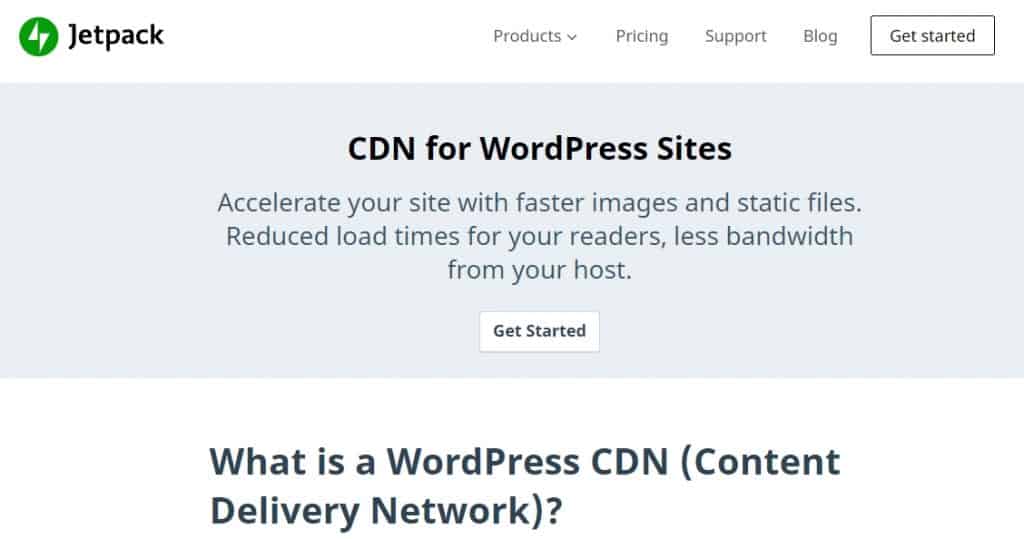 JetPack is a CDN explicitly built for WordPress sites, and it's free
It is one of the best CDN providers to help you serve images and static CSS and JavaScript files to speed up loading times for visitors. Consequently, it reduces server load and saves bandwidth.
The thing to bear in mind is that audio and video files are not supported in JetPack CDN. JetPack can only handle static files and image optimization.
If you want your site to load images faster, you can activate Jetpack Photon. "Photon" is an add-on included in JetPack to cache images and hosted on Automattic's servers.
Image CDN is simpler and easy to configure once you already install JetPack. Photon caches and stores your uploaded images in WordPress.com cloud (Automattic) instead of your host server.
Thanks to JetPack Photon for serving all images from WordPress large server so that it increases page load speed and all visitors can access your site significantly faster.
Features Highlight:
No coding required, just one click setup and install
Automatically serving static files from WordPress' servers around the world
Automatically resize images for mobile version
Unlimited number of files
8. StackPath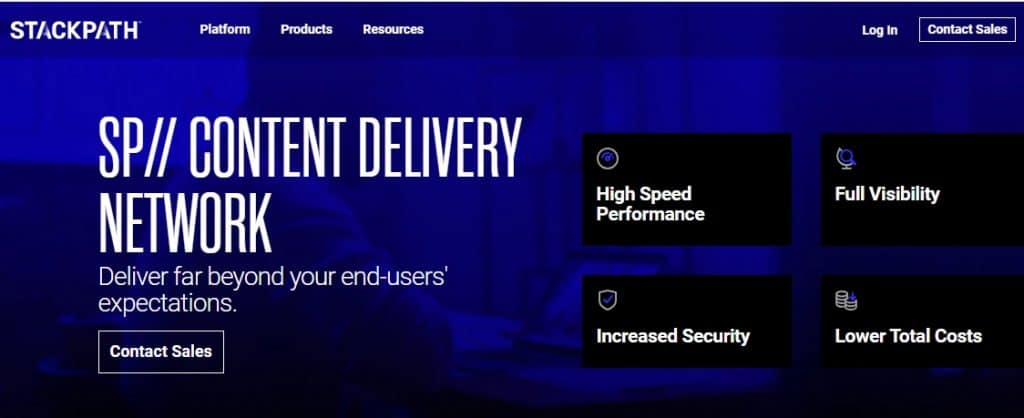 StackPath is one of the best CDN providers for its ease of use and top-notch security. No wonder more than 300,000 customers already take advantage of it to speed up their websites.
StackPath covers small operations and seems to only focus on the West Market. Why is it so? It only has 32 POPs, with 14 in North America and 9 in Europe, whereas the rest are in Asia, Australia, and South America.
This CDN is great for beginners, and it is user-friendly. It has a simple and intuitive dashboard equipped with a web console to manage settings. As a result, relative novices and less experienced users can seamlessly give it a try!
In terms of performance, StackPath seems excellent and consistent in the US, UK, and Europe. In contrast, the output in other PoPs (Asia and Australia) may sometimes not work correctly, given StackPath's focus is on the West.
Well-known for its tight security, StackPath comes with free shared SSL, Web Application Firewall, DDoS protection, and Edge Rules that allow users to customize StackPath CDN's behavior.
Features Highlight:
Intelligent and customizable caching rules
HTTP/2 and WebSocket support
GZip compression
Instant purge worldwide
Real-time analytics
9. Akamai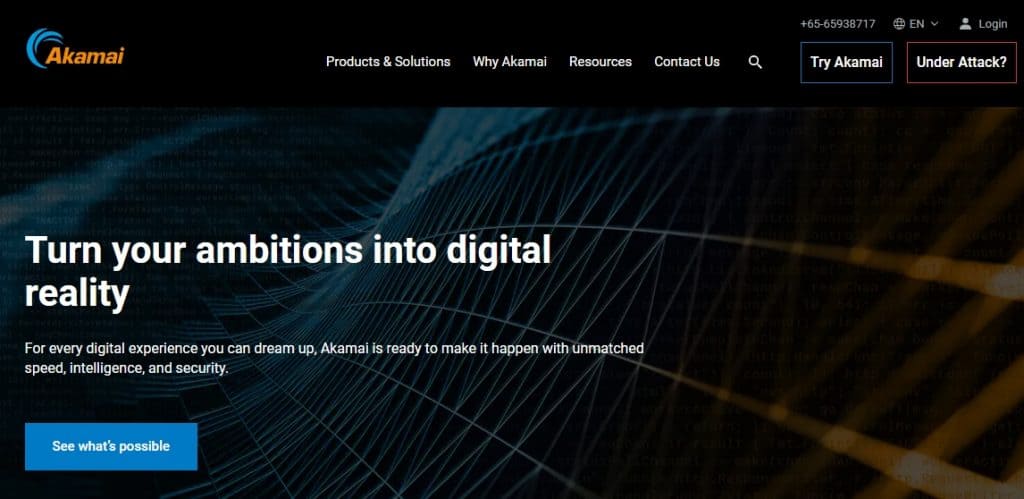 Akamai is one of the oldest CDN companies and mainly serves high-end users and large-scale businesses. In terms of coverage, it is also one of the largest CDN providers, given that it has an impressive network of servers.
Akamai serves up to 30% of all web traffic with around 275,000 servers in more than130 countries. It is undoubtedly so popular internationally since the company also provides knowledgeable customer support all around the clock.
The content delivery speed in Akamai is undergone through Cisco IWAN boosted by Akamai Connect. Besides, it also protects against many cyber threats like DDoS attacks, SQL injections, and phishing.
Akamai has an impressive performance and has even been ranked 5th as the fastest services worldwide by CDNPerf. This CDN is indeed more leaned toward professionals and tech-savvy experts. Hence, the setting might be a bit intimidating for newbies and beginners.
Features Highlight:
DDoS protection
Extensive Support for IP video
Customizable CDN
Impressive coverage
Amazing performance
Protection against SQL injections and XSS attacks
10. Sucuri
Our last recommendation for the best CDN providers is Sucuri.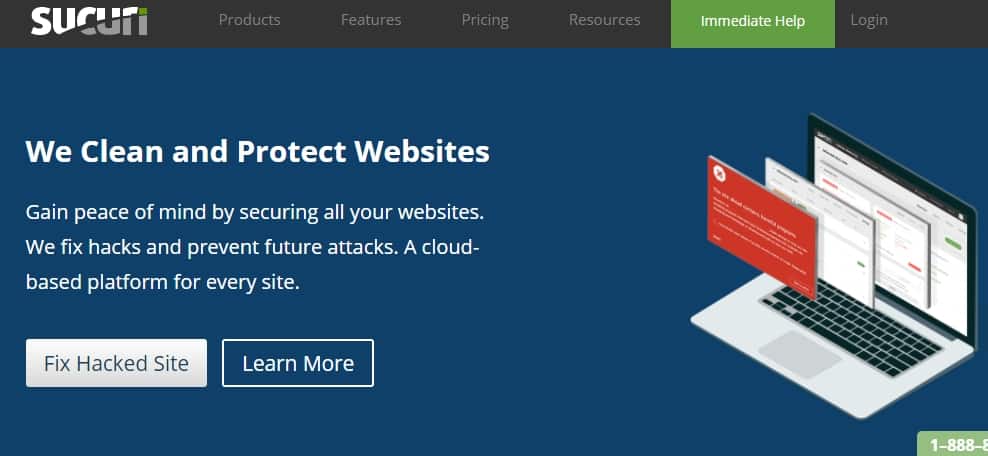 Sucuri is a good workaround if you want to boost the security system on your website. Why? Sucuri is known as a CDN provider for security purposes, and they put it on top.
No need to worry about setting up; the UI is friendly and easy for newbies, though. Should you get an issue, live support is always ready to sort it out.
Sucuri helps your website stay safe all day and night from DDoS attacks, bot traffic, and malicious codes that can corrupt your content and ruin web pages.
This CDN service also has an intrusion detection system to track SQL, JavaScript, and malware injections. If the system finds them, you'll receive an email notification to clean them up right away.
Then, what? Fret not, and you can sleep like a baby at night after using Sucuri!
Features Highlight:
Automatic website cleans up
Custom page rules
Web Application Firewall (WAF)
Page protection
Smart page caching options
DDoS attack mitigation
Malware detection and removal
So, which CDN provider should you take into account to speed up your Website?
CDN helps your site deliver its content quickly and seamlessly to visitors as it caches static content like images and CSS/JavaScript files. Moreover, the biggest problem experienced by users is the page load time for content to appear on their screen.
Moreover, all things have gone digital lately due to pandemics, so that an enormous amount of traffic can cause Latency. And some best CDN providers above come to help with its numerous Edge servers distributed across the world. Hence, getting these "building blocks" is highly recommended to cope with such a problem.
Now, what makes you hesitate? It's easy to make the world's internet faster. If you want a more comprehensive tutorial, check our article here: How to Speed Up Your WordPress Site.