There are some important factors affecting website performance including the theme. Hence, you must choose fast WordPress themes to boost your website load time.
Speed optimization will not be easy if you run a site with a slow theme. You need to ensure that the installed theme can help your site to load its content faster as well as does not take up much disk space.
A fast WordPress theme is usually built and coded to the highest standards. As a result, this helps your site provide a better UX and definitely gain more organic traffic. Besides, it is a significant factor that seriously determines your website's SEO ranking and conversion rates.
Here are what you will learn in this post:
Let's get cracking!
Why Is Fast Loading Important?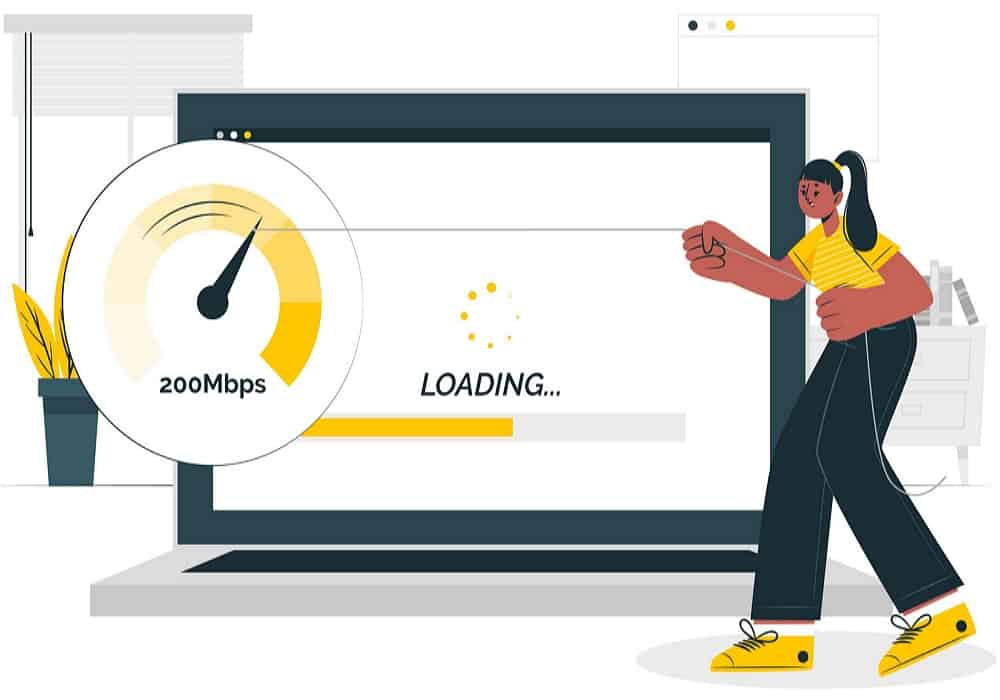 A study conducted by KissMetrics showed that nearly half of your visitors will drop if your website loading time is more than 3 seconds. However, a general rule for all site owners is a site should load the content and pages as fast as a light speed.
An optimized WordPress theme can help your website to load up fast and appear on the top search through the internet. You have to bear in mind that the theme you put on your website has a great impact on speed.
Your site's speed will greatly suffer if the theme offers too many features and has tons of resources and low-quality code. Consequently, everything you do for website optimization goes in vain since the chosen theme is not lightweight.
Being selective for choosing a website's theme is therefore plausible as it leads to how fast or slow your site will be.
Why is it so?
It is a fact that everyone prefers a faster website than the slower ones, and Google does so. Hence, this is such good news for the site's conversions and ranking.
1. Conversion
Using a fast WordPress theme can boost your conversions and improve user experience. Speed is a vital part of your website since every second counts to attract leads and visitors.
It won't be worth it at all if people need to wait for ages just to see your web pages. They instead will hit the back button and move to other sites that are much quicker to load.
Hence, a fast website is a key factor to make people stay and dive into your web pages and subscribe. And what next? They close the deal and come to your sales revenue.
According to Amazon, users are likely to expect a page that loads fast, and a slower site can drop revenue significantly. From this study, page speed can increase page views and lower bounce rates.
As a result, the conversion rate goes up as you seize all potential revenue!
2. SEO
Page speed does contribute to a better user experience and search engine rankings. As such, a website that loads its content faster will be preferred by Google algorithms.
Since 2010 (desktop version) and 2018 (mobile), website load time has been a decisive factor for Google to rank pages. Facebook does so by prioritizing links that load faster in its news feed. It seems that the majority of the users also prefer fast-loading links to redirect to content outside Facebook.
Your website needs to load up fast to come to Google's first page. Google considers a fast website to have an impressive user experience and low bounce rates.
Furthermore, the fast loading time will affect the time users spend staying on your website and how your site is perceived. Contrarily, you'll lose the search engine rankings if your website is as slow as a snail.
How to Choose a Fast WordPress Theme
We've learned that an optimized theme contributes to page speed and SEO performance. As there are thousands of free and premium themes on the market, it will be a tiresome process to choose fast WordPress themes for your site.
Here are 5 things to consider finding out whether a WordPress theme is fast or not:
Let's dive in!
1. Few HTTP Requests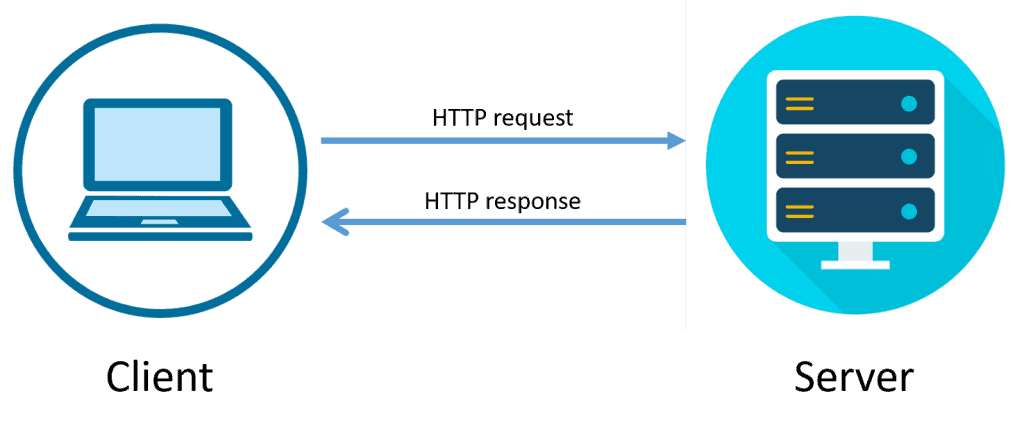 The number of HTTP requests is one of the key factors you should consider to choose a fast WordPress theme.
It means every file that your browser must ask the server whenever there's a visitor accessing your site. The files include images, fonts, stylesheets, and scripts.
HTTP requests can populate by the time your site has more traffic. That way, the more files asked, the longer it takes to load the pages. As a result, the latency may increase when a visitor clicks your site's URL.
Not only the number of files being requested but also the files' size transferred affects website load time. Generally, the limit for a page to load quickly is 60 requests. It means the page loads faster when there are fewer HTTP requests.
The theme is a large piece of a website and therefore it has a major impact on page speed and performance. Therefore, a lighter theme with few files can load faster as it needs fewer HTTP requests. You can use a speed testing tool like GTmetrix to know how many HTTP requests a theme creates.
2. Small Page Size (JS, CSS)
A theme is built-in CSS and JavaScript codes that furnish your website to look intuitive and awesome. However, too many CSS and JS files can slow down your page loading time.
The rule is, the smaller your webpage is, the faster it loads. You should pay attention to the number of files, images, and information put on your site as these determine the page size.
Page size is measured in KBs and MBs. As a reference, a web page should contain less than 1 MB of data to load in its maximum fastness. Therefore, large pages are mostly time-consuming to show, and this makes visitors unhappy.
Basically, most themes have lots of features so that they have lots of CSS and JavaScript files. To choose fast WordPress themes, you should measure the size of CSS and JS built. There are some measuring tools such as Pingdom, WebPage Test, and Google PageSpeed Insights to check the CSS and JS size of the theme you are about to install.
For example, if you use WebPageTest, simply put the demo theme URL.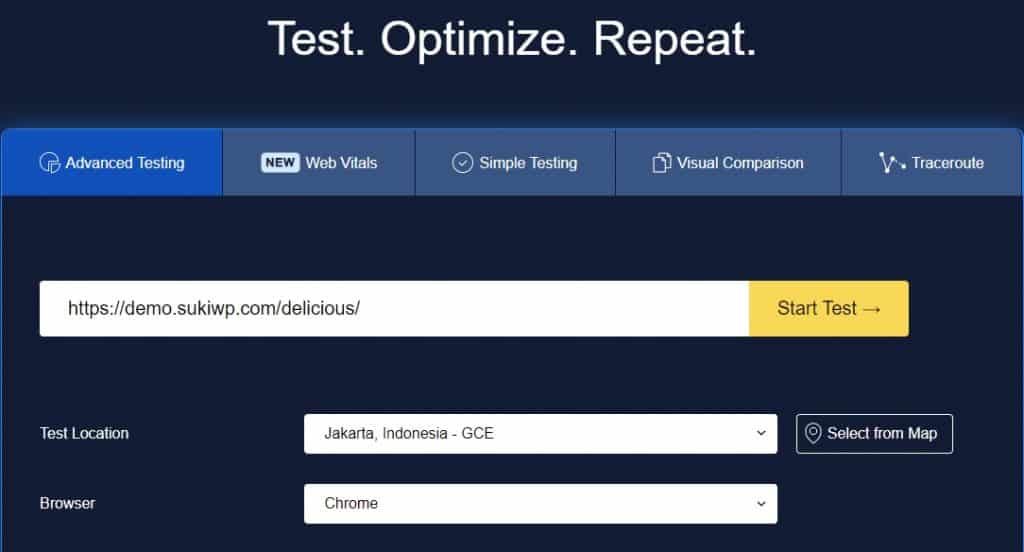 Then, you can navigate to 'Content Breakdown' once the result is shown. The thing you should pay attention to is the Bytes of CSS and JS. The smaller the bytes, the faster the theme loads. The ideal number should be under 100 KB = 100000 Bytes for both.
3. Responsive & Customizable Design
A theme that has a responsive and customizable design is the best choice to accelerate your website load time. With customization options, you can freely adjust the design and content according to your preference.
Besides, customization allows you to set up your own appearance without the coding skills required. All are flexible to change such as fonts, typography, colors, layouts, animation, and many others.
Another aspect to think about is responsiveness. A WordPress theme should be responsive and accessible for any type of devices like laptops, mobile phones, and tablets.
If a theme has a responsive design, it will automatically and dynamically adjust and load your website based on the screen size. This feature will ease your task to not create a separate version of your website for another device.
A separate mobile version of your site just increases bandwidth and disk space since all the website files must be duplicated. Then, what comes next? It affects your page speed. Therefore, you should choose a responsive WordPress theme to increase the site's traffic and retention.
4. High Converting WooCommerce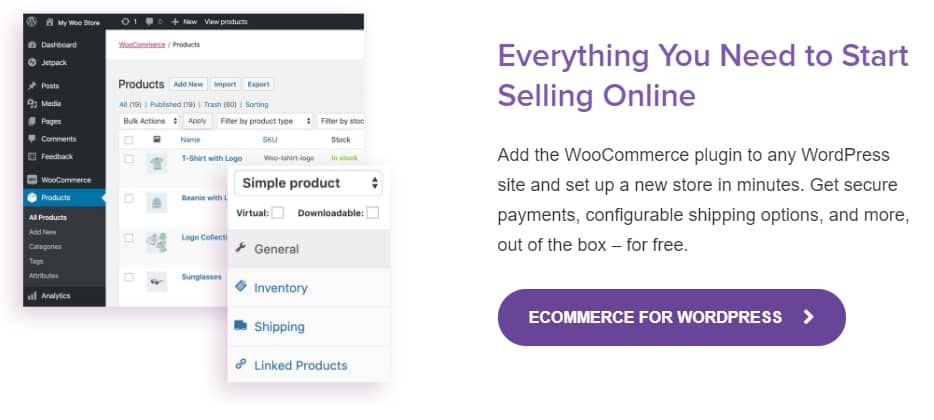 As these days most people build their online shop, a WordPress theme should come with an eCommerce feature, WooCommerce for instance.
WooCommerce is a free eCommerce plugin that can be incorporated into your WordPress site. It helps you create a page, promote, and sell any kind of product or service.
The combination between WooCommerce and WordPress can be a great tool for putting up your online business. WooCommerce is equipped with rich functionality that allows you to adjust web pages to improve customer experience that can boost your conversions and sales too.
With themes featured in WooCommerce, you will easily create an incredible eCommerce website. Also, such themes have a bunch of options and pre-designed tools that are customizable and end up with multiple functionalities.
Moreover, the themes include images, styles, and layout that can be personalized without web coding knowledge. Hence, you should not worry if you do not have coding skills since there are high converting WooCommerce themes. Additionally, such themes are compatible with popular page builders like Elementor.
5. SEO Friendly (Schema Markup)
A fast WordPress theme should have built-in SEO-friendly codes and integration with Schema.org structured data.
Schema Markup is microdata by Schema.org developed by Microsoft, Google, Yandex, and Yahoo. It is a code that you can add to a site's HTML to help search engines to understand your content better.
Once the code is added, it generates rich snippets and reflects your content in the search results. Rich snippets are more likely to bring in more traffic to your site as it has high clickthrough rates. Moreover, schema Markup also helps your site be included in voice search results such as Google Assistant, Siri, and Alexa.
WordPress themes definitely have a significant impact on SEO friendliness. An attractive and good-looking theme often generates poorly coded HTML that affects the site's page speed.
It is worth nothing if your site offers good content, but it takes time to load. Even it will not be ranked in top search results. Therefore, make sure the content loads fast so that it increases conversion rates.
Lightweight WordPress Theme (Recommendation)
A lightweight WordPress theme usually has a simple design with only necessary features added. As a result, your site will load quickly.
A theme should not be bloated with features as it can directly impact a website's performance. Even some themes are heavy due to their huge file sizes, effects, and animations. It requires lots of code and that way can add the loading time of your web pages.
Some themes on the market are lightweight and fast, but they are not customizable. Even if they provide flexibility with a wide variety of options, it still can slow down your site.
Those are the common issues when having a theme installed on a website and we're trying to cope with it by developing Suki WordPress Theme.
Suki – The Most Flexible and Fastest WordPress Theme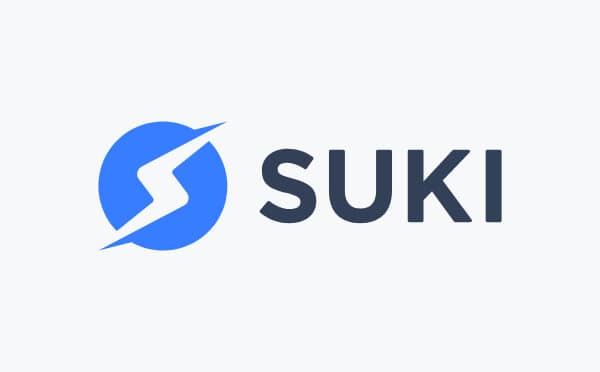 Suki is a free and multipurpose theme that helps you create an attractive and lightning-fast website. The theme is lightweight and flexible so that you do not take much time and effort to build your site.
Besides, Suki is highly customizable and designed for the fastest load time. You can easily build your site without any coding skills needed. Also, it is suitable for any type of website from a blog to eCommerce.
Furthermore, Suki offers more than one thousand design options. Hence, you have full control over all design aspects such as spacing, layout, colors, and typography. This allows you to build a unique website of your own.
Why is Suki Lightweight and Fast?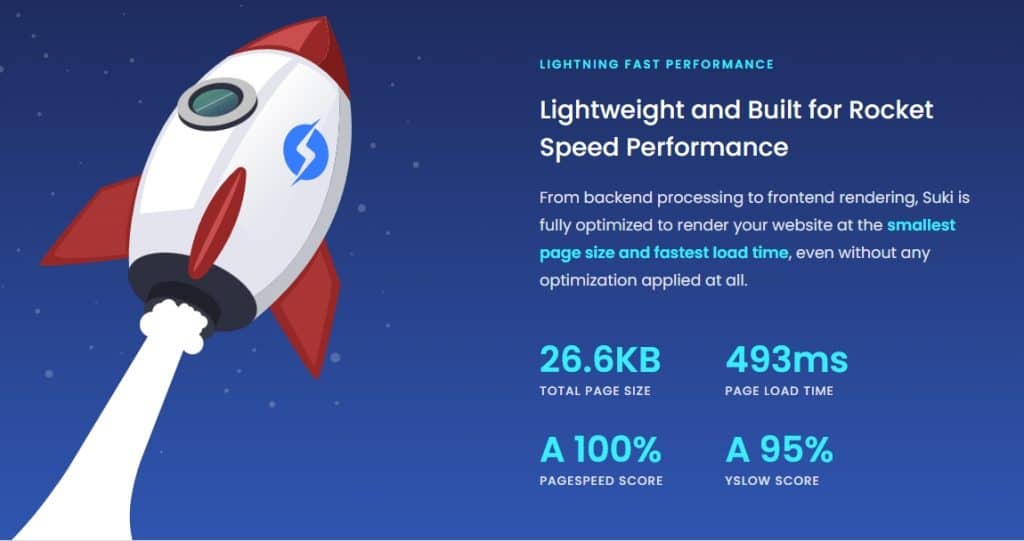 What sets Suki apart from other themes is it has a smaller page size and fewer requests. Suki applies best coding practices so that your site will be rendered at the smallest page size and fastest load time. There are only 2 HTTP requests on the front end.
A test made for the Suki theme showed that the PageSpeed score is 100% and the YSlow score is 95% respectively. This is because Suki only uses Vanilla JS that is much faster and cleaner to load instead of using jQuery.
Other reasons are that Suki only processes the features requested on the currently loaded page so that the server renders the page quickly. In addition, all theme's icons are converted using modern SVG icons so that it's smoother and faster to appear on the screen.
Suki's Key Features
To sum up, here are features you can enjoy with the Suki WordPress theme:
Drag & drop header builder
Full typography control over paragraph, headings, post title, menu, button, footer, and other elements.
Dynamic layout setting on page by page basis
Responsive design and layout across various screen size
Conversion-focused WooCommerce integration feature
Support Gutenberg
Compatible with popular page builders like Brizzy and Elementor
SEO friendly as having 100% HTML valid and integration with Schema.org
Translation and RTL ready
Secure and stable codes
Accessible ready with WCAG 2.0 standards
Suki is Free
Is this the first time you hear about the Suki WordPress theme? Are you wondering how much it cost? Fret not! Suki is free for users.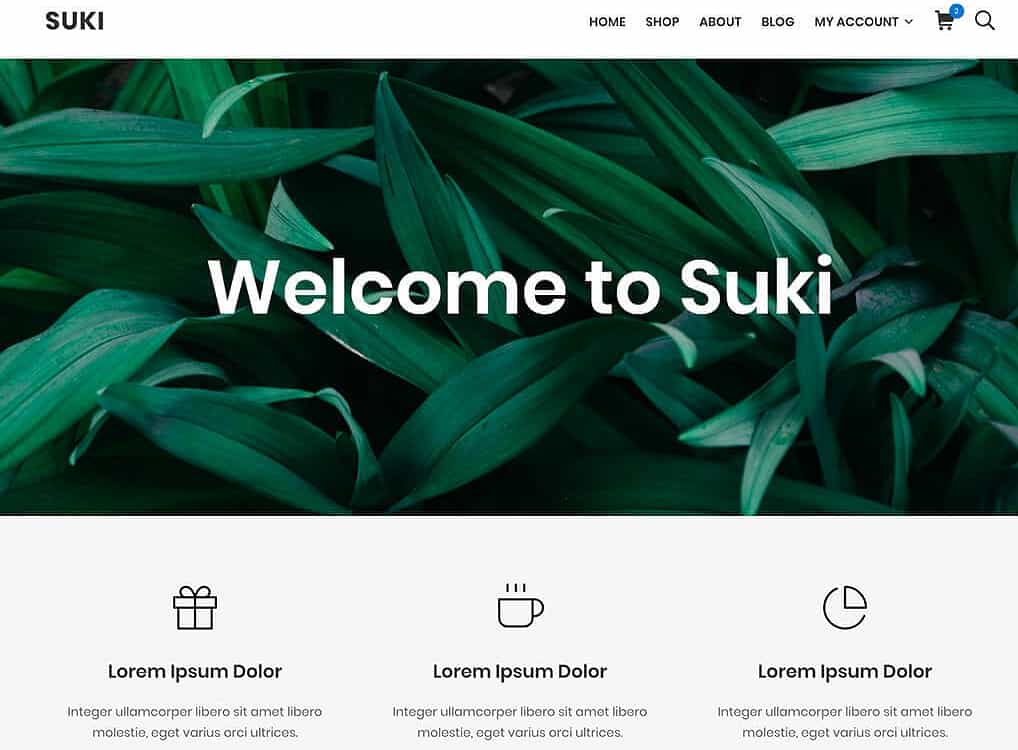 For those who are not familiar yet, you can install and try the Suki free version now. Here are the features you will get:
SEO optimization
1000+ design options
Free access to basic demos
Partial layout settings
Default and grid layout for a blog feature
8 header elements
WooCommerce integration
1 Product Gallery Layout for WooCommerce
So, what are you waiting for? Let's download the Suki WordPress theme to build your amazing website!
What Comes Next? Are you still struggling to choose a fast WordPress theme?
It is necessary to pick a theme that can set up your site for success. Suki comes as a workaround since it has optimized features that can be a strong foundation for your blog and eCommerce websites.
The theme certainly affects loading time, but it is not the only factor. A website with too many large images can decrease page speed. Hence, you should resize and optimize the uploaded images with these best image compression plugins.
(If you wanna see other tips, check it out here: How to Speed Up Your WordPress Site.)
Hopefully, this article helps you understand how to choose a fast WordPress theme. It is not as difficult as figuring out a needle in a haystack anymore as you learned the Suki theme already.
If you already use Suki, feel free to drop your queries and feedback in the comment section below.