The world of eCommerce is increasing and more competitive. Those who run an eCommerce store of course want to stand out among other competitors. Hence, some best WooCommerce Google shopping plugins come as the solution to get your eCommerce store in front and shown in the search result.
Once your products are in the top search of the world's largest search engine, you can easily skyrocket sales and revenue. Hence, in this article, we will be highlighting:
Let's dive right in!
What is Google Shopping?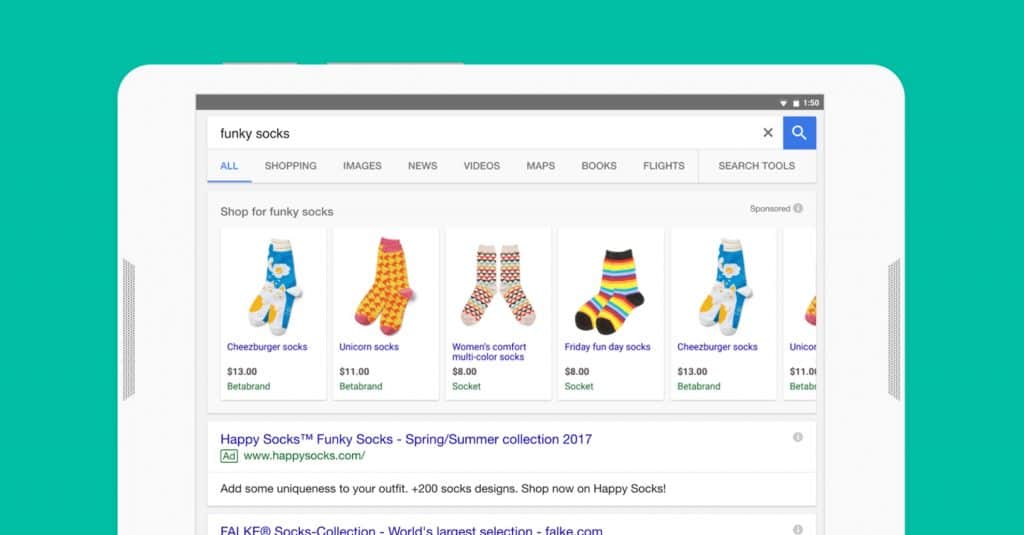 Just showing your products on Google search is not enough. Yours might be listed on 2nd or even 6th Google's page. As a result, it won't make any impact because shoppers are more likely to click on products that appear in the first place or top search.
And there are Google shopping ads as the best platform to market your product!
Google Shopping is a graphic product advertisement you usually notice at the first of a page of search results. It has an extended reach to enlarge the number of audience and conversion rate.
Besides, Google Shopping shows detailed information about a product including image and pricing. That way, you can attract online visitors to come to your eCommerce store directly from Google.
If you are using WooCommerce, you can run shopping ads on Google. However, there are procedures to follow. Here are the steps
Create an account on Google Merchant Centre
Create a WooCommerce product feed with all details
Add and submit it to Google Merchant Centre to be displayed on ads
Benefits of Google Shopping Ads
There are some strategies you can do to make your products being caught by online leads and customers. One of which is by incorporating Google Shopping Ads into your online store. Once it's installed, you're ready to take the advantages as follows
Ability to list your products with other competitors no matter how big or popular your business is (no need to think about the size and scale)
Enhance products' visibility in SERPs
Entice customers by providing high-quality images and details of the product like pricing and promotions
Image helps users to see if the products are what they look for
Pricing helps customers to compare with other products and decide the best one they are going to purchase
Offer streamlined shopping experience to increase conversion rates
Easy to create and manage in product feed generation
Best Google Shopping Plugins for WooCommerce Site
Your products can show up on Google shopping ads too if you sell them with WooCommerce. What you need to do is just feed products to share with.
Commonly, you'll need to match the Google criteria to generate a Google product feed. Then, you wait for approval from Google first. Seems time-consuming, right?
Fret not, there are a bunch of plugins to help you do so!
Here we have listed the 10 best Google shopping plugins for your WooCommerce sites to generate product feeds automatically.
Let's check them out to learn more!
1. Google Shopping by WP All Import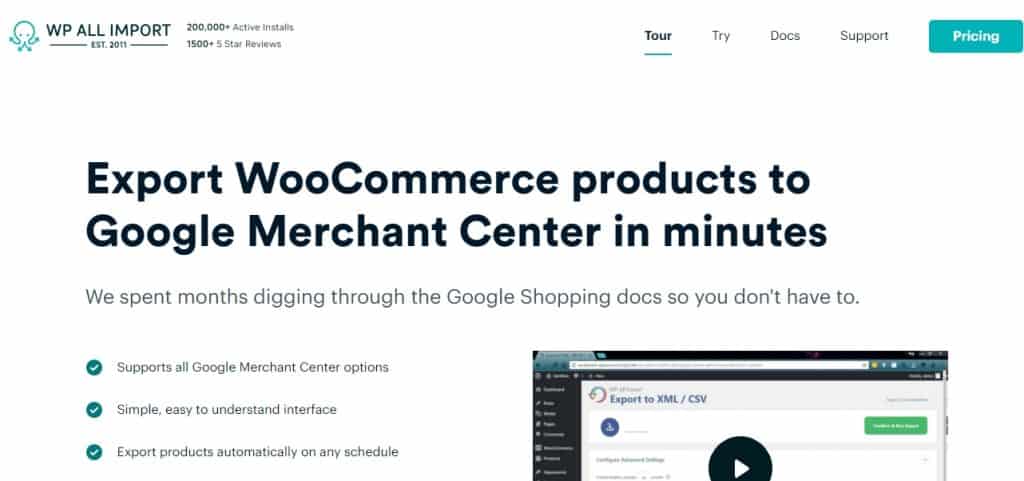 Are you looking for a plugin to help export your WooCommerce site's product to the Merchant Centre for Google Shopping ads? You can count on WP All Import!
This plugin lets you manage and generate product feeds through a simple and intuitive UI. Also, it is equipped with all the interesting features for Google Merchant Centre.
With this plugin, you should stop worrying about what kind of file formats and data are wanted by Google. WP All Import will help you sort it out. You just need to drag and drop to export product feeds into Google shopping.
Moreover, you can set up exporting data in a few minutes. This plugin will let you and Google what to do and where to go.
Another exciting feature is you can update products automatically once you run on a schedule in WP All Import! That's great, isn't it?
Other Features:
Support attributed from third-party extensions
Support product variation
Schedule automatic updates
Intelligent mapping to match your categories to Google's
WPML support
Exporting huge amount of data
Create rules to filter
Easy and straightforward customization
Pricing:
Standalone starts at $99 for a one-time payment
The Ultimate Pro Package starts at $249 for a one-time payment
Download Google Shopping by WP All Import ➜
2. Google Feed Manager by WP Marketing Robot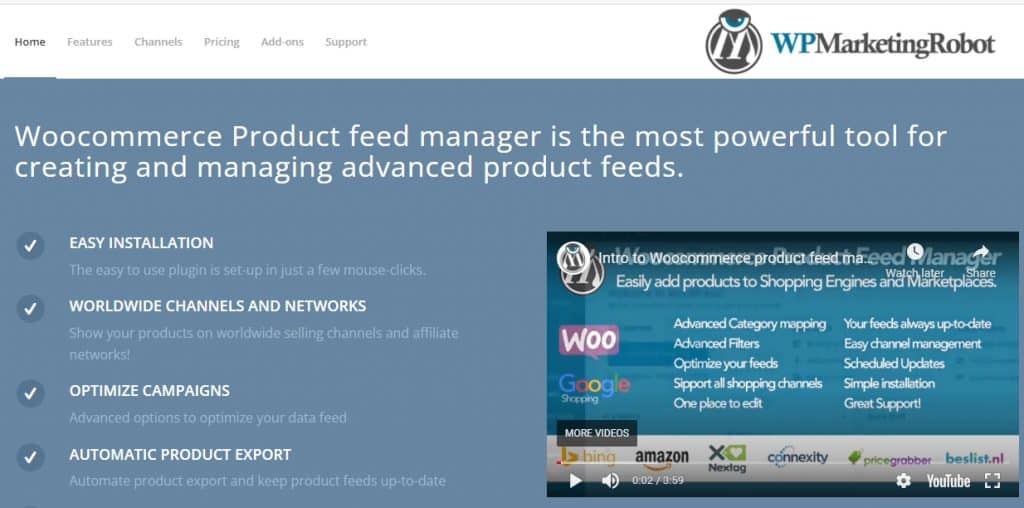 This is a must-have Google shopping plugin for your WooCommerce store! It's simple yet powerful to make sales up!
It's a great choice to work with this plugin to create product feeds and upload it to Google Merchant. The settings and configuration are done in just a few clicks as the plugin is easy to use!
With this plugin, you can keep the product feeds up to date by automating product exports. Moreover, you will always find the right channel category in templates so that you can easily undergo product mapping.
Other Features:
Customizable feeds
Easy channel management
Advanced filters to exclude and remove products easily
Supports all selling channels, product aggregators, affiliate networks and price comparison
Override every field in the product feed
Set scheduled update interval to update feed
Pricing:
Google Shopping: €69 annually
Ecommerce: € 99 annually
Ecommerce Plus: € 169 annually
Agency: € 300 annually
Download Google Feed Manager by WP Marketing Robot ➜
3. WooCommerce Google Product Feed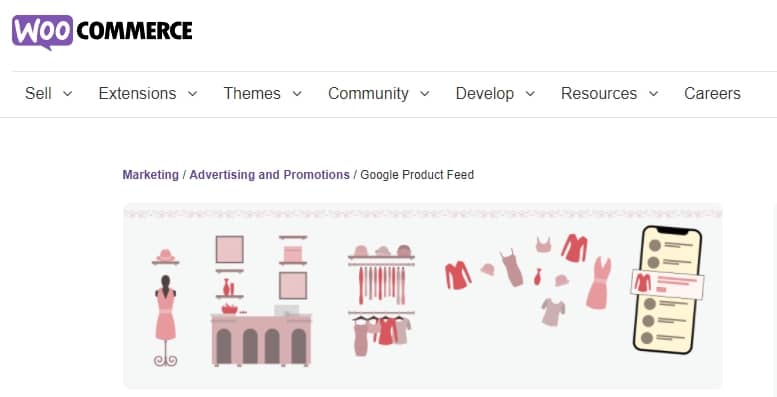 WooCommerce Google Product Feed comes to the list as one of the best plugins as it comes with a real-time feature!
Such a feature allows you to put the information to the Merchant Centre and then displays the latest update of your products. Therefore, this plugin helps you set product ads, free product listing, and local inventory campaigns.
Moreover, you will feel flexible to set up your product ads once the product feeds are imported to Google Merchant Centre. This is due to their availability in your Google AdWords account.
Once your products have been imported into Google Merchant they'll be available to your Google AdWords account.
Installing WooCommerce Google Product Feed won't go in vain as you get full control over your ad setup and budget!
Other Features:
Extensive list of feed fields
Product mapping based on tags, categories, and attributed defined by Google product feed
Custom fields to fill richer product data
Support WooCommerce's importer and REST API
Support a wide range of WooCommerce extensions like Product Bundles, CSV import tool, and Multi-Currency
Pricing: $79 annually (30-day-money-back guarantee)
Download WooCommerce Google Product Feed ➜
4. CTX Feed Pro by WebAppick
CTX Feed Pro belongs to the best WooCommerce Google shopping plugins you should be using! Among others, this plugin is more optimized and error-free.
Besides, you will get approval much faster for product listing once you add CTX Feed Pro. Other than that, this plugin helps you to filter unoptimized products and update product information automatically on multiple marketing channels.
So, this plugin is not only compatible with Google Shopping, but also Instagram Shopping Ads and Facebook Product Ads. Moreover, you can set variable products too with this plugin.
Other Features:
Generate unlimited feeds for the unlimited products in the WooCommerce store
Support XML, CSV and TXT file formats.
Category and custom attribute-based mapping
Advanced filtering option to pick a specific product to generate a feed
Smart filter option to exclude products that are missing descriptions, images, or prices
Auto-update
Multi-language support
Pricing: starts at $199 yearly or $476 lifetime for a single site (30 Days Money back guarantee)
5. Product Feed PRO for WooCommerce

This plugin is an all-in-one solution to create a product feed on Google Shopping Ads. Also, Product Feed Pro for WooCommerce is built to work together with WordPress. Hence, you can set everything related to shopping ads and campaigns from the WordPress backend.
This plugin helps you generate high-quality product feeds to upload to various marketing channels such as Facebook Ads, Pricerunner, Skroutz, Bing, Google Merchant Centre, etc.
Moreover, it offers more than 100 pre-defined or default templates for search engines and marketplaces. Although there are templates, there is an option to create custom templates too!
Product Feed Pro comes with a bunch of features including seamless mapping product categories and attributes, Google Analytics for ads performance, and support CSV, TXT, XML, and TSV format.
Other Features:
Unlimited product feeds
Support WooCommerce shipping classes and shipping zones
Add Facebook Conversion API (CAPI), Facebook Pixel, and Google Dynamic Remarketing pixel
Support variable products
Extensive filtering options
Add custom fields for specific feed
WPML / WCML support
Pricing:
Download Product Feed Pro for WooCommerce ➜
6. WooCommerce Product Feed Manager by RexTheme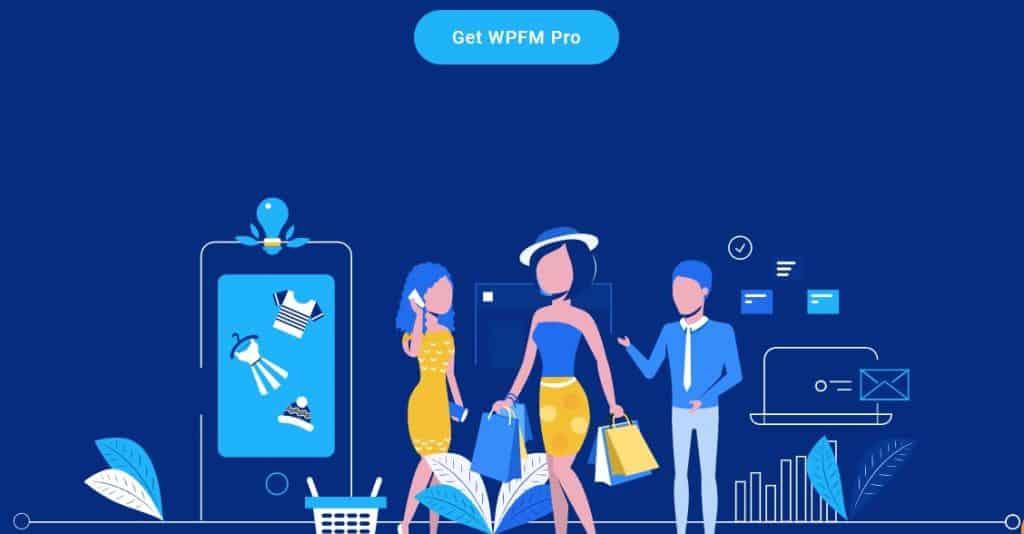 WPMF by RexTheme is one of the best WooCommerce Google Shopping plugins as it is linked to more than 170 available marketplaces!
In just a few minutes, you can generate accurate product feeds and promote them to the popular marketplace like Google Shopping. That way, your conversion rates and ROI will skyrocket!
What you need to do with this plugin is just set up an automation for product feed generation. Then, it will control the rest! No need to worry to update the feeds as it does by itself according to the schedule you set.
Moreover, you can generate flawless product feeds by using pre-defined merchant templates. Also, other features are pre-configured already such as advanced category mapping, filtering options, and Google Auto-sync.
WPFM RexTheme is indeed the least effort and most effective plugin to use!
Other Features:
Generate product feeds in XML, CSV, or Txt format
Add variable products without variations
Accurate structured data format
Google Analytics support
Advanced custom fields
Facebook Pixel to track products
Include and exclude certain product
Support WooCommerce Bundle Product and WooCommerce Composite Product.
Pricing:
Free
Pro: starts at $59.99 per year for a single site licence
Download WooCommerce Product Feed Manager by RexTheme ➜
7. YITH WooCommerce Google Product Feed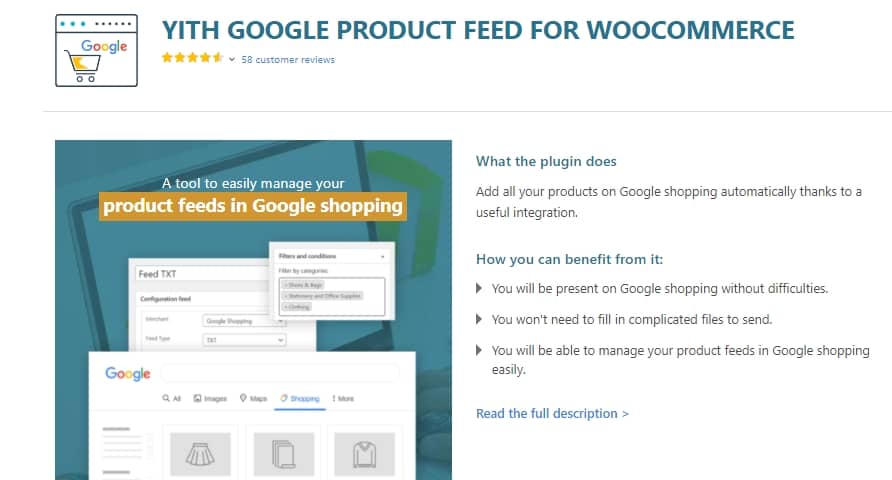 If you are looking for a plugin assisting you to generate WooCommerce Google Product Feed automatically, YITH WooCommerce is ready!
By using this plugin, you will be an active member of Google Shopping and able to get online shoppers attracted to visit your site.
All the process is done seamlessly with YITH WooCommerce Google Feed Product as it has an intuitive and simple UI. Moreover, you can make custom templates that allow you to choose which information to add to the product feed.
Furthermore, there is a feature that lets you select which product to display on Google Shopping based on tags and categories. Also, you can use advanced filtering options to create feeds for specific products.
Other Features:
Create unlimited Google product feeds
Add custom fields for mapping
Generate feeds in TXT and XML formats
Override feed general values in either simple or variable products
Add new fields or remove existing ones in product feeds
Apply the same values for all products
WPML Compatibility
Pricing: $90 annually for a single site
Download YITH WooCommerce Google Product Feed ➜
8. ELEX WooCommerce Google Product Feed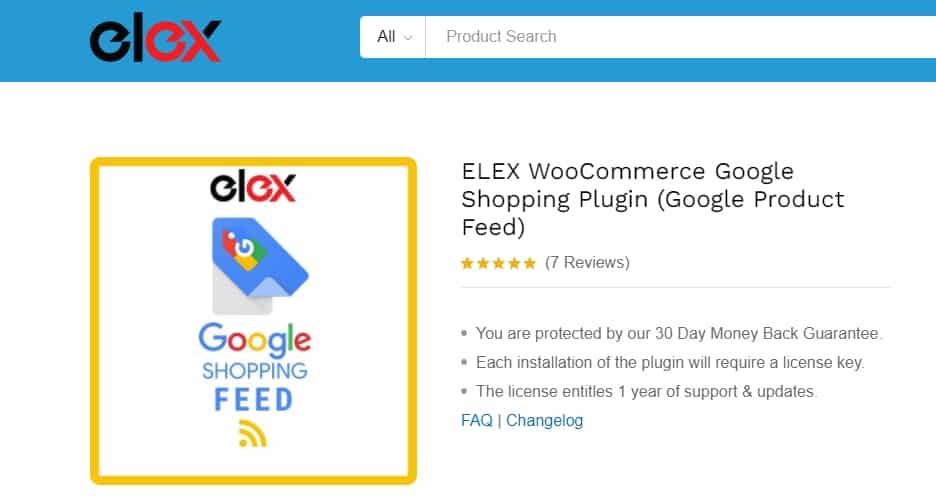 ELEX WooCommerce Google Product Feed is another best Google shopping plugin that makes you avoid the hassle of creating and uploading Google Shopping Feeds.
Why is it so? Because it automates such a process. As a result, you can put your attention to another thing that matters, growing your eCommerce store for instance.
With this plugin, you will be able to upload new product data directly from your WordPress admin. Also, you can set automatic updates daily, weekly, or monthly.
Besides, ELEX allows users to export product information into some easy-to-read formats such as CSV, XML, and TSV. That way, you can easily upload the file to the Google Merchant Centre.
Other Features:
Easy-to-use and interactive dashboard
Mapping products' attributes with Google's attributes based on rules and conditions
Schedule unlimited Google Product Feed
Filter products
Add custom attribute values
Feed performance reports
Display all variations of products
Compatible with WPML
Create a feed for specific vendors
Pricing: $69 for a single site and $99 for 5 sites
Download ELEX WooCommerce Google Product Feed ➜
9. ExportFeed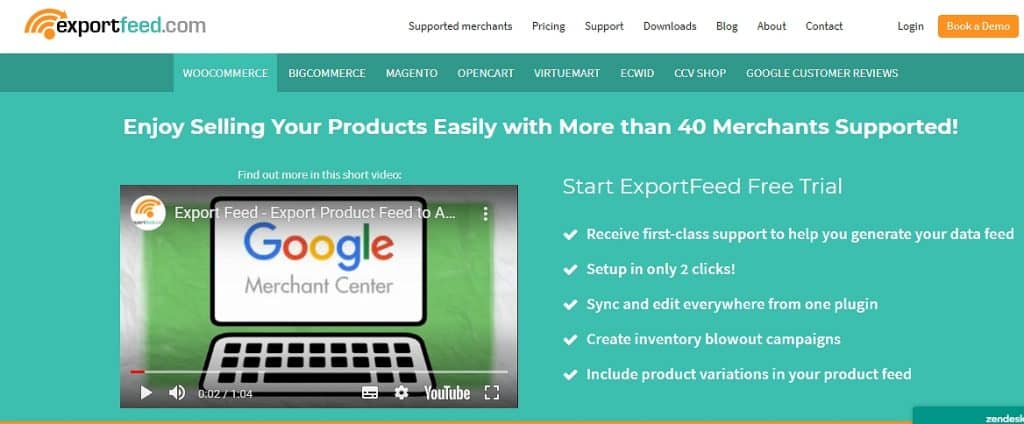 WooCommerce Product Feed Export is quite popular among the best WooCommerce Google shopping plugins. This plugin helps you generate and manage product feeds easily on multiple merchants and marketplaces such as Amazon, Instagram, Bing, and Google.
Besides, ExportFeed has a simple and intuitive user interface that lets you optimize campaign results and product listings. Also, it allows you to create custom feeds adjusted to the marketplace product feed requirements.
With this plugin, you will be able to create feeds in no time without any technical hassles. As a result, it saves your time! Moreover, it not only allows product feed generation but also supports product categories with a variation to import files.
Other Features:
Display available sales channels on the plugin page
Product mapping with respective merchant categories
Include and exclude individual variations to handle variable products
Automate feed generation at scheduled intervals
Pricing:
Free
Pro: starts at $29 per month
10. Google Shopping Plugin for WooCommerce by Tatvic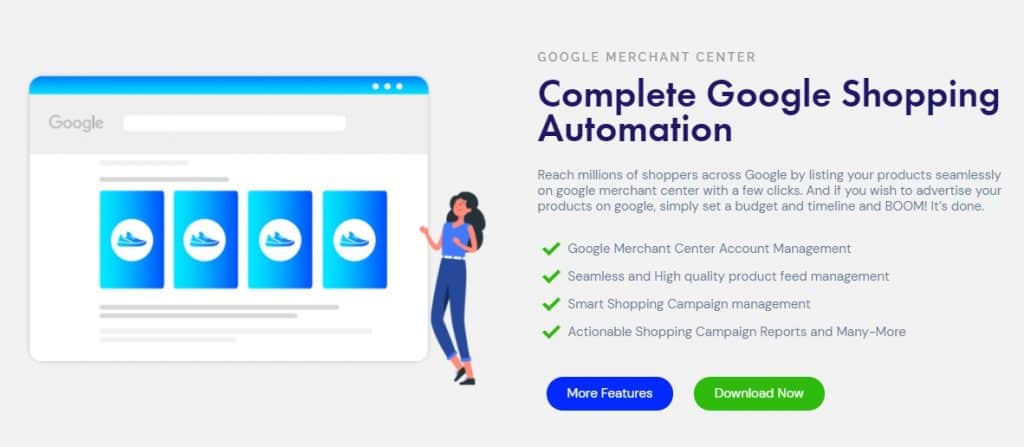 We've come to the last recommendation for the best WooCommerce Google shopping plugins, and it goes to Google Analytics and Google Shopping Plugin for WooCommerce!
No doubt as it has more than 40,000 active installations.
Once you install this plugin, you can seamlessly generate product feeds on various merchants such as Google Shopping and Facebook Remarketing. Also, custom templates, as well as more than a hundred pre-defined templates, are provided.
Other than that, you can leverage the benefits of this plugin such as running google shopping campaigns, producing data-driven decisions, and checking Ecommerce reports in Google Analytics to analyze shoppers' behaviour.
No need to worry if you don't have any coding skills! This plugin is easy to configure from your WordPress dashboard.
Other Features:
Product sync from your WooCommerce stores
Google Merchant Center management
Link Google Ads and Google Merchant Center account
Capture transaction/conversion information in Google analytics
IP Anonymization
Remarketing tags automation for all pages
Shopping campaign performance dashboard
Pricing:
Free
Premium: Hustle ($19/month), Growth ($29/month, Leap ($49/month)
Download Google Shopping Plugin for WooCommerce by Tatvic ➜
So, which WooCommerce Google shopping plugin will you go for?
Knowing how to push your store's product to lots of marketplaces via different channels is a must to increase their visibility. In this globalized era where technology is mostly used, take the advantage of some best WooCommerce Google shopping plugins to promote your products to potential customers.
We hope that this article has given you a better understanding of the Google shopping plugin. Some of the plugins listed have already been known and used to help boost sales to the target!
Please remember that the business of eCommerce should always keep up with the customer's journey. Also, learn some best WooCommerce membership plugins to transform your business to the next phase, a membership site, so that you can manage your site's members much easier!