Do you intend to control access to your eCommerce site's content? Are you planning to convert your WooCommerce website into a membership site? Then, you would need some best WooCommerce membership plugins to help you with that!
As interesting as it sounds, there are various factors to consider when you run a membership website. One of which is choosing the best among the best membership plugins to boost sales on your store.
With this plugin, you can create a buzz around your products and services. Moreover, membership plans are easier to set up if you have a WooCommerce store already.
Therefore, in this article, we will walkthrough
Let's dive straight to the crux of the matter!
What is WooCommerce Membership Plugin?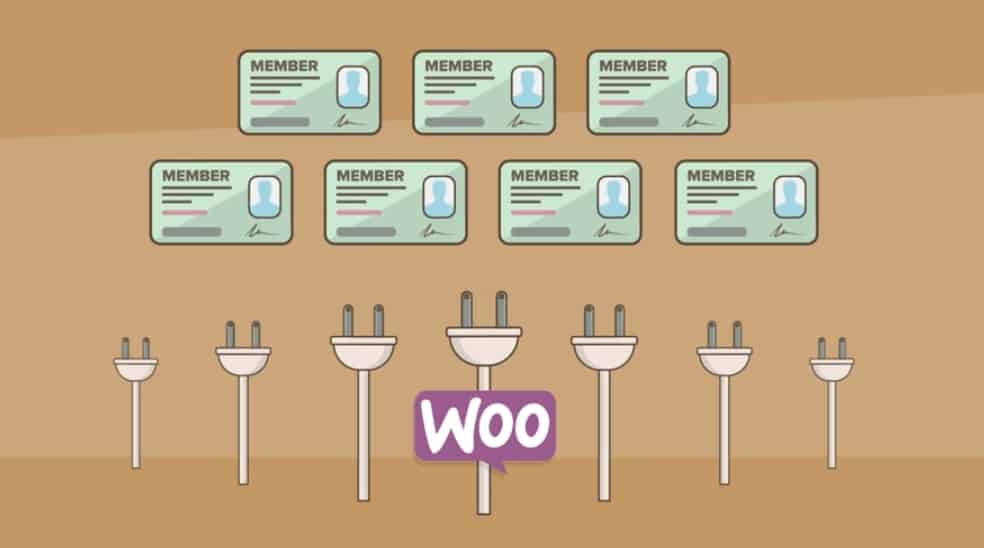 WooCommerce membership plugin is a type of plugin specifically designed to turn your WooCommerce store into a membership website. You can create restrictions to premium content and control access to pages, posts, and files.
The purpose of using this plugin is to give access to the site's members. Hence, you will be able to build a members-only store as well as oversee members-only behavior.
Although the main function of the membership plugin is to give access to members only to some or all your content, you have a lot more to do!
With a membership plugin, you can offer special prices and discounts with a faster delivery process. As a result, it can attract more customers to come and this is a good start for your online business.
Benefits of WooCommerce Membership Plugin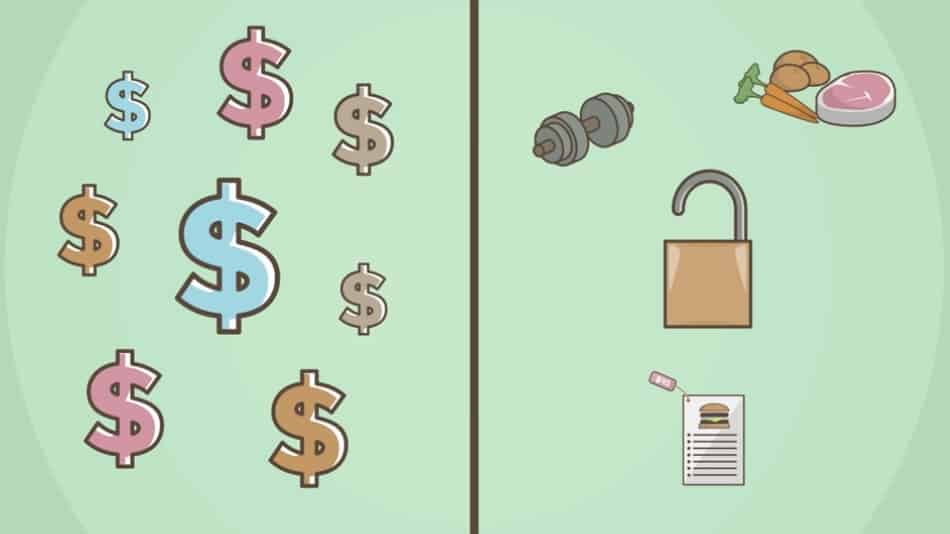 The membership plugin for WooCommerce plays an attractive role that leads to higher conversion rates. Moreover, it also provides several advantages for your online business as follows
Membership plugin allows your site to run quicker and be easy to use
Put up your business with authority for the specific market
Offer products and services with lots of benefits to customers by membership functionality
Open another chance to get more loyal users to add to the email list
Build a stream of recurring income by applying renewal
Make unlimited membership levels so that leads could register for free, charge them either a one-time or recurring payment
Offer members discounted shipping or free shipping
Set up restrictions on products at your online store. You can restrict who will be able to view or purchase products
Best WooCommerce Membership Plugins
It is interesting to have a membership website since you can hand out exclusive products and content whilst gathering visitors' information like email addresses and names.
There are lots of membership plugins out there to improve your site's functionalities. Hence, it is time-consuming to go through each of them.
But, do you know which best membership plugin you should use? You should consider choosing the right one to bring out the success of your online store.
Here are the 10 best WooCommerce membership plugins on our list
Let's discuss more below!
1. WooCommerce Memberships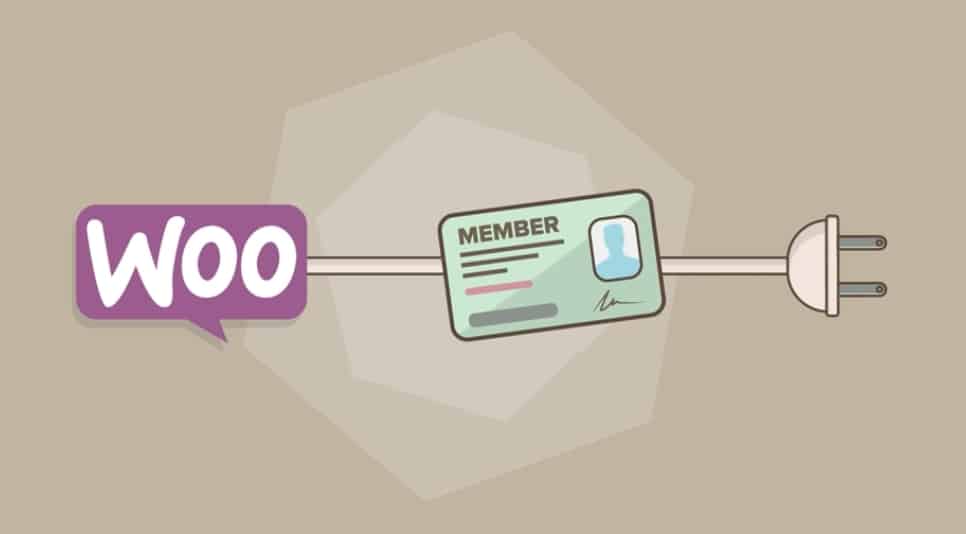 The first recommendation goes to WooCommerce Membership that works and is fully compatible with WordPress. Once you install this plugin, you can offer products to members and restrict access to premium content on your eCommerce store.
With WooCommerce membership, you have full control over managing your membership site. Membership can be granted or canceled manually and automatically.
Other than that, you can customize emails regarding Membership Granted and Membership Cancelled to send to customers.
Primary Features:
Unlimited membership plans such as Silver or Gold membership
Adding or removing members
Content drip-feeds
Create link plans to other plans
Built-in access restriction shortcodes for granular access control
Transform any simple or variable product to a membership product
Set up optional expiration time
Pricing: $199 billed annually
Download WooCommerce Memberships ➜
2. WooCommerce Members Only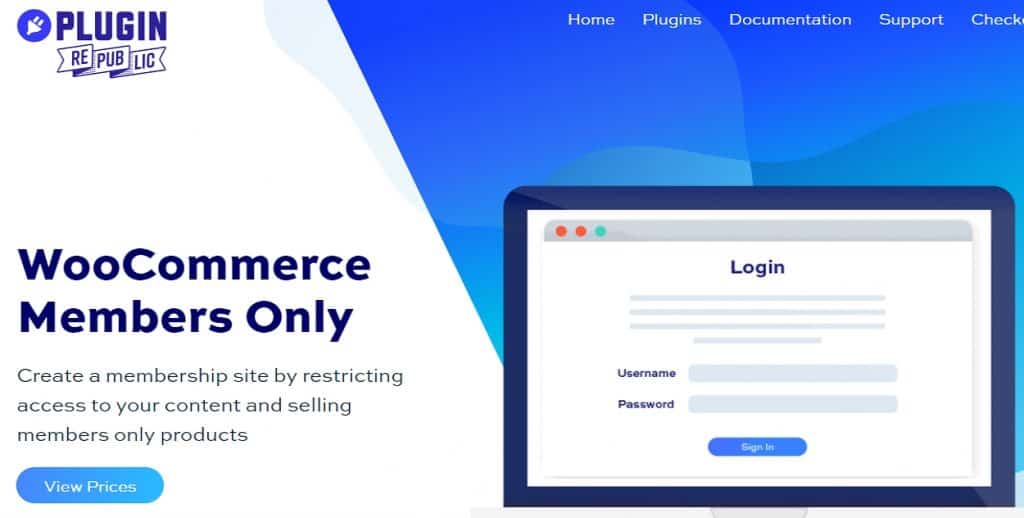 As its name implies, WooCommerce Members Only is unlike the other membership plugins. It is exclusively built to create a members-only site.
This plugin is quite flexible since you can both enable and restrict specific payment or shipping methods according to users' roles. Nonetheless, there are two limitations you should take note of.
Firstly, you could not use WooCommerce Members Only to charge for your memberships as it just works for the user's role. Therefore, you should use another plugin like Profile Builder to let users select their roles during registration.
Also, you can add Paid Member Subscription plugin to help assign people to user roles and pair with WooCommerce Members Only to create restrictions.
Secondly, offering members-only discounts is not allowed so that you need additional plugins like WooCommerce Fees and Discounts.
Primary Features:
Custom fields for registration forms
Restrict access to your store completely
Unlimited membership plans that are linked to user roles
Manual admin approval for new users
Set membership's expiration dates
Pricing: $59 for a single site or $99 for unlimited sites
Download WooCommerce Members Only ➜
3. Paid Member Subscriptions

Paid Member Subscriptions is a flexible and lightweight plugin that works perfectly with WordPress sites. It comes in both a free version at WordPress.org and two premium versions with a bunch of advanced features.
This plugin also includes dedicated features for WooCommerce stores such as restricting access to whom can view or purchase products. Besides, you can do WooCommerce configurations i.e. offering discounts to members, charging for memberships in either one-time or recurring payments.
Paid Member Subscriptions free version has several functionalities that help you build a great entry-level membership site. Also, another useful feature is dripping out content over time if you subscribe to the premium version.
Primary Features:
Shortcodes to set up user login
Membership management options
Custom post types and pages
Global content restriction rules
Set up discount codes or "pay what you want"
Support Stripe and PayPal Express
Multiple membership levels
Automatically collect recurring payments for subscriptions (free version only supports one-time payment)
Generate Invoice
Group memberships
Pricing:
Basic free version
Premium versions: starts at $69 per year
Download Paid Member Subscriptions ➜
4. Paid Memberships Pro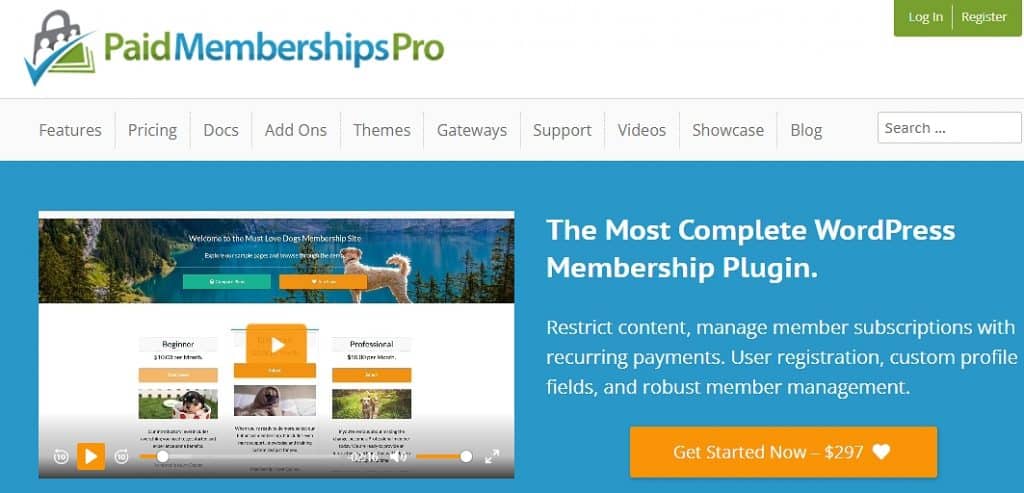 Paid Memberships Pro is one of the best WooCommerce membership plugins that lets you create a membership website easily. This plugin comes with a dedicated WordPress theme to customize the look of your store.
Also, this is great since you are allowed to set unlimited membership levels and flexible payment options. You will be able to choose a billing cycle, set up recurring payments, a free trial period, and some more.
Moreover, paid Membership Pro is a proper workaround if you search for a plugin that has maximum flexibility. One of its attractive features is advertising options that let you display ads to specific membership levels.
Primary Features:
Developers friendly to customize codes
Seamless integration with third-party payment gateways and email marketing tools
Robust member management
Display restricted content to non-members
Meta box to your posts and pages for content restriction on individual basis
Pricing: $297 per year, and $597 per year (unlimited plan)
Download Paid Membership Pro ➜
5. YITH Membership Plugin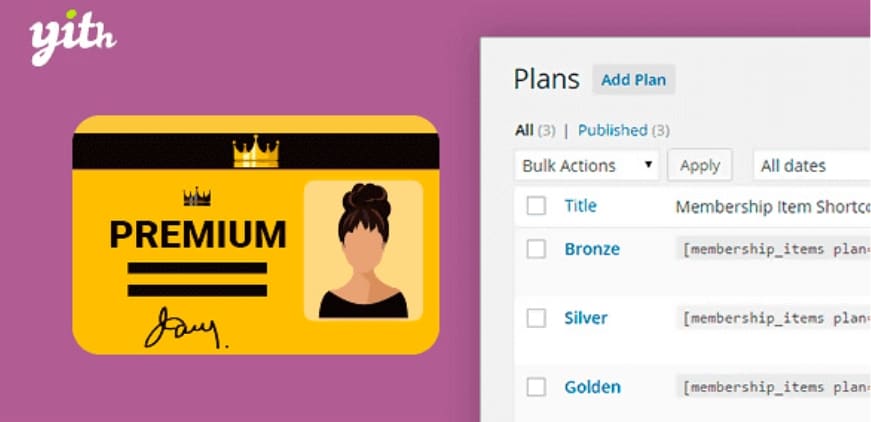 Selling user-based availability products to members is a good way to improve ROI (returns of investment) since it suits customers' specific needs. Therefore, you need to make sure that buying experience is managed well such as creating various plans, content releases, and independent payments.
And that's where YITH membership plugins come to help!
This is one of the best WooCommerce membership plugins to get rid of the hassles in managing reserved products for members. Besides, it fully supports pages, posts, videos, and other WooCommerce files.
YITH Membership assists you to offer exclusive access to premium content on your website. Moreover, you can send prompt notifications to remind users about renewal, expiration date, and upcoming features to keep them with you.
You can also see how this plugin works from the demo site as well as see the backend by launching an admin demo.
Primary Features:
Create exclusive access to members such as e-books, courses, or other premium services.
Personalized content for your members
Unlimited membership
Message widget
Record membership history
Hide Add-to-Cart button
Hide Price
Link multiple membership plans
Pricing: starts at $99 for a single site licence
Download YITH Membership Plugin ➜
6. WCFM Membership

Your need is different from those of online stores when you run a multi-vendor marketplace. Hence, a plugin that is specifically designed to meet such needs comes to add membership functionality to your site, and that's WCFM Membership.
This plugin helps to handle your multi-vendor store. With WCFM Membership, you can set up unlimited membership levels (bronze, silver, and gold) with different pricing plans and capabilities.
All the settings in WCFM are easy to configure. For instance, you can set the relevant taxes to your vendors such as VAT or GST.
Other than that, you can manage and customize email content dealing with new subscriptions, renewals, approval, and notification. You can even set the frequency of the reminder emails, and that's just great!
Primary Features:
Supports PayPal, Stripe, and Bank transfer
Set both one-time and recurring memberships
Compatible with marketplace add-ons i.e. Dokan Lite, WC Vendors, and WooCommerce Multi-Vendor Marketplace
Multilingual support
Custom Thank you page
Custom plan page
Email verification on Registration
Pricing: Free, Premium: starts at $49 per year
7. WordPress eMember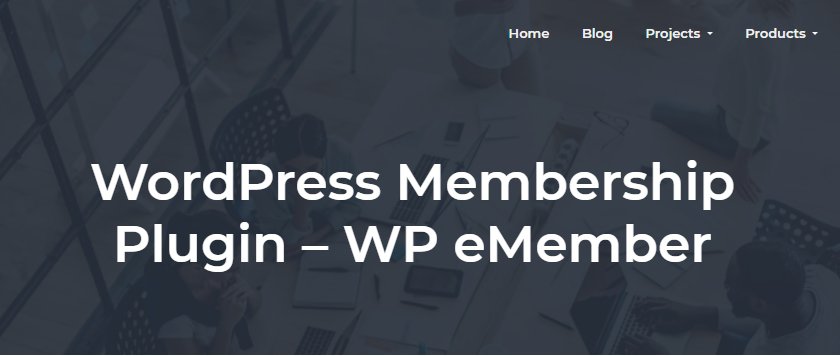 eMember is definitely one of the best WooCommerce membership plugins on this list as it is not only fairly affordable but also flaunts a number of features.
Once you add this plugin, you will be able to grant protection and restriction to articles, pages, posts, and comments by setting up various membership levels i.e. Free, Basic, Premium, and such. Hence, it helps you handle all the things related to membership management.
Also, you can set an unlimited number of unique packages along with various pricing schemes. Besides, eMember lets you add and customize registration fields for member registration forms.
Another unique feature of eMember is the display of teaser content. You can apply this feature to a small part of your premium content. That way, users can experience a little taste of the next-level package, and of course, it leads to higher conversions.
Furthermore, this plugin has integrations with some autoresponder services like MailChimp, MailPoet, and GetResponse, to place your members on the mailing list. Unfortunately, eMember lacks tracking and reporting features.
Primary Features:
Easy setup and installation
Option to bulk protect the posts, pages, and categories
Support multiple sites
Blacklist users based on IP addresses or email addresses
Login Redirection
Bookmark favorite posts and pages
Secure RSS feeds
Export all members data to a CSV file
Keep updated with the current version of WordPress
Integration with PayPal, Braintree, and WooCommerce plugin to accept membership payment
Integration with bbPress Forum
Pricing: a one-time fee of $49.95
8. Restrict Content Pro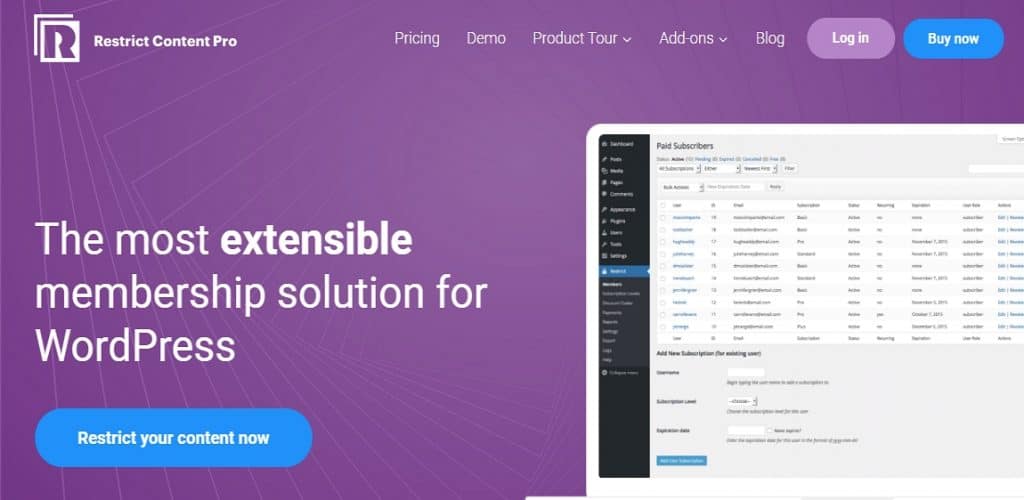 Restrict Content Pro is a good solution to choose among the best WooCommerce membership plugins. Also, It is a reliable, lightweight, and fully-featured plugin to increase your store's functionality.
This plugin is quite easy to use as it has intuitive and user-friendly dashboard settings. Once it's installed, you can create unlimited subscriptions and restrict content per post basis. Moreover, you can apply shortcodes to do content restriction.
Furthermore, you can allow users to upgrade or downgrade subscriptions with the amount they paid will be prorated to the new plan. In addition, you can generate discount coupons to attract and encourage users to buy your membership.
Restrict Content Pro offers a free version with basic features to create registration forms. However, you can go with the premium one to get unlimited features for your WooCommerce store.
Really, you won't go wrong with this plugin as it also provides a lifetime deal for users!
Primary Features:
Unlimited membership levels (Premium)
Flexible membership management
Supports all WordPress themes and plugins
Automatic notifications
Comprehensive dashboard
Detailed earning reports
Options to export member data to third-party services
Seamless integration with WooCommerce, Easy Digital Downloads, email marketing services, and payment gateways
Club memberships and private forums
Pricing: Free, Premium: starts at $99 for a single site licence
Download Restrict Content Pro ➜
9. MemberPress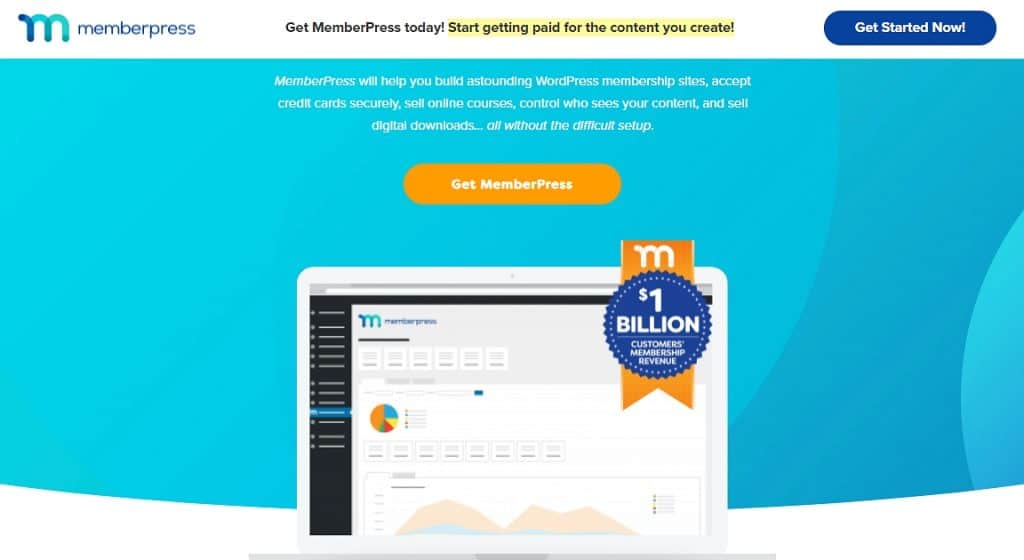 MemberPress is a membership plugin that helps you charge users for access to the store's content. It is fully compatible with WordPress so that you can build your astonishing WordPress membership website!
This plugin is easy to use since you can do all settings in just a few clicks without difficult steps. You can sell digital download products, online courses, and control who can see your content.
Moreover, MemberPress has the ability to create, manage, and track membership subscriptions. Additionally, you can manage members by giving access to pages, posts, tags, feeds, digital files, and more based on which memberships or subscriptions they belong to.
Primary Features:
Easy to set up
Unlimited membership management
Seamless integration with third-party services like Zapier, MailChimp, Stripe, and Amazon Web Services
Accept credit card and other secure payment gateways
Create and sell online courses
Reports on how things are going on your membership site
Pricing:
Basic: $179 per year
Plus: $299 per year
Pro: $399 per year
10. S2 Member

S2 Member comes to the last recommendation among best WooCommerce membership plugins. It is free and quite well-known yet offers lots of essential features for your membership site.
With this plugin, you can restrict some or all of your site's contents such as custom post types, categories, and posts or pages. Also, you can limit access to streaming media, file downloads, BuddyPress, and specific URL fragments.
S2 Members plugin provides both free and premium versions.
Unfortunately, you are limited to 4 paid membership levels only, limited coupon codes, and drip content. Hence, you'd better go with the premium version if you intend to create a stunning membership site with attractive coupons to generate more sales.
Primary Features:
Integration with PayPal, Stripe, Authorize.net
Extensive documentation section
Login widget to create custom registration forms
Integration with email marketing services like MailChimp and GetResponse
Integration with affiliate marketing services
Add and label unlimited membership levels
Email templates
IP restrictions
Brute-force protection
Works with all WooCommerce themes
Pricing: Free, Premium versions: start at $89
Which best WooCommerce membership plugins are you going with?
It is your time to have your own membership site ready to go!
You will have full control of your revenue stream if you run a membership website. With the increment of your store's membership, there will be an opportunity to gain more customers too.
Besides, you can do lots of settings and configurations to transform your online store into a membership site. Of course, that's all realized with the best WooCommerce membership plugins.
So, have you decided to pick which one is right for you? Share your comment below!
If you'd like to add more functionality, you can pair membership plugins with some best WooCommerce subscription plugins as well.