Having an online store is the new way to run and grow your business. To grow your business, you must increase sales. Promoting your products and services to gain new customers and retain them is one of the strategies. And there are some best WooCommerce marketing plugins to do so.
As you know, WooCommerce comes with tons of extensions and plugins. Each of which is designed to add extra features and further extend the store's functionality. WooCommerce marketing plugin is quite essential to surely streamline your marketing efforts.
Marketing your brand is the hard part of setting up an eCommerce store. With this kind of plugin, you can undergo tricks to be ahead of the pack and consistently achieve the business goals. Therefore, in this article we will discuss:
Let's get started!
What is WooCommerce Marketing Plugin?
WooCommerce marketing plugin is a customer-oriented plugin that allows you to strengthen store revenue and operation. With this kind of plugin, you will be able to expand content and customer reach as well as track site activity.
Moreover, a marketing plugin can automate daily routine tasks in your store for more efficient business. As a result, it will increase target audience and conversion rates too!
Also, the WooCommerce marketing plugin adds more functionality and extra features to your eCommerce site. This helps you to promote your store and increase sales.
What are Factors to Consider When Choosing the Right Marketing Plugins?
Since there is a wide range of marketing plugins, you should consider some factors before choosing the right solution that suits your requirements as follows,
A one-off cost for the plugin so it won't be pricey instead of a yearly subscription
Create a better UX and entice potential customers to make a purchase
Make your store run efficiently such as automating basic tasks and showing real-time purchasing
Provide technical support team in case you come across any issue
Best Free & Paid WooCommerce Marketing Plugins
Marketing plugins for WooCommerce are broken up around different features and functionalities. We have selected some of the best WooCommerce marketing plugins to help you do marketing activities. Here is the list for quick navigation
Let's read on to find out more!
1. OptinMonster
The first recommendation for the best WooCommerce marketing plugin is OptinMonster.
It is an irresistible plugin equipped with feature-rich signup forms and detailed analytics. With this plugin, you can build professional and eye-catching website signup forms. That way, you will be able to generate more subscribers and leads from the traffic you have.
Besides, you can create your campaigns according to visitors' behavior to boost conversions and sales. Moreover, you can install OptinMonster on every web platform and integrate it with several email marketing services.
Other Features:
Geo-location targeting to personalize campaigns based on visitor's location
Convert any link or image into a form
Canvas to draw your own design from scratch
Custom Thank You message
Drag and Drop Builder
Campaign scheduling
Scroll Trigger
Pricing:
Basic*: $9 per month
Plus*: $19 per month
Pro*: $29 per month
Growth*: $49 per month
*All the pricing is billed annually
2. Google Product Feed

Do you plan to maximize your campaign performance? Then, this plugin is the best workaround! To use this plugin, you must create a Google Merchant Account first.
With the help of this plugin, you will be able to create a product feed and send its information to the Google Merchant Centre. This is the step you should take before setting up Google Shopping Product Ads to display your store's products.
Other than that, you are allowed to pick which fields to include in the product feed. You can make the products available to your linked Google Adwords account by importing them into the Merchant Centre. Then, you can set up product ads at your own pace.
Other Features:
Extensive list of feed fields
Product mapping based on tags, categories, and attributed defined by Google product feed
Custom fields to fill richer product data
Support WooCommerce's importer and REST API
Support a wide range of WooCommerce extensions like Product Bundles, CSV import tool, and multi-currency
Pricing: $79 annually (30-day-money-back guarantee)
3. WooCommerce Automatic Lead Generator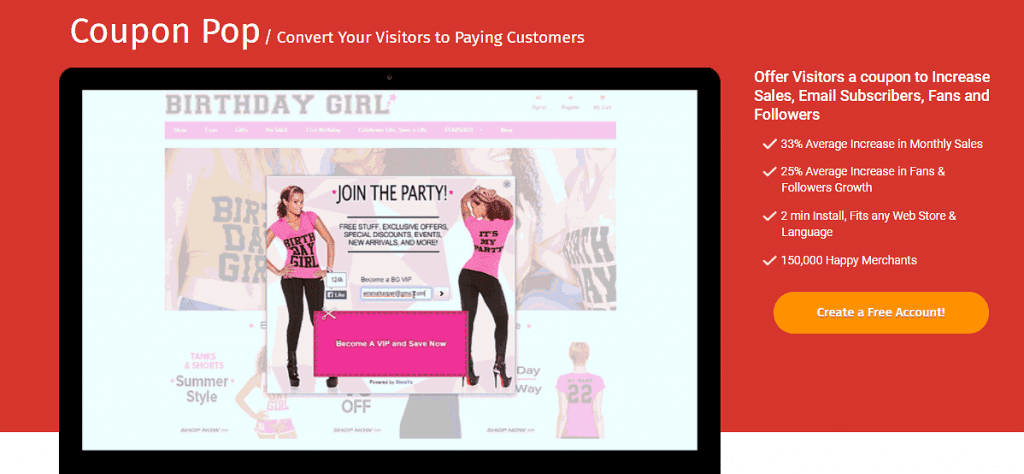 The next one to come to the list of the best WooCommerce marketing plugins is Automatic Lead Generator. With this plugin, you can attract site visitors by creating an enticing pop-up coupon.
Besides, such a coupon pop improves the store's conversion rates. Also, you can generate email lists and potential leads by giving special offers and discounts. You can create pop-ups to promote your social media pages on Facebook, Twitter, Google+, and LinkedIn.
Not only create pop-ups, but you can also customize them to your requirements and needs. Moreover, there is an option to predefine the pop-ups' time as well as specify where it should appear (either on all pages or certain pages).
Other Features:
Compatible with WordPress version 4.4.2
Easily translate to any language
Capture email leads daily and add them automatically to the mailing list
Pricing: starts at $9.99 per month and billed annually (14 days of free trial)
Install Automatic Lead Generator
4. Facebook for WooCommerce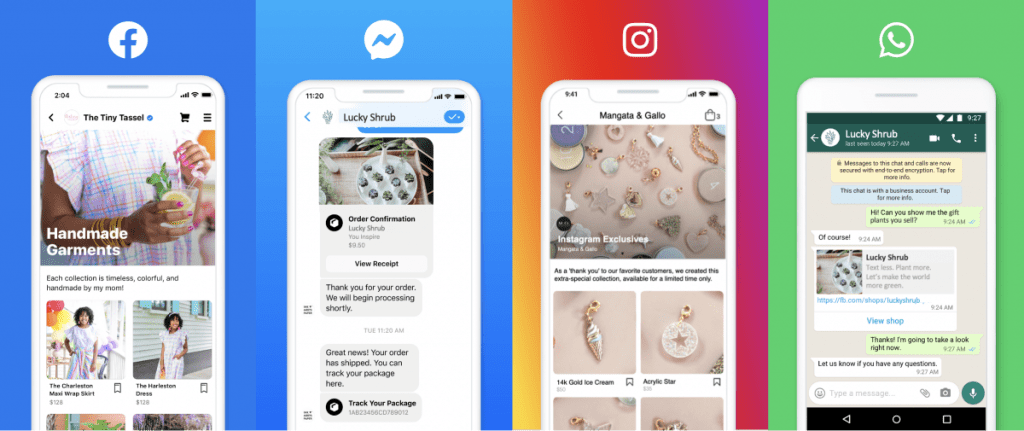 Facebook is one of the most popular social media platforms used by people worldwide. Hence, it should not be excluded from a list of marketing tools for your WooCommerce stores, right?
Facebook for WooCommerce can help you sell products online. With the help of this plugin, you can build a customizable online store on Facebook. Then, you will be able to sync it to your WooCommerce store. Therefore, any changes made to your store will be reflected automatically on the Facebook page.
Other than that, you can measure and optimize ad campaigns by adding the conversions API. In addition, you are allowed to purchase FB and Instagram ads, design them at your own pace and set the target and placement, all done directly on WooCommerce.
So, are you ready to connect your online store to Facebook with this plugin?
Other Features:
Facebook pixel integration to provide insights about Facebook ads and customer behaviour
Add Messenger to the website to answer inquiries and offer support
Setting up adverts
Add product tags
Pricing: 100% Free
Install Facebook for WooCommerce
5. WooCommerce MailChimp
This is one of the best WooCommerce marketing plugins to drive more sales! As its name suggests, it is also fully compatible and integrated with WooCommerce.
With Mailchimp, you can personalize email marketing to boost conversions. Also, this plugin helps you to sync customer data automatically. Hence, you will be able to set up and send targeted emails using the data provided.
Targeted email means you can write customer-specific emails by using their name, offering them referral programs or discounts. Other than that, you can utilize this plugin to access real-time ROI analysis reports, check the abandoned cart, view performance in the dashboard, and so forth.
Other Features:
Showcase product recommendations in your email
Customer behaviour tracking
Set up discount codes
Marketing campaigns
Pop-up to convert visitors into subscribers
Follow up emails to customers
Pricing: Free
Install Mailchimp for WooCommerce
6. Beeketing

Beeketing offers more than ten marketing tools to increase conversion rates and retain existing customers. There is no doubt that this plugin is considered one of the best WooCommerce marketing plugins.
Besides, the plugin highlights some features you have to leverage to boost sales. Among those are automated emails, product recommendations, triggered pop-ups, upsell and cross-sell.
Moreover, Beeketing is fully customizable. The plugin lets you change the text, color, and style of the widget that suits your WooCommerce store's appearance.
Additionally, Beeketing has a sales-boosting "Checkout'' app that helps you reduce cart abandonment. It shows a wide range of offers that make customers go with the checkout process.
Other Features:
Set up discount codes
Real-time sales pop-up
Send personalized emails
Suggest related products during checkout
Pricing: Free
7. YITH Recover Abandoned Cart

Sometimes, you might be worried about the number of users who have added products to the cart but haven't completed the order. This can affect your sales revenue. Hence, as its name says, YITH helps you to turn these abandoned carts into purchases.
You can use this plugin to send targeted emails to customers who left their carts unfinished. Also, you can remind them to complete the purchase process by offering coupons or special discounts to attract them. Other than that, you can customize the email content and do customer segmentation.
Moreover, this plugin allows you to set how many emails to send and the specific span time like after two days, one week, etc. The most interesting feature is you will get advanced reports about visits from sent emails, the conversion rate of abandoned carts and recovered carts as well.
Other Features:
WPML Compatibility
Supports WooCommerce Multi-Currency
Reset button for the Reports
Create different kinds of emails
Supports variable products
Recover carts for non-registered users
List of all abandoned carts
Pricing: starts at $79.99 for a single site license
Install YITH Recover Abandoned Cart
8. WooCommerce Constant Contact

Constant Contact is a smart solution to your marketing needs. They can do all great things to grow your business. This plugin not only offers email marketing services but also lets you create an online store with built-in marketing tools and generate leads through social media ads.
Once you incorporate this plugin, you can create a personalized email to customers based on their purchases and interest. Also, there is a free email template builder available. You can also search so many mobile-optimized templates for various purposes.
Moreover, you can display ongoing sales and new products on the website to let visitors know. Other than that, there is a contact list management option where you can upload contact lists from Salesforce, Outlook, and Excel.
This plugin comes with an AI-powered Web Builder that allows you to make an intuitive and mobile-friendly site in just a few clicks, with no tech skills required. Further, you can set up Facebook and Instagram ad campaigns to get more traffic to your eCommerce site.
Other Features:
Drag and drop email editor options
Send welcome email and resend email option
Real-time email tracking tools
Triggered email series
Contact segmentation
Social Posting, Inbox, Scheduling, and Analytics
Pricing: price based on number of contacts
Email: starting at $20 per month
Email Plus: starting at $25 per month
9. HubSpot for WooCommerce

HubSpot is one of the best WooCommerce marketing plugins to help you boost sales and grow your business. With this plugin, you can make your WooCommerce store work together with marketing automation.
Moreover, this top-notch plugin provides a bunch of features such as automated follow-up emails, social media ads, email marketing, web analytics, contact insights, and many more. Besides, you can also manage forms and pop-ups as well as ad campaigns on multiple platforms.
Further, HubSpot allows you to manage all social media accounts that you have. Most importantly, you can sync old and new data from WooCommerce to HubSpot CRM. As a result, you will be able to access and track customers' orders, abandoned cart details, and email interactions.
Other Features:
Advanced dashboard to check all information in one place
300 different integrations
Embed videos in social media, web pages, and blog posts
Personalized and automated marketing campaigns
Built-in analytics and custom reporting to track marketing performance
Advanced business analytics to measure growth
Contacts segmentation
Pricing: Free and Premium
10. WooCommerce Instagram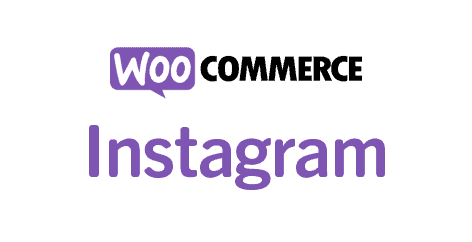 Do you intend to provide a hassle-free journey when customers purchase products online? Then, WooCommerce Instagram is a great solution!
As we know, most micro, medium, and large businesses promote their products and communicate with customers through social media. Therefore, you can leverage this plugin to conduct product promotions on Instagram. In addition, you can show how buyers use your products to your Instagram followers and audiences.
To work with this plugin, you must create a valid Instagram account. Besides, you can use WooCommerce Instagram to showcase your products' images by simply using certain hashtags in the content area. Moreover, this plugin is easy to configure and user-friendly.
What an effective tool to market your product!
Other Features:
Link your Instagram account to WordPress
Display a product's Instagram images on the website with hashtag
Support Instagram Shopping
Pricing: $79 (30-day money-back guarantee)
Which best WooCommerce marketing plugins are you going to combine and make use of?
Running marketing strategies on WooCommerce stores is not as easy as setting it up. You will need to elevate the store's functionality to generate conversions and sales continuously.
We hope that the list of options mentioned in this article has given you insights into your marketing efforts and initiatives. You can combine those plugins to create brand awareness and customer engagement.
For example, you can leverage Mailchimp for email marketing and Automatic Lead Generator for pricing strategies.
We recommend you use the right combination and choose the best one that helps improve customers' experience and marketing automation. You can take the benefit from them and make sure your store runs the marketing efforts more efficiently.
In addition, you can also use marketing plugins to work hand in hand with the best WooCommerce tickets plugins to conduct an event with ticketing procedures in your store!