WooCommerce is the most popular eCommerce platform that allows you to sell either physical or digital products. But have you ever thought about selling online tickets in your online store? That's possible with the help of the best WooCommerce tickets plugins.
There are many ways you can start selling tickets. You can either sell it right in your store or collaborate with a ticket sales company. However, both ways bring their own challenges. Even third-party assistance has the commission that will cut your financial budget.
Hence, you'd better install a plugin that helps you set up event tickets and sell them on your WooCommerce store. Such a plugin provides some advanced features to help you manage the ticketing process without hassles.
In this article, we will learn
Let's get cracking!
What is a WooCommerce tickets plugin?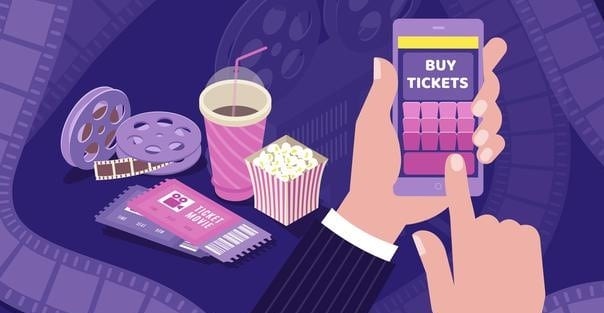 A plugin that is specifically made to work with WooCommerce to run a ticket sales strategy. With the help of this plugin, you will be able to add selling registration for an easier ticketing operation.
Also, you can peddle the tickets and send them digitally to customers after they make a purchase. Moreover, some plugins have additional payment gateway options.
What are the advantages of using this plugin?
There are many things you can do when using this kind of plugin
Selling tickets on the event website in a simple way
Gaining revenue directly to your bank account
Designing your own ticket template
Using the Android or iPhone app to scan and verify tickets on mobile
Creating a smoothly shopping atmosphere for your event attendees
Managing events and their onboarding process
Displaying events and controlling attendance
Generating reports according to customers experience
Best Free & Paid WooCommerce Tickets Plugins
As we mentioned earlier, you can also create or conduct an event with a ticketing process besides selling products on WooCommerce. If you are running a WooCommerce website, there are several best WooCommerce tickets plugins to help you start offering tickets online without wasting hours. Let's get down to the list!
To find out more, let's dive into the top 10 WooCommerce tickets plugin free and premium!
1. Event Tickets

Event Tickets is a free plugin that you can download via the WordPress directory. This plugin will help you if you only want to conduct an event and manage attendees without selling tickets.
Besides, you can use Event tickets to apply RSVP functionality to posts and pages. Moreover, you will have access to attendee information to check-in attendees from your site's back end. This plugin is indeed a good workaround for free events management on your WooCommerce store.
Other Features:
Custom tickets to create title and description
Integration with the Events Calendar plugin
PayPal management for all payment procedures
Auto-integration with WooCommerce
Display sold-out message if the tickets stock is over
Set the start and end dates for ticket sales
Pricing: Free
2. Event Tickets Plus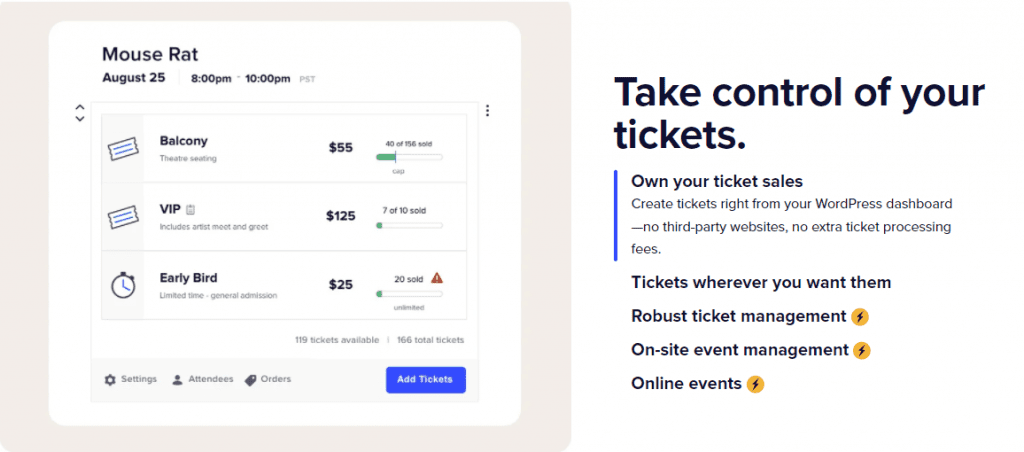 Do you intend to sell tickets for your own events? Then, this plugin comes to help you with that!
Event Tickets Plus gives you access to handle and control ticket sales in your WooCommerce store. Also, you have the flexibility to create as many tickets as you need. Moreover, it has an easy and responsive dashboard that lets you just simply add tickets to an event promoted on your store and sell them to visitors.
Furthermore, you can set multiple ticket types with this plugin. Most importantly, it provides an option to make a custom registration form to collect attendees' information as required.
Other Features:
Create tickets from WP admin
Shortcodes to display tickets anywhere on your site
Advanced features to control ticket sales like a stock countdown and mobile ticketing
Supports various payment gateways such as Stripe, PayPal, and Braintree
Email confirmation to attendees
Ticket sales and attendees report management
QR code check-in
Pricing: $99 for a single site, $149 for 3 sites, $750 for unlimited sites
3. The Events Calendar

Events Calendar comes to the list of the best WooCommerce tickets plugins since it is responsive, smooth, and easy to use. As its name suggests, you will be able to create and manage a fully functional calendar on your site.
Moreover, the Event calendar works seamlessly as it is customizable with filters, tags, and hooks. No need to worry if you do not have any coding experience. This plugin allows you to customize it with other third parties or developer inputs.
Some advanced features provided in this plugin are Google calendar integration, iCal exporting, and upcoming events list. No wonder it has more than 600,000 active installs worldwide!
Other Features:
Compatible with some major themes
Supports Block Editor
Google Maps integration to display venue location
Add events, organizers, and venues
Options to show the calendar in a list or day view
Pricing: Free
4. WooCommerce Box Office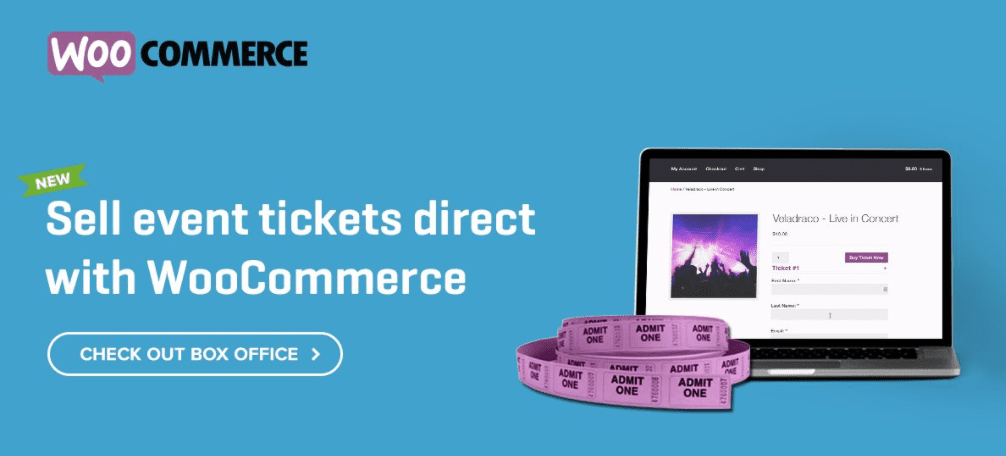 This is a good plugin that completely works with WooCommerce stores to sell tickets online directly. WooCommerce Box Office allows you to create a ticket option for the product by simply navigating to the WooCommerce product page and checking the ticket product type.
With this plugin, you can add multiple ticket types such as dynamic pricing, stock levels, benefits, and content. Moreover, the plugin's user interface is so intuitive that you will be able to do configuration and setting easily. Also, Woo Box Office helps you keep track of ticket sales and stock.
Further, there is an option to restrict content such as webinars or concerts on the website only to those who bought the tickets. Really, this plugin saves your time and effort in ticketing procedures!
Other Features:
Integration with WooCommerce Order Barcodes extension
Generate events as products
Create coupon codes for discounts
Set an event as available to sponsors and partners
Customized emails for ticket buyers to update them about event-related things
Custom signup forms
Pricing: starts at $129 per year for a single site (money-back guarantee within 30 days)
5. WooCommerce Event Ticket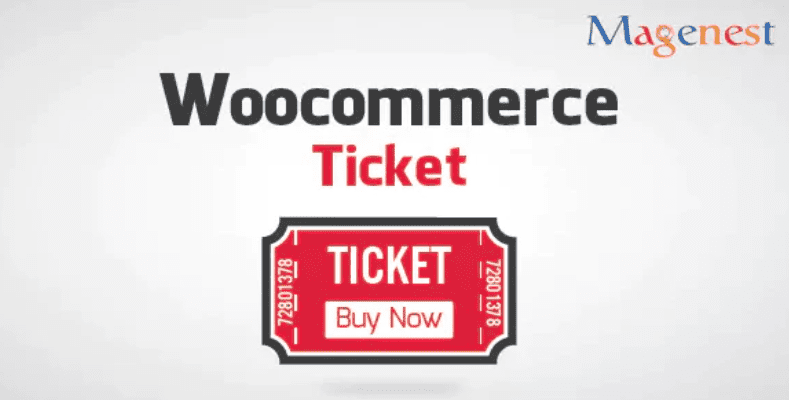 For event organizers who want to sell tickets online, this plugin is a great choice! It is the most advanced and recommended WooCommerce Ticket Plugin to use.
You will be able to create and manage tickets with ease in this plugin. Besides, it offers a bunch of advanced features like Google Maps to show event locations, auto-generated QR code tickets, and customizable email templates to send the tickets to customers.
Also, the most interesting feature you can take advantage of is exporting attendee details in CSV file format. That way you can control every single aspect of the event as well as the ticket database.
Other Features:
Multiple languages supported
Bulk ticket handling
Customized PDF tickets
Supports both simple and variable products
Redeem and resend tickets from the backend
Manage event tickets on the admin panel
Options to choose between e-ticket and physical tickets (for customers)
Buy one or multiple tickets for events (for customers)
Pricing: the regular license of the plugin costs $1005
Download WooCommerce Event Ticket
6. FooEvents for WooCommerce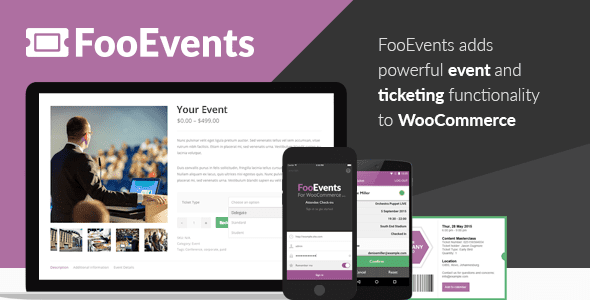 FooEvents is one of the best WooCommerce tickets plugins that is specifically developed to manage event tickets. You will be able to generate unlimited tickets and create virtual events with the help of this plugin.
Besides, it comes with some key features such as registration and signup form creation, discount code support, PayPal integration, Zoom integration, and much more. Also, it is fully compatible with WooCommerce and WordPress themes.
Furthermore, the plugin offers a drag and drop interface so that you can design event merchandise at your own pace. What a robust ticket plugin to save yourself from the hassles of setting up ticketing procedures!
Other Features:
Purchase one-time or recurring event (for customers)
Display an online calendar with all the upcoming events
Printer-friendly PDFs tickets
Customize the check-in app according to event
Filter attendees by checked-in status
Customizable tickets layout
Pricing:
Regular licence costs $59
Extended licence costs $349
Download FooEvents for WooCommerce
7. YITH Event Tickets for WooCommerce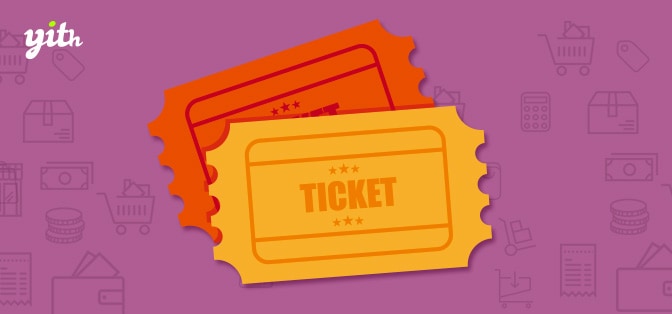 YITH WooCommerce Event Tickets is another best plugin to install as it offers many interesting features. You can leverage them to create all sorts of events or meetings and start selling tickets on your WooCommerce store.
The plugin has simple options and configurations. Also, you just need to set the event's location, date, and seat availability to create tickets. Moreover, you can use the dynamic pricing option to change the price when there are few tickets left and the event date is just around the corner.
Furthermore, YITH Event tickets let you add multiple ticket types, add event information, and manage inventory. All those are done from the dashboard, easy, right?
Other Features:
Supports WMPL
YITH BarCodes and QR Codes plugin compatibility
Option to charge a shipping fee to send a physical copy of the ticket
Reduce the ticket's price for certain attendees
Google map display
Easily purchase and print the tickets in PDF format (for attendees)
Supports physical and virtual tickets
Automatically decrease stock level when a ticket is bought
Edit tickets with custom image and text
Google calendar integration
Pricing:
A single site: $99.99
Up to six sites: $249.99
30 sites: $399.99
Download YITH WooCommerce Event Tickets
8. Eventer – WordPress Event & Booking Manager Plugin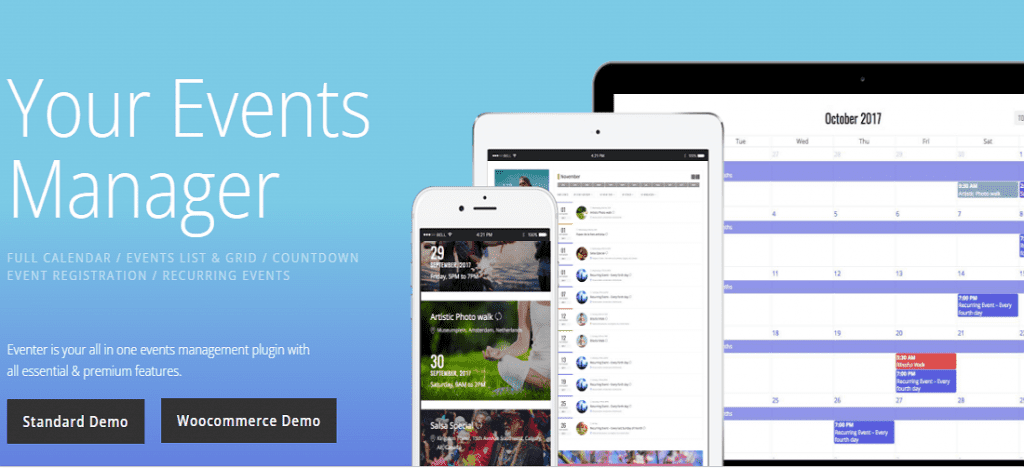 Eventer is another recommended WooCommerce tickets plugin to help you streamline the whole ticketing system. Also, it is equipped with astonishing features such as collecting payments and enabling social sharing. This means you can share event details on Google, Twitter, Facebook, etc.
Besides, there is a custom drag and drop builder so that you will be able to add and manage events with ease. Additionally, it works with WooCommerce stores to make event bookings much easier.
Further, you can show a full-width calendar to preview events and upload events by using CSV files. Most importantly, the number of venues and organizers is not limited to Eventer!
Other Features:
Stripe support
Printable tickets
Custom registration form creation
Check-in calendar
Automatic QR code integration
Email notification
Create a recurring event
Create a countdown timer
Multiple ticket layout
WPBakery Page Builder compatibility
Pricing: starts at $39 for a single site licence
9. Bridge for WooCommerce – Tickera Event Ticketing System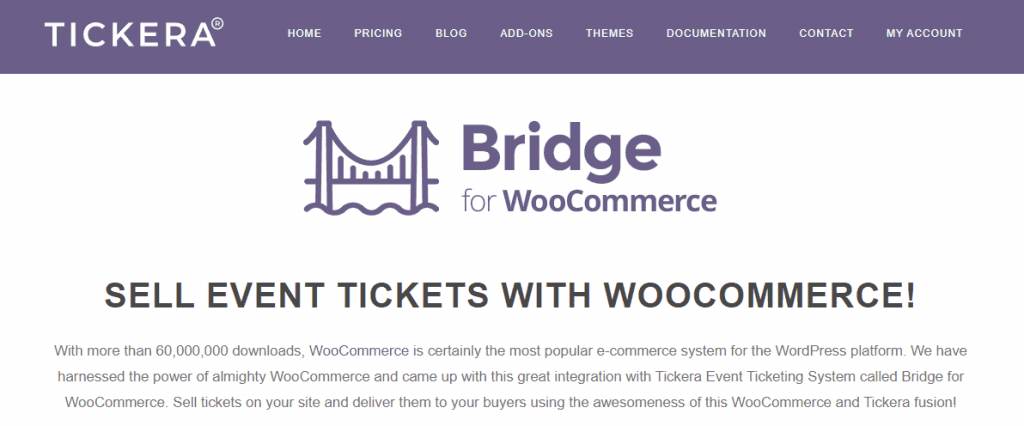 Bridge for WooCommerce is another great solution to sell tickets as it has integration to your WooCommerce store. With help of this plugin, you can create tickets and set variations. Also, it has a user-friendly interface so that you can set up the configuration in just a few minutes.
Once you install the plugin, you can manage ticket pricing like giving early bird pricing. Besides, there is an option to send a downloadable PDF ticket along with the order confirmation email.
Further, the plugin offers to create custom question fields to gather attendees' information. Finally, you are allowed to design each ticket type by using an advanced template builder.
What a fully functional plugin it is!
Other Features:
Compatible with many Tickera add ons such as serial tickets code, seating chart, and CSV export code.
Sell optional add-on products along with events
Check-in attendees with QR codes by using QR scanner apps
Schedule sale price date
Sell tickets and other products at the same time
Hide tickets from the WooCommerce product archive
Export attendee list in either PDF or CSV format
Pricing: $79
Download Bridge for WooCommerce
10. WP Event – WooCommerce Event Ticket and Calendar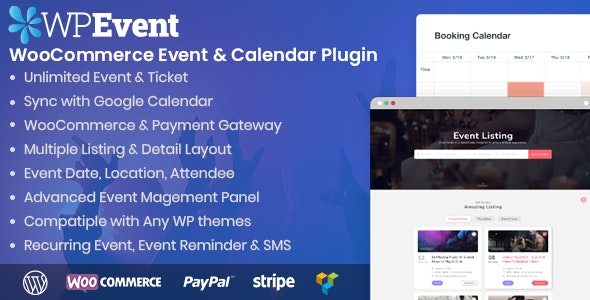 WP Event grabs the spot in the best WooCommerce tickets plugins because it helps you provide online booking services in a convenient way. Also, it has a responsive and optimized interface. Hence, it is accessible smoothly on all devices including tablets and smartphones.
And what is coming up next? Of course, you can increase sales with the help of the WP Event!
This plugin is a good workaround for those arranging business-based events. Moreover, you will be able to organize different events easily along with setting prices and selling tickets.
Further, there is a feature to hide content on certain pages. You can use it to restrict people to see some information dealing with dates, prices, or labels.
Other Features:
Display all events in chronological order
Manage recurring events via a single event page
Supports Paypal and Stripe
SMS/Email notifications and reminders
Multiple category levels
Form builder
Customizable template
Pricing: $59 for a regular licence
So, which WooCommerce tickets plugin suits your needs?
The emergence of ticket plugins is beneficial to run streamlined ticketing procedures from creating, selling, to check-in. From the best WooCommerce ticket plugins listed above, which one is right for you?
It depends! Aside from all the wonderful features of those listed plugins, you should use one supporting your business goals.
We hope that this article has given you an insight on how to take advantage of the tickets plugin to your WooCommerce store.
Also, if you want to avoid the complicated process of importing and exporting products, take a deeper look into the 10 best WooCommerce Product Import Plugins to run the process quickly.