Are you planning to start your WooCommerce store offering services and products on subscription? This is where the best WooCommerce subscription plugins come to boost your business revenue.
You will have a wide range of options once you add WooCommerce subscription plugins to your online store. Among those options are collect recurring payments at a fixed interval and set the duration to pay the bills.
Besides, subscription is a strategy for maintaining sales and revenue as it also works with the site's marketing campaigns. Hence, in this post, we will learn:
Without further ado, let's go through!
What is WooCommerce Subscription?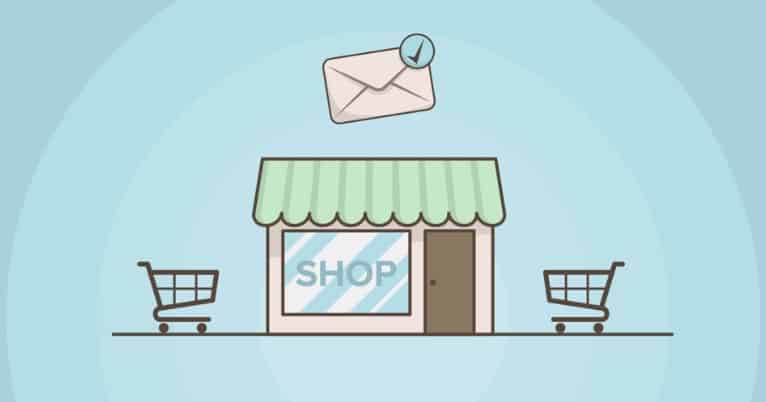 In this digital era, selling products and services through online stores is a great workaround to get money. Also, long-term recurring sales are the key to maintaining your business. Hence, it is necessary to adopt the subscription model by using the WooCommerce subscription plugin.
As its name implies, such a plugin is built to work with WooCommerce to provide subscription facilities. That's lucky if your online store website uses WooCommerce!
WooCommerce subscription plugin can help your business generate recurring sales from customers once they subscribe to the products and services. Other than that, it is easy to use to set up subscription pricing and recurring billing for digital products.
Moreover, the subscription will be renewed automatically according to the billing cycle. As a result, you do not need to deal with manually sending reminders to users for re-billing and account management.
Benefits of WooCommerce Subscription
Both customers and store owners can leverage the existence of the WooCommerce shipping plugin. On one hand, customers can determine when they will purchase and start subscribing to the recurring product. On the other hand, store owners also earn regular income easily.
Here are several advantages for adding WooCommerce subscription plugin
1. Sales consistency and stability
It is quite challenging to run an eCommerce store for the long term if the sales fluctuate every month. The irregularity of sales volume is likely to occur if you set a one-time payment model as you need to persuade and convert customers to maintain the product usage.
In the subscription model, you only need to attract and convert potential customers once and you will receive recurring income. Also, by using WooCommerce subscription plugin, the billing cycle is handled automatically once your clients subscribe to the product or service.
Once you get your recurring revenue, your store comes to the stability and consistency of the sales. This, of course, affects how your business runs in the future, an expansion for instance. Moreover, it will let you focus on other things such as product innovation and delivery.
2. Improve customer retention
A bunch of things you can create once you put a WooCommerce subscription plugin on your website. You can set up product bundles, recurring content subscriptions, and a membership site.
It's no doubt that selling products to existing customers is much easier than looking for new potential ones to buy our product. Therefore, repeat customers are more likely to continue using your business' service or upgrade their existing subscription plan.
Besides, the subscription payment method brings customers to a long-term buying process. They may keep using the product or services monthly or annually.
Thus, your store's revenue is guaranteed, and you can focus more on improving customer retention and user experience. Something you should note is there will be a stronger bond between customers and the provided product and service if customers subscribe longer.
3. Optimize marketing strategy
By having a subscription-based business model, you'll gain more subscribers for every single person signing up and closing the deal. This helps you gain more insights into customer behaviour data.
And yeah, you can use such a database to grow your business and marketing efforts to find new customers and sell more products. It will be easier to create a compelling marketing campaign if you know better your user habits and behaviour.
Other than that, you can leverage a subscription plugin to build a store's marketing email list to optimize customer engagement by doing surveys. As such, additional insights can be obtained to improve the business' scope and reduce marketing costs.
Once your marketing strategy hits the jackpot, it brings more subscribers and recurring income which means exponential growth to your business.
4. Attract leads and customers
Customers prefer a subscription-based model because it is simple. A website that provides such a model can make customers easier and more comfortable accessing products and services.
With a subscription plugin, product and service can be set in subscription-based, and that way you can set up recurring payment options too. Therefore, you will be able to collect payment from either virtual or physical products at a fixed period.
Payment or subscription period can be daily, weekly, monthly, and annually. Thus, with these options, customers can scale their ability to subscribe or purchase the product.
Best WooCommerce Subscription Plugins (Free & Premium)
We've picked the 10 best WooCommerce subscription plugins to help you administer recurring product bills and maintain users' subscriptions.
Want to know more? Let's read on!
1. Subscriptio by RightPress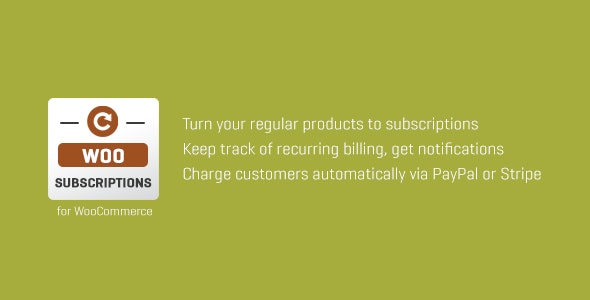 The first recommendation is Subscriptio, the best WooCommerce subscription plugin to sell your digital and physical product. With Subscriptio, customers can purchase regular items with subscriptions, and store owners can customize the plugin as well using hooks and filters.
Subscriptio has flexible billing terms so that customers can easily pause, cancel and resume subscriptions. Also, you can set free trials for new users at a certain period, the length of the billing cycle, subscription length, trial length, and many others.
The subscription flow is started from order placed till processing automatic payment once there is a customer who bought a subscription product on your site. In addition, this plugin provides flexible subscriber management.
That is why your customer can purchase both subscription and non-subscription products on a single checkout page. Moreover, you can send automated email reminders for renewal, new sign up, and more.
Other Features:
Online membership with recurring billing
Fully support PayPal and Stripe payment gateway
Simple and variable product supported
Allows multiple subscription purchases, no limit.
Subscription list and management tools
Pricing: starting at $49 for a regular licence and $249 for an extended licence.
2. Sumo Subscriptions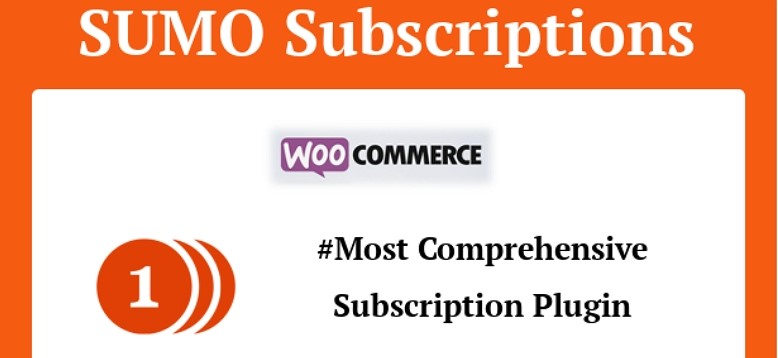 Sumo is an easy-to-use and straightforward WooCommerce subscription plugin that has abundant features. It provides various types of subscriptions such as single, grouped, and variable products.
Sumo subscriptions offer free and paid trials for new users, too. This is a great plugin to help you create recurring payments.
Besides, it has four payment gateways that include automatic renewals by using PayPal and Stripe. In addition, Sumo allows you to set up simple, variable, and grouped product subscriptions on your eCommerce store.
With this plugin, users will be able to choose the duration for order subscriptions as well as the renewal cycle.
Other Features:
Automatic subscription renewal using SUMO Reward Points Payment with SUMO Reward Points Plugin.
Automated reminder emails for payment
Record all the transactions on the website by viewing a master log
Compatible with WordPress and WooCommerce
Recurring donations with SUMO donation plugin
An option to switch between automatic and manual subscription
Payment synchronization
Pricing: starting from $49 for a single site license for 6 months
3. WP Simple Pay (Built for Stripe)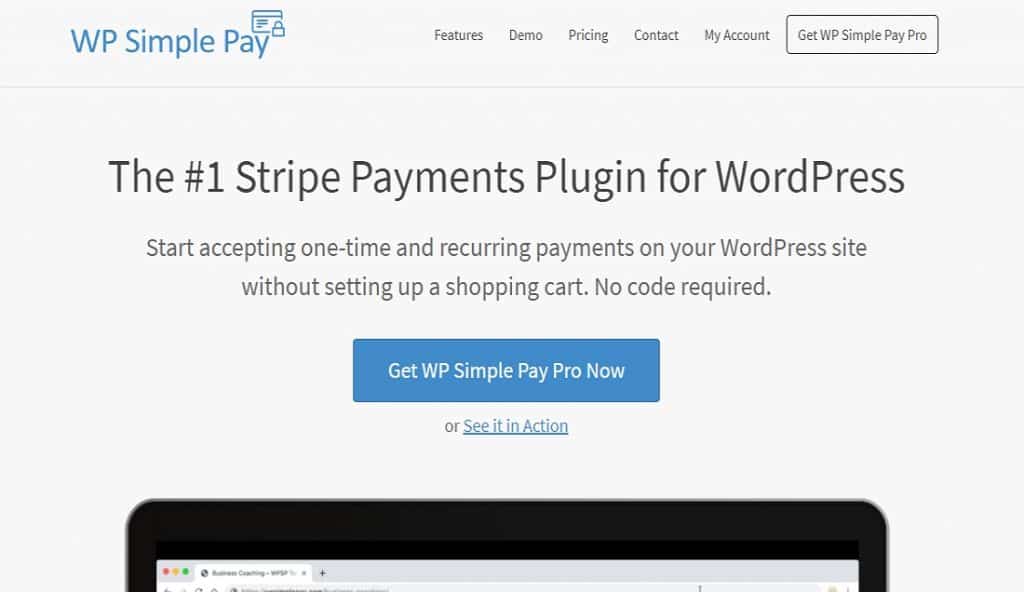 If you are using Stripe as a payment gateway, WP Simple Pay is a great choice as your WooCommerce subscription plugin. You can use this plugin to receive either one-time or recurring payments in a seamless and elegant way, even without using any single code.
To make your eCommerce store work with WP Simple Pay, you just need to create subscription plans under your Stripe account. Next, you should link the products or services to the plugin in your dashboard.
WP Simple Pay also allows you to create initial setup fees, trial periods, and instalment plans. Besides, you can also gather all data into Stripe such as numbers and emails by using custom fields forms.
Furthermore, non-cards payment methods are supported with this plugin including Google Pay, ACH Debit, and Apple Pay.
Other Features:
Supports Secure Customer Authentication (SCA)
Support multi-language and currency.
Fully support WordPress translation ready
Drag and drop builder that is easy to use
Customizable payment forms
Pricing: Starts from $99 per year for one site, $149 per year for three sites, $249 per year for unlimited sites
4. YITH Woocommerce Subscription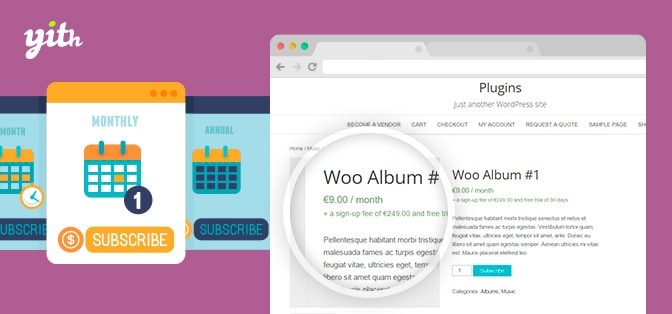 This is the best WooCommerce subscription plugin if you offer virtual products like podcasts, learning courses, and videos. YITH subscription plugin can help simplify the process of subscription and will be pretty well anything with an installment basis.
Besides, you can set up the renewal type on a daily or monthly basis as well as create an unlimited subscription plan. In addition, Yith allows users to pause subscriptions many times for premium versions.
You can also pay using PayPal and Stripe as it supports multiple payment gateways. Moreover, there is an email reminder feature to notify customers of the expiration date of the subscription.
Another interesting feature you should try in this plugin is multiple products in a single transaction. Even it allows customers to upgrade and downgrade their current subscription freely.
Other Features:
Renew subscription automatically
Export all subscriptions to a CSV file
Recurring payment options (weekly/yearly)
Trial period option before the subscription
Delete subscription
Pricing:
Basic= Free
Premium: € 199.99/year
Download YITH WooCommerce Subscription ➜
5. WooCommerce Subscriptions by WooCommerce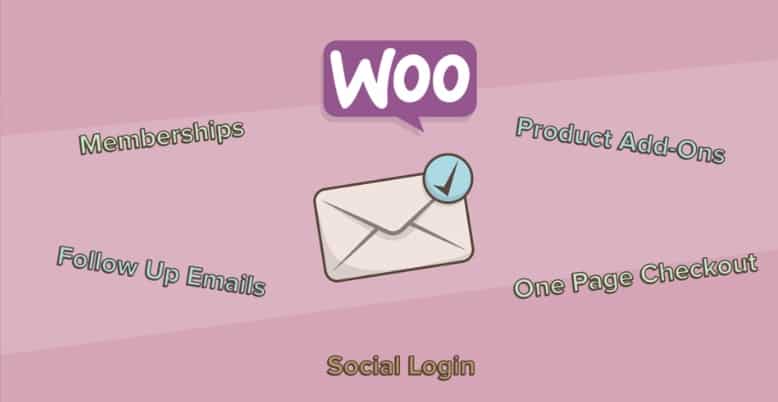 Next, we have WooCommerce Subscriptions developed by WooCommerce itself. This is one of the best WooCommerce subscription plugins you can count on to manage subscription products and recurring payments.
It supports more than 25 automatic payment gateway that can automatically charge users for their subscription. However, a manual renewal option is still available.
With this plugin, you can customize the subscription plan such as adding items, trial period duration, taxes, and fees. Also, users can control subscription plans such as doing upgrades and downgrades without approval.
The most exciting feature on WooCommerce Subscription is a detailed report that provides you with more information about the number of active and inactive users as well as all recurring revenue.
Other Features:
Allow creating variable subscription product
Integrated email notification for renewal
Free Trials and Sign-Up fees
Flexible product options
Coupons for subscription
Easy subscription management
Billing schedule option
Payment synchronization
Pricing: $199 per year
Download WooCommerce Subscriptions ➜
6. Subscriptions for WooCommerce by WebToffee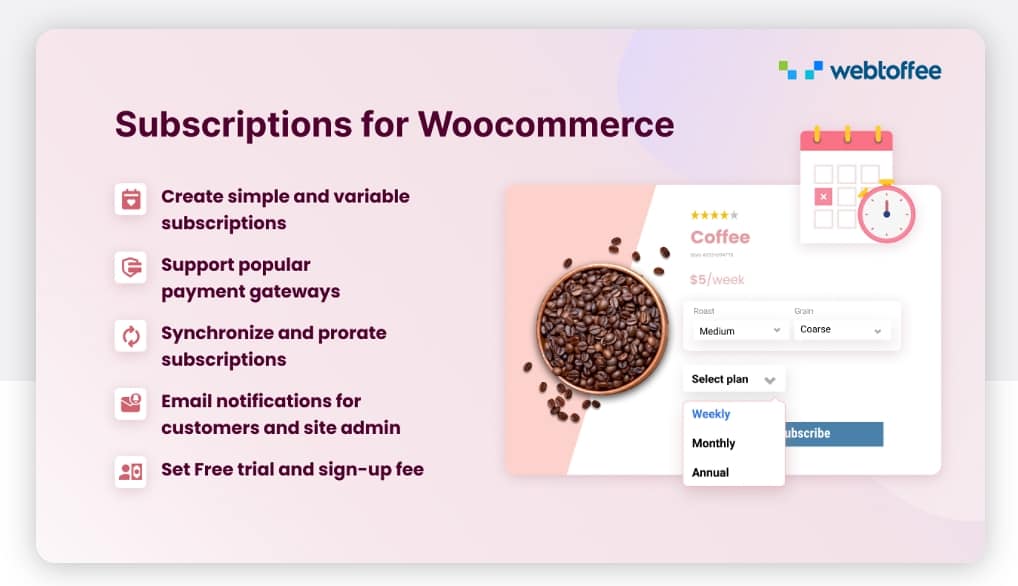 Another best WooCommerce subscription plugin is Subscription for WooCommerce by WebToffee. You can leverage its feature to manage and set up billing and recurring payment to your online store.
Once you install this plugin, you can use it to sell either simple or variable subscription products. It also offers free trials to set up with a number of days or weeks for the duration.
Besides the free trials, you can set the subscription period too i.e. weekly, monthly, or annually. Moreover, this plugin has a popular feature you should apply, a recurring discount. You can make a coupon for fixed and percentage discount for every renewal.
Other Features:
Stripe and Paypal support
Email notification
Prorate and sync subscription renewal
Multiple billing schedules
Support multilingual
Renewal interval and expiry management
Pricing: start $89 per year for a single site
Download Subscription for WooCommerce by WebToffee ➜
7. Subscriptions for WooCommerce by MakeWebBetter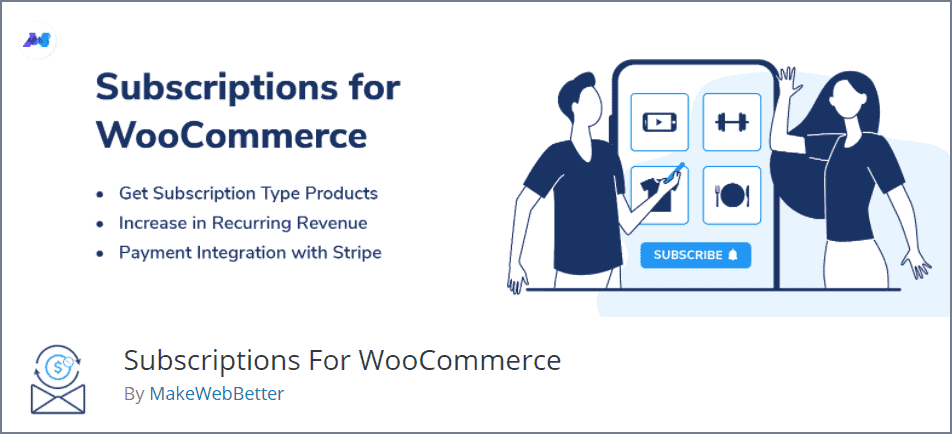 This plugin is a good solution for your online store selling all types of products such as virtual, physical, and downloadable products. Subscription for WooCommerce by MakeWebBetter is an easy-to-use and highly adjustable plugin to help you manage subscription products.
By using this plugin, you will be able to set a time limit for every subscription installment. Other than that, it offers interesting features such as setting frequency for subscription products and subscription plan expiry options for customers.
A feature that sets this plugin apart from others is WooCommerce subscribe plan report module. It gives you complete data of all your users including active and inactive subscriptions, and the expiration date of the subscription.
Other Features:
Halt or resume subscription easily
Set initial fees for subscription-based products
Set a free trial period
Limit free trial
Subscription frequency
Pricing: Definitely free!
Download Subscription for WooCommerce by MakeWebBetter ➜
8. WP Full Stripe

WP Full Stripe is a subscription plugin that can enhance the functionality of WooCommerce. With this plugin, not only subscriptions you can create on your site, but also send invoices and sell one-time products as well.
As the name says, you can build and leverage Stripe's API without editing the code when using this subscription plugin. Also, you can integrate with pricing tables and accept donations with this plugin.
WP Full Stripe is a lightweight plugin that helps you boost subscription-based business with payment and refund management. Besides, you can offer trials with limited time for paid and free plans, localize messages, and create custom forms to increase conversions.
Other Features:
Post-purchase experience management
Customize appearance
Easy setup and management
Email notifications
Collect the customer's payment information
Sell recurring services
Billing and shipping address
Pricing: starts at $49 annually for 1 website (14 days money-back guarantee)
9. Paid Member Subscriptions

One of the best WooCommerce subscription plugins if you run a membership site is Paid Member Subscriptions. It allows you to set limited access for premium content sold on your website.
With such a restriction, only the members can access it. Also, this membership management plugin offers integration with the Elementor page builder so that you will be able to make content restrictions on it too.
Paid Member Subscriptions has so many features to offer in managing the payments and memberships. Once it's installed, you can set hierarchical packages for subscriptions and memberships at different levels.
Like some other subscription plugins, Paid Member Subscriptions let you provide a free trial for customers before selecting any subscription plan. Additionally, you can also offer discounts for some products to registered users if they still have an active subscription.
Other Features:
Edit and delete user's subscription details
Full control of member management
Set member-only products based on subscription status
Support shortcode
Multiple subscriptions (Pro)
Recurring payment with PayPal (Pro)
Free Trial and Sign Up fees (Pro)
Track payment status and purchased information with detailed payment logs
Export subscription and membership to CSV file
Pricing: Free, Paid: €69 annually for a single site
Download Paid Member Subscription ➜
10. Paid Memberships Pro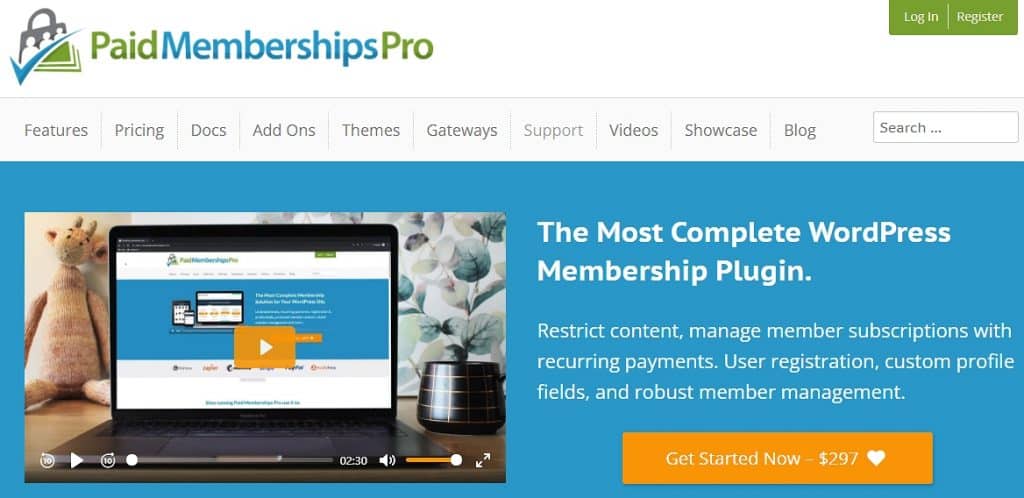 As its name suggests, this plugin is dedicated to membership websites as an addition to the membership plugin. Hence, it is not suitable for a site selling either physical or digital products.
Paid Membership Pro provides users with tons of integration with networking and marketing email. It has up to 75 addons and integration, that's great!
No wonder this plugin is so popular with more than 90,000 active installations. Moreover, it comes with some features to improve the functionality of your WordPress-based subscription business.
Furthermore, You can set up donations, group discounts, invite-only membership, and PayFlow recurring orders, and more.
Other Features:
Support Stripe, PayPal, Braintree, 2Checkout, Authorize.net
Option to choose the payment method
Renewal dates customization
Trial periods converting to a paid membership automatically
Payment option and invoicing
Pricing:
Free
Plus: $297 per year
Unlimited: $597 per year
Download Paid Membership Pro ➜
Which best WooCommerce Subscription plugins will you choose?
Subscription is indeed the most prevalent payment model for streaming services like Netflix, Spotify, and others. However, it is not limited to that, eCommerce businesses that sell both physical and virtual products are now starting to use it.
It is not that easy to figure out who has or has not paid the bills. Also, it is a tough thing to do for listing all customers and sending email notifications to them.
Therefore, you must take action to manage recurring payments and take note of those who have not done renewal. How can you do so?
Of course, by installing the best WooCommerce subscription plugins on your website. Moreover, you can also support subscription-based physical products with the best WooCommerce shipping plugins to boost your store's sales and revenue.