Are you still considering that managing multiple stores will lead to hassles and difficulty? Fret not! We are here to tell you how to cope with such challenges by utilizing several best WooCommerce multistore plugins.
Having multiple stores is necessary when you sell two or more products that are apparently different. For example, if your store sells virtual products like software or applications, it seems weird when you add physical products like clothing and shoes on the same web page.
Therefore, you should start to build a separate store and manage them all in one place. Moreover, multistore can help address your strategy in catering to customers' needs.
That is why, in this article, we'll go through
Let's get cracking!
When Should You Install Multistore Plugin?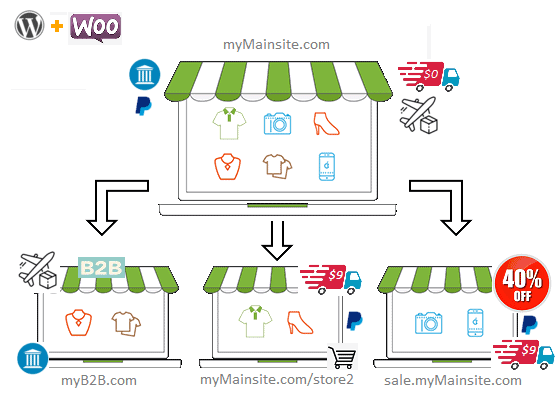 In certain scenarios, you can run some eCommerce stores that totally require a different strategy. As an owner having different target customers of your product type, this is where multistore plugins come as the solutions.
Some of you might think that it needs more struggle for multiple store management. Even so, managing multiple WooCommerce stores won't be frustrating and complicated if you know the right plugins to use.
Instead, using the right plugin can help you manage multiple stores easily, even can be as convenient as running a single site!
Here are some reasons to figure out whether running multiple stores is a good workaround for your business
Producing a bunch of products that need to offer to the right customers in different regions either locally or internationally
Having multiple websites with different languages to get in touch with customers worldwide for instance.
Providing a wide range of goods with different target audiences
Running retail and wholesale brand products at once since they obviously have different pricing
Optimizing appearance and functionality based on the product offered on each store
Best Free & Paid WooCommerce Multistore Plugins
If you run an eCommerce store on WooCommerce, you will be able to handle multiple or separate sites on the same dashboard. You can have access to manage products, integrations, reporting, and more.
We have handpicked the 10 best WooCommerce multistore plugins free and premium to help you with multiple stores management in one place. Here they are:
Wanna know more? Let's check them out below!
1. Veeqo

Veeqo is the perfect solution for your WooCommerce multistore to deal with shipping and inventory management. Also, this plugin provides direct integration with Amazon, Shopify, eBay, Magento, and many more.
Besides, you can sync inventory on every channel in real-time. In addition, this plugin helps you manage orders from WooCommerce and automatically update order status.
Veeqo comes with interesting features such as automating repetitive shipping tasks, bulk ship orders, and finding any order fast by using live search and advanced filter options.
Other Features:
Multisites WooCommerce management
Optimized digital picking scanners
Intuitive dashboard
Automatically always keeps track of inventory
Detailed performance reports regarding inventory, sales, and fulfilment
Unified management to track all suppliers and purchase orders
Pricing: Veeqo offers a free trial on 3 plans
Accelerator: £120 monthly
High Growth: £156 monthly
Premium: £200 monthly
2. WooCommerce Global Cart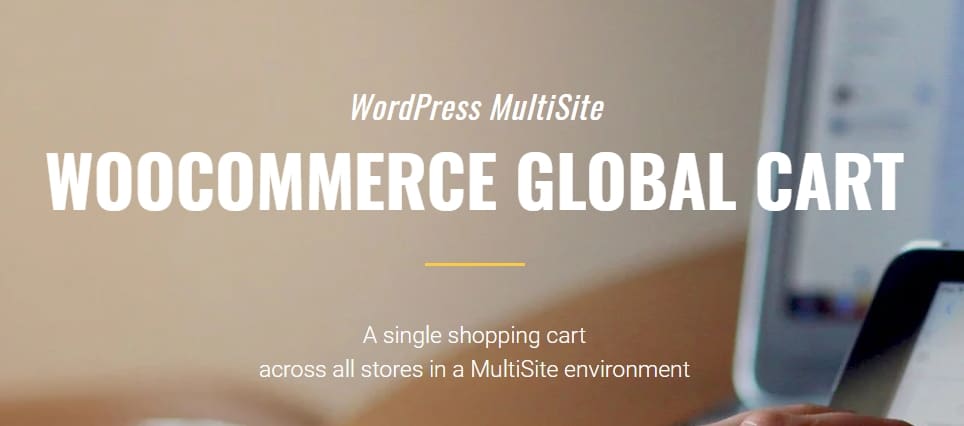 This is an easy WooCommerce multistore plugin to use. You can run WooCommerce Global Cart plugin with simple configuration and settings.
Once you install the plugin, you will be able to run multiple distinct stores for different products or brands. Besides, you can bring them all together in one cart and checkout. As a result, your products in any store can be added to a single cart.
Moreover, it offers seamless integration to many stores which run in the multisite network. Although this plugin is not free, it is worth paying for since it supports all domain types including custom domains and subdomains.
Other Features:
Simple UI
Detailed documentation to help you with troubles
Graphs and stats to see all network store's performance
Unlimited plugin updates
Global search across all stores
Pricing:
$120 for a single network licence
$230 for unlimited usage
3. Putler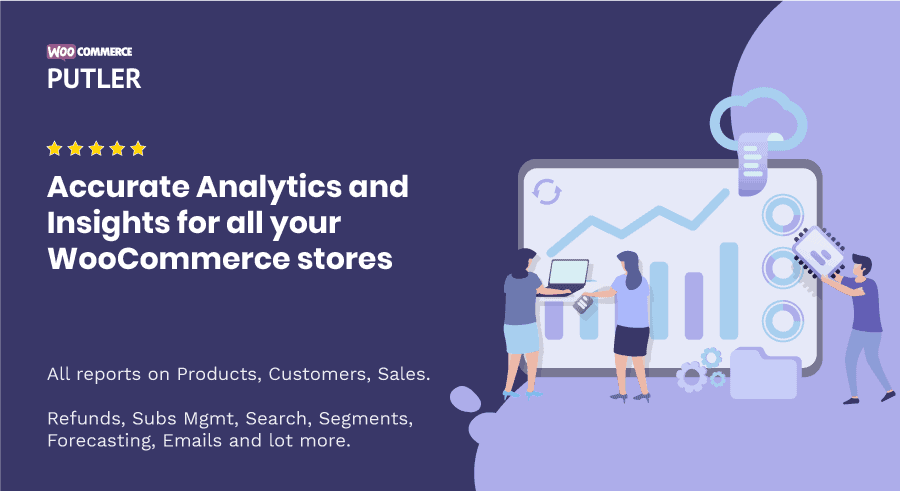 Do you want to keep an eye on your multiple stores in real-time? Then, Putler is the solution. With this plugin, you will be able to access an easy-to-use admin panel allowing you to manage and monitor how your stores work.
That way, you do not need to switch between WooCommerce store panels, do you?
Other than that, Putler comes with a business overview on the home dashboard. Also, You can get insights on current revenue, number of orders and customers, sales trend, top-selling products, comparison with previous three months, etc.
Further, you can use their Chrome extension to pull up complete customer profiles in any type of help desk or CRM!
Other Features:
Easy setup and installation
Search customer data
User-friendly and powerful analytics dashboard
Unlimited connection for WooCommerce multistore
A detailed and comprehensive performance report of transaction, order, and sales
Advanced filters
Integration with Google Analytics, payment gateways, and shopping carts
Pricing:
Starter: $20 per month
Growth: $50 per month
Custom
4. WooCommerce API Product Sync
From its name, we know that with WooCommerce API Product Sync, you can easily sync product data and manage them in one place.
Also, there are sync bulk options that help you to update everything related to the product in multiple stores like media, tags, and categories.
Hence, once you modify or make changes to a product in one store, it will reflect in another store too! Moreover, you can also delete products automatically in both the destination and source store.
Really, this is a good solution if you run separate WooCommerce stores!
Other Features:
Sync inventory
Create specific priced adjustment for each store
Auto and Manual sync
Support any kind of product (variable, virtual, grouped, and simple)
Exclude categories, products and metadata when syncing with web stores.
Pricing: $30 for a regular licence
Install WooCommerce API Product Sync ➜
5. Woo Multistore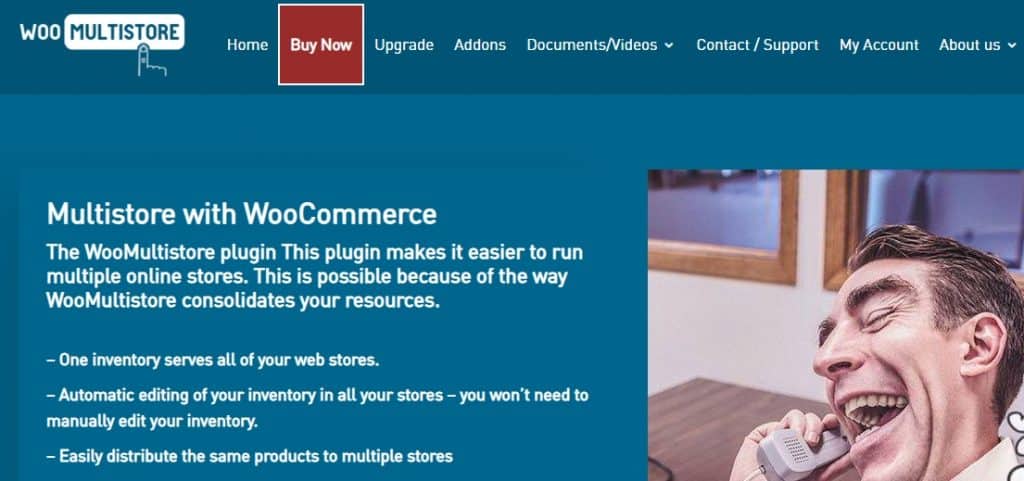 Woo Multistore belongs to the list of the best WooCommerce Multistore plugins you should try!
With this plugin, you can sell the same products in multiple stores, or your products will be featured on each site. You do not need to worry about the complexity and such since there is a single admin page to let you manage several sites.
Besides, you can access all the products that you feature in all stores. Moreover, there is automatic stock management for selling the same stock in various stores or keeping separate stock for each.
Woo Multistore supports all types of WooCommerce products. Meanwhile, you can export all or specific orders in CSV or XML file format.
Other Features:
Oversee and manage orders in one place
Set up different settings for each store such as languages, currency, and payment options.
Add different descriptions for the same product in each store
Customizable WooCommerce multistore pages
Pricing:
$199 for a single site licence
$299 for five sites licence
6. WooCommerce Multisite Duplicator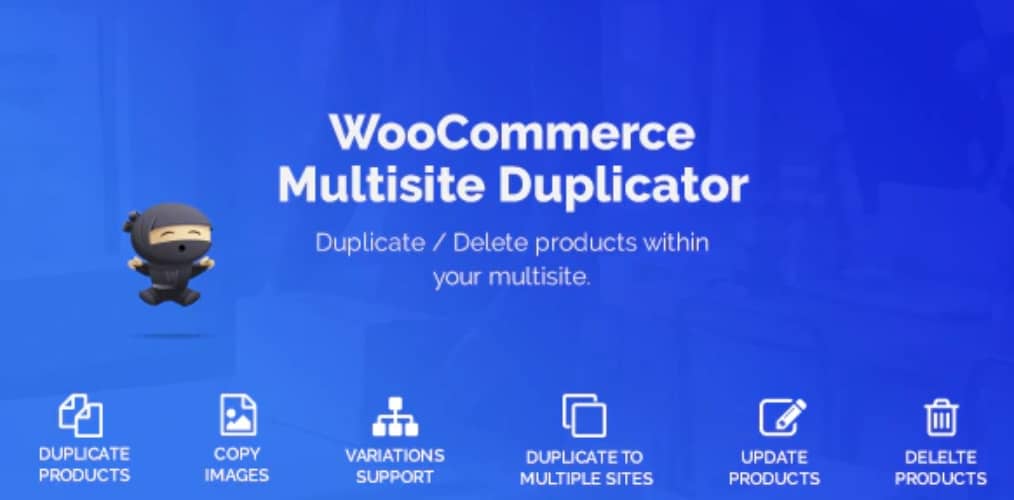 What do you do after cloning a new site? You certainly need to add and move the same products to your new store, right? Then, use this plugin!
WooCommerce Multisite Duplicator comes with an interesting feature that allows you to duplicate products to either another site or all sites in the same environment.
That is the common issue you may experience when setting up multiple stores. With this plugin, you can manage products easily.
Additionally, you will be able to copy product data such as metadata, taxonomies, images, and attributes.
Other Features:
Add similar products multiple times in different stores
Set custom post status and suffixes
Limit access to specific user roles or capabilities
Delete products network
Update product by slug, title, and SKU
Duplicate link on the product page and product list
Add any value of products in one store for other products in different stores.
Pricing: $24 for a regular licence
Install WooCommerce Multisite Duplicator ➜
7. WooCommerce Stock Synchronization

This is one of the best WooCommerce multistore plugins that has synchronization features. If you plan to sell the same products in a multisite network with different pricing, then this plugin is the perfect solution!
WooCommerce Stock Synchronization will help you update the inventory and sync all-important product data in all stores such as sales, orders, refunds, and stock. For the free version, this plugin sync stock quantities in 2 WooCommerce stores, whereas the Pro version can sync up to 5 stores.
No need to worry about privacy and security, this plugin has a built-in REST API to guarantee secure communication between your stores.
Other Features:
Background processing to avoid slow loading time
Compatible with WooCommerce 4.0 and above
Report dealing with synced product
Push all stock quantities from one store to another
Instantly sync stock changes via admin when the products are edited, refunded, or purchased
Edit stock quantity on the report list (Pro)
Pricing: Free, Pro ($89.00 with 30-Day Money Back Guarantee)
Install WooCommerce Stock Synchronization ➜
8. WordPress Multisite Plugin for WooCommerce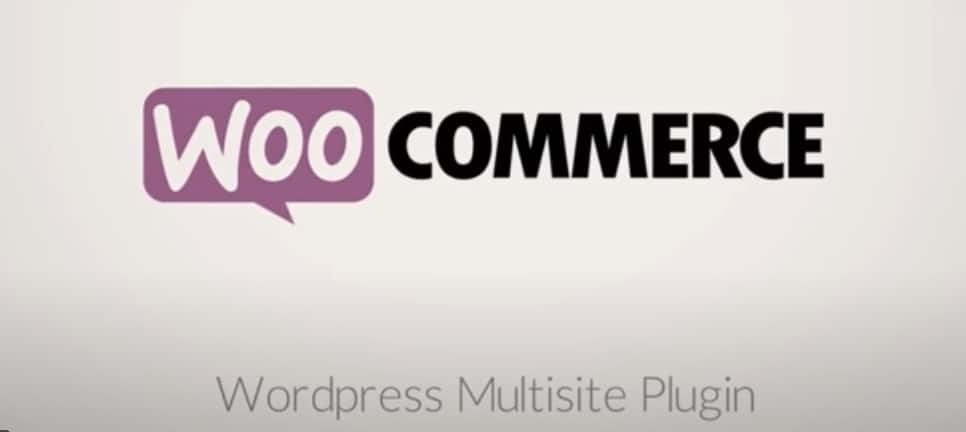 WordPress Multisite plugin is designed to control all products on every WooCommerce store. It offers a user-friendly admin page for data management.
Once you install the plugin, you are allowed to set different prices for the same product on each site. In addition, you'll be able to access and maintain separate content on multiple product pages.
Another interesting feature is the independent shopping cart and checkout page for each store. That way, customers experience a hassle-free transaction process.
Moreover, you can grow product reach with this plugin by only showing the desired products. Therefore, WordPress multisite helps you keep an eye on the products being searched by different users.
Other Features:
One admin panel to control multiple stores
Compatible with SEO YOAST plugin
Add a separate contact page for every store
Different UI for each WooCommerce store
A common search box to sell or offer the products related to each other.
Compatible with the latest WooCommerce and WordPress version
Pricing: contact info@brihaspatitech.com
Install WordPress Multisite Plugin ➜
9. WooCommerce Product Information Management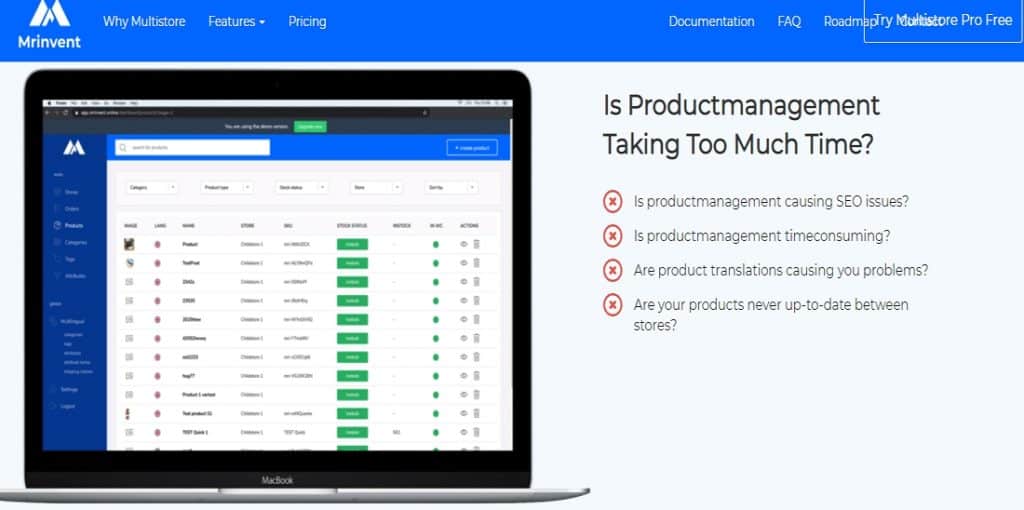 Are you looking for a multistore plugin with a faster workflow? WooCommerce Product Information Management is certainly a good choice! It manages all your stores from one single location.
You can take the benefits of this plugin to find and edit orders from each of your stores. In addition, you can keep multiple stores' data up to date.
Most importantly, WooCommerce Product Information Management syncs the stock value all the time. Consequently, any data or sale on one store will automatically reflect in other stores.
With this plugin, you can also manage and migrate products to any connected store at your pace. Moreover, there is an option to create or edit tags, categories, and attribute terms.
What a plugin to help in many aspects!
Other Features:
Add, delete, search, filter and manage products for all stores.
Support simple and variable product
Automatically sync any changes
Save button to store product database that yet to publish or change
All fields migration to all stores
Options to handle multilingual stores
Match products based on SKU (set different prices, titles, and descriptions for the same product
Pricing:
Basic: $20 monthly
Professional: $30 monthly
Masters: $50 monthly
Install WooCommerce Product Information Management ➜
10. Multistore Multivendor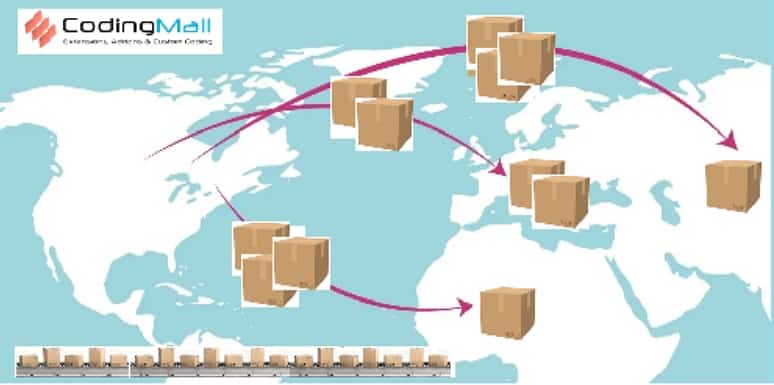 This is a super simple plugin to create your multiple front-end websites!
Once you install Multistore Multivendor, you can create multisite and multi-domain easily, no coding skills required. In other words, what you need to do is just simply install WordPress and WooCommerce.
Let's say you have a website with hundreds of products. With this plugin, you will be able to show some of them on separate domains or subdomains.
Other Features:
A different theme for each domain or subdomain (Premium)
Different WooCommerce settings for each store like shipping and tax rates (Premium)
Showing different WooCommerce products on each store (Premium)
Support Elementor (Premium)
Sharing of posts and pages between websites
Different menus on each site
Pricing: £299
Install Multistore Multivendor ➜
Which WooCommerce Multistore plugin interests you?
The eCommerce business is at its peak and just getting massive over time. As a result, a single website is not meant to sell different products for different audiences. Hence, multiple stores can be a solution to get rid of chaotic and messy eCommerce stores.
To sum up, such a plugin is there to help sellers manage their stores in an efficient manner. As you can see, there is a wide variety of best WooCommerce multistore plugins for businesses.
Above all, the concept of a multistore plugin is similar to WordPress multisite that allows you to manage multiple sites from one place.
Want your store to stand out among other competitors? Take a deeper look into the best WooCommerce Google Shopping plugins to see how it puts your store on the first page of Google's search results!