Adding products is one of the first steps you should do when starting a WooCommerce store. Do you still have no idea how to import products from your online store? Then, this article is for you! We will look over the 10 best WooCommerce product import plugins that make you run the process quickly.
Importing and exporting products can be done manually by filling up each of the fields. As the store owner, you should learn that such a process costs time since there are tons of product attributes, images, and variations. Hence, it is not a good option if you add a bunch of products.
And there are product import plugins that can give you some help!
These plugins come with more advanced features to manage various unique product types. Therefore, in this article, we will discuss:
Let's get started!
Why Do You Need a Product Import Plugin?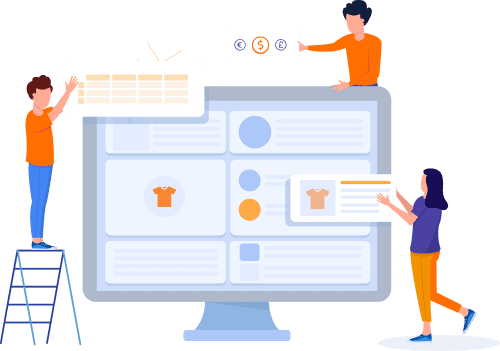 A product import plugin is essential for your WooCommerce store because it has the ability to handle import/export tasks in an effective way. Some factors that urge you to install this dedicated plugin are if you:
Most likely have lots of product details to add variations, images, attributes, and others.
Run a larger store or multiple stores
Have multiple product categories and types
If you belong to one of the criteria above, then having such a plugin is a big deal! You definitely need it to get rid of the complicated process of importing and exporting products.
Hence, there are some benefits of this plugin you can take as follows
Import and export data in bulk
Import any kind of information for your store
Export customer lists in CSV format and use it as a mailing list tool
Import and export products across different WooCommerce store
What Are Things to Consider Before Purchasing A Product Import Plugin?
There are several things to take into account when you are about to go for a plugin to import products to your eCommerce store.
1. User Reviews
We recommend you read users' reviews since it is one of the decisive factors to purchase. If most of the reviews are positive, it means they are satisfied with the product.
2. Plugin Vulnerabilities
You'd better not choose plugins that have no regular updates. You can look into the WordPress Plugins Vulnerabilities database to check your plugins' vulnerabilities.
3. Support Option
It's important to get a plugin providing support options just in case you encounter any issues when using the software. Basically, there should be at least a contact form or email account on the website to reach out to the developers or support team.
4. Plugin Source
Before being approved and launched to users, some best WooCommerce product import plugins must pass an internal testing process. Hence, you should look for the plugin in the WordPress directory first (WordPress.org). If you could not figure it out, kindly search on Google to check the website in which the import plugin is developed.
Best WooCommerce Product Import Plugins Free and Premium
In fact, there is already a default option in WooCommerce for product import/export. However, such a default tool has limited features that are helpful for basic usage. Hence, here we have the 10 best WooCommerce product import plugins along with the key features and pricing.
These plugins help you work conveniently in the import and export process. Here is the list for quick navigation.
Let's read on.
1. WP All Import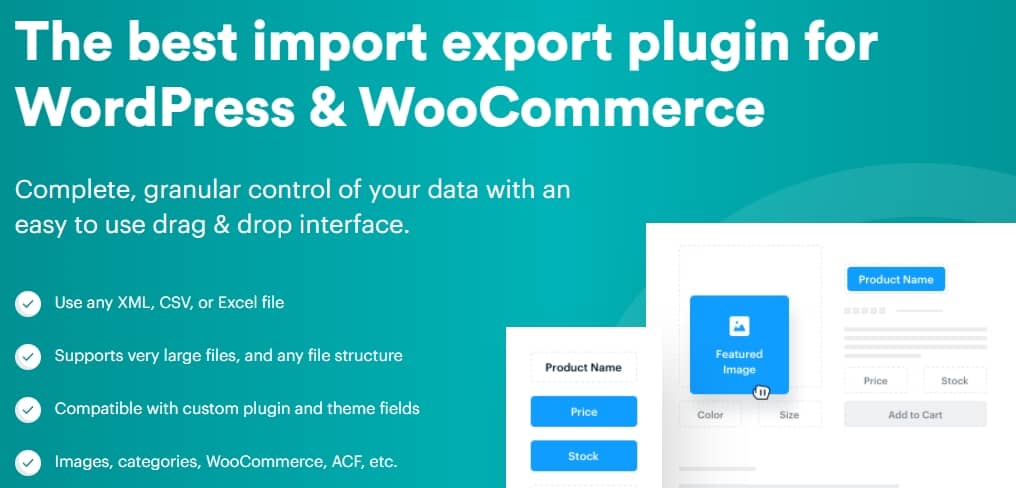 WP All Import is the first great option to import product data to your WooCommerce store. It has a unique user interface that helps you handle a huge file with various products.
Besides, you will be able to export and edit product data in bulk. Also, this plugin offers flexible scheduling options for store owners.
Moreover, you are allowed to import various product types such as affiliate, simple, and grouped products. Additionally, WP All import lets you convert currencies, mark up or down the prices, and process large files as well.
Other Features:
Supports Excel, XML or CSV files
Detects taxonomies, custom fields, image galleries, and other aspects of a site automatically
Drag & Drop interface
Supports different file structures
Pricing: Free and 3 Premium versions
Import Pro Package: $249 one-time fee
Import + Export Pro Package: $299 one-time fee
WooCommerce Import Package: $149 one-time fee
2. Woo Import Export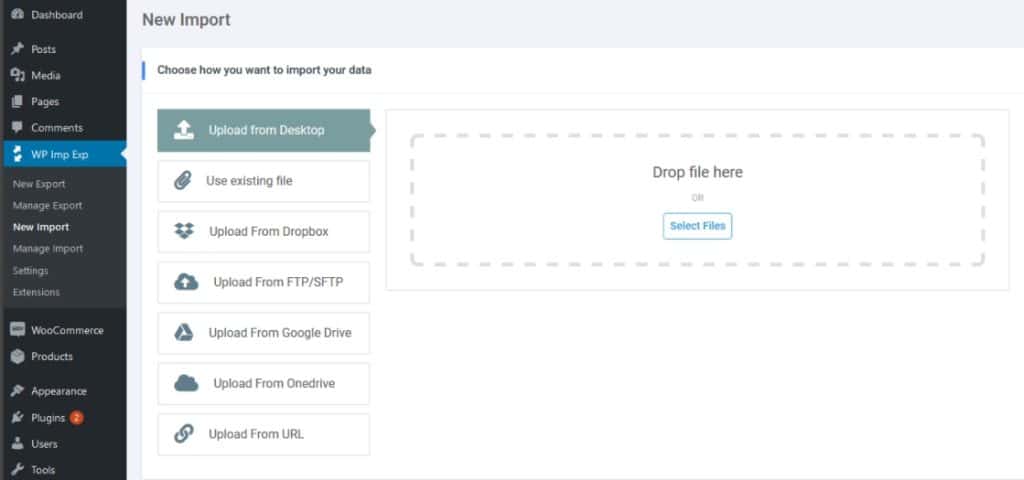 Not only does it support product import, but this plugin also comes with an export module. Woo Export-Import is a lightweight, quick, responsive, and easy-to-use plugin.
Also, you can export or import all kinds of product categories, users, and orders with this plugin in just a few clicks. Moreover, there is an import and export log so that you will be able to check all available export and import data. You can turn on this option under the advanced option
Other Features:
Import/export product at scheduled time
Multiple filters option to sort any specific product type and data
Robust field management
Ajax products for order and user import system
Export management
Multilingual support
Supports Multiple file format
Pricing: $79 for a regular license
3. Product Importer Deluxe

Are you looking for a plugin to help you import unlimited products easier and faster? Then, this plugin is a good and simple solution for you!
Product Importer Deluxe imports all product-related data like subscriptions, variations, attributes, tags, categories, and featured images. Besides, you can use this plugin to generate products and make changes to existing products with the help of live and post-import reporting.
Besides, this plugin lets you import product details from some well-known WooCommerce plugins like Woo Subscriptions, WPML, and Woo Custom Fields. What's more, you can customize the product's imports as needed.
Other Features:
Supports any type of product (simple, variable, external)
Advanced control options
Attach all product details to the CSV file
Downloadable full import reports
Review import options
Link import file fields to your WooCommerce product fields
Supports CSV file, URL or FTP
Pricing:
$99 for one store
$189 for one to five stores
$399 for unlimited number of stores
Download Product Importer Deluxe ➜
4. Product CSV Import Suite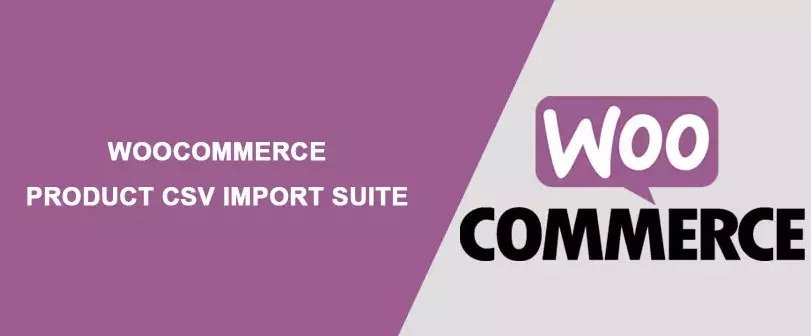 As its name says, this plugin is one of the best WooCommerce product import plugins to manage and upload product catalogs easily. It is developed by WooCommerce itself and comes with a bunch of features.
With this plugin, you will be able to sell any type of product in your store including product bundles, bookings, subscriptions, and composite products. In addition, you can merge products to add more information like attributes and categories to the existing products.
Moreover, you can use this plugin to manage your catalogs such as bookable products and more. Also, you can bulk update the price, description, and custom data of the products. 
Other Features:
Update the stock on a relative basis
Import Custom fields
Import text-based product data (price, description, images)
Create, upload, and update many products at once.
Catch all custom field information without code
Import information into any custom taxonomy
Export data to a CSV file
Pricing: $49 for a single site, $79 for five sites, and $149 for twenty-five sites.
Download Product CSV Import Suite ➜
5. WooExim WooCommerce Export-Import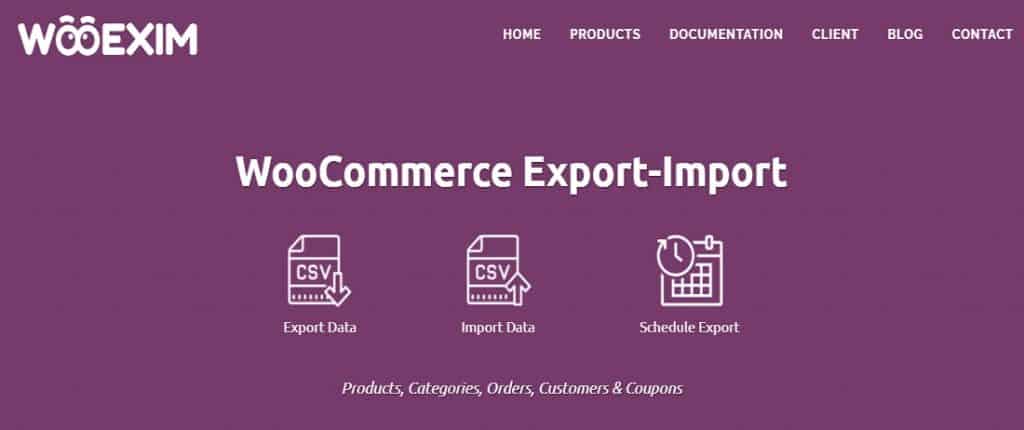 WooExim is quite popular among WooCommerce store owners to both import and export products. This plugin supports all product types, attributes, and custom fields.
There can be no doubt that it belongs to the best WooCommerce product import plugins since it is loaded with lots of exciting features. You can use WooExim to either import or export products, customers, categories, tags, coupons, etc.
Besides, you will be able to export product data to a CSV file. Also, you can import data with CSV files or remote file URLs. WooExim uses an Ajax-based import system so that you can import products without even uploading the CSV file.
One of the key features in WooExIm is Scheduled import. In just one click, you will be able to create a schedule for importing products and categories. Further, you can set multiple schedules and send scheduled ones to the email you want to.
Other Features:
Multiple filter and export options
Easy interface
Supports multiple languages
Import preview to check data and make changes
Pricing:
$39 for single site licence
$159 for unlimited sites
6. WooCommerce CSV Import Export Plugin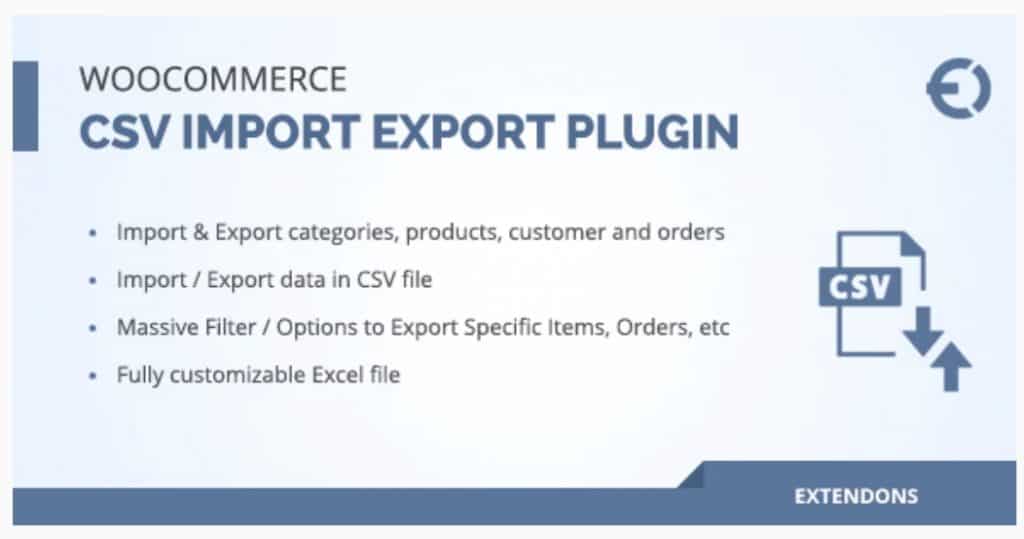 This is another simple yet robust plugin you should install on your online store! With Woo CSV Import Export plugin, you can import and export products in bulk. This plugin helps you much in handling export-import-related things for products, categories, and orders.
Also, the export-import process will run quickly as Woo CSV is powered by the PHP Excel library. This plugin offers filter options so that you can sort specific categories, users, orders, and products to convert to a CSV file.
Not only with the CSV file, but you can also separately get the product or orders-related data by importing the zip file. The most interesting feature is you can download either all customers' or some customers' data in just a single click.
Other Features:
Robust export filters to extract specific categories
Customizable excel file
Set maximum entries to import/export data
Import/export product reviews
Import/export coupons
Pricing: $25 for a single site license
Download WooCommerce CSV Import Export Plugin ➜
7. Product Import Export for WooCommerce by WebToffee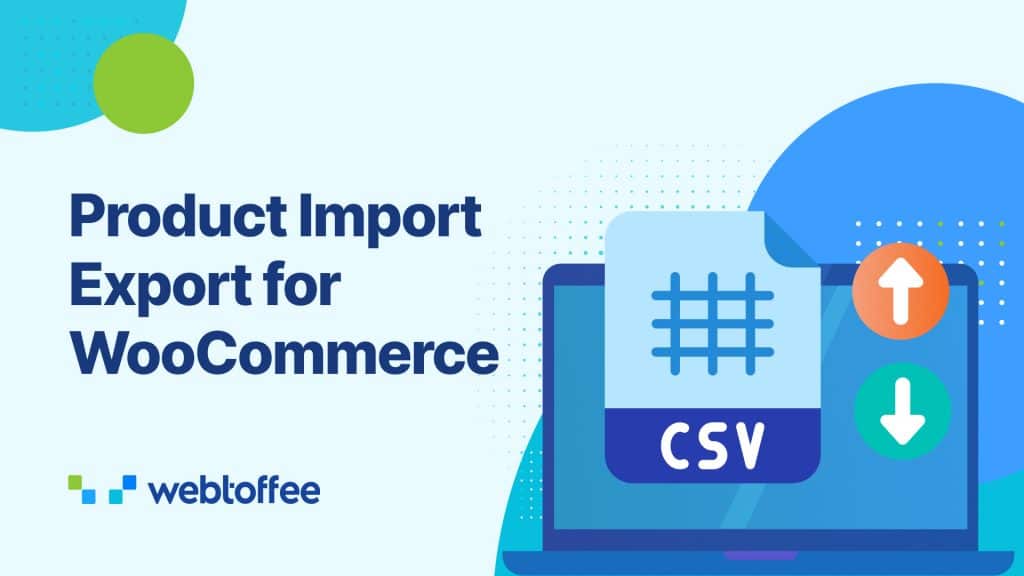 A plugin developed by WebToffee is on the list of the best WooCommerce product import plugin. Product Import Export for WooCommerce is a basic plugin providing lots of great and amazing features. No wonder it is popular and has more than 70 thousand active installations!
Moreover, this plugin allows you to either export or import simple products along with the pictures by using CSV files. You can also import bulk products too!
Another attractive feature you will get in this plugin is various methods of importing products. There are 3 methods: importing CSV files via FTP/SFTP, uploading a CSV file, and importing from CSV URL.
Furthermore, you can schedule import timing and manage the import interval and starting time at your own pace. What a plugin with abundant benefits to try!
Other Features:
Import and export simple products via CSV and XML files
Custom import and export with multiple filter options
Compatible with 4.4.1 version of WooCommerce.
Import and export scheduling through FTP and URLs
Import product reviews
Supports all four product types (simple, variable, group, external)
Compatible with other plugins like Dynamic Pricing and Product Bundles
Map fields and save mapping settings for uploading CSV
Pricing: Free, and Premium with 3 plans
Single site: $69 per year
Up to 5 sites: $99 per year
Up to 25 sites: $199 per year
Download Product Import Export for WooCommerce by WebToffee ➜
8. Product Import Export with Excel for WooCommerce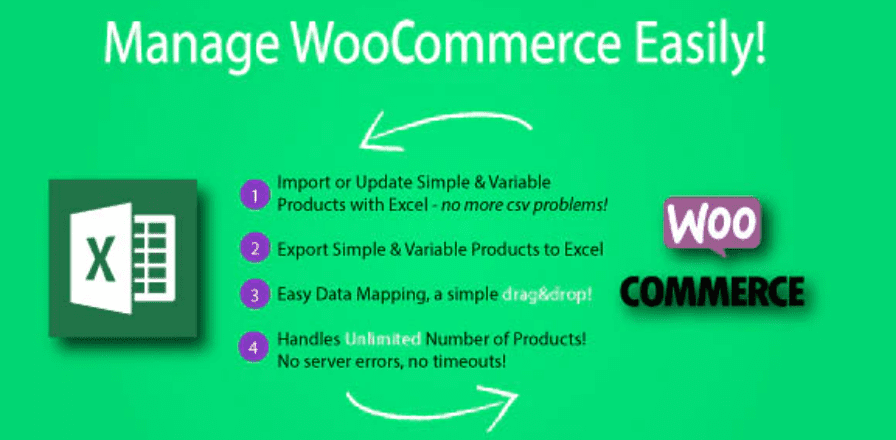 This is another feature-rich product import plugin you should be using!
As its name suggests, you can handle product import in a simple Excel file instead of the CSV one. Moreover, you will be able to update, import, and export your WooCommerce products effortlessly.
Besides, there is a bulk importing feature for multiple and variable products so that you can manage stores easier. Additionally, this plugin supports various fields such as tags, taxonomies, descriptions, etc.
Most importantly, this plugin has an Ajax-powered module that allows you to upload or update unlimited products at once.
Other Features:
Import product details like titles, images, attributes
Data mapping
Drag and drop interface
Automap Excel Columns with Product fields
Supports WPML
Delete WooCommerce Products with Excel
Pricing: $57for a single site license
Download Product Import Export with Excel ➜
9. Migrate & Import Shopify for WooCommerce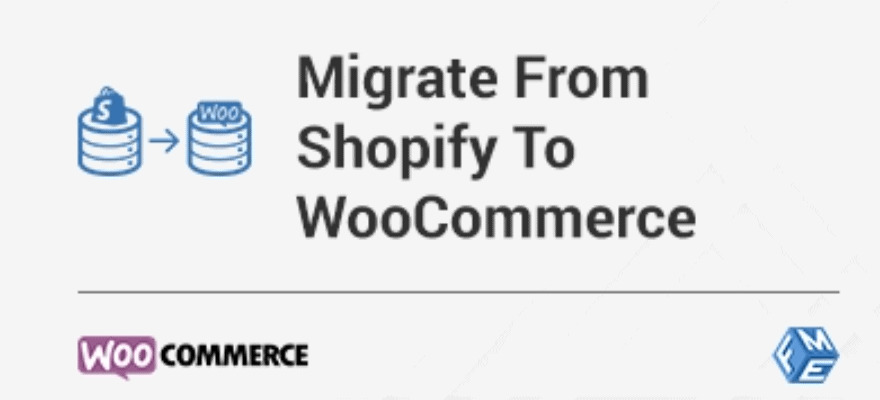 Shopify is one of the best eCommerce app marketplaces and is well-known worldwide. If you have your online store set up in Shopify and want to move it to WooCommerce, this plugin will give you a hand!
With this plugin, you can migrate all the store's data in just a few minutes. That is to say, you can import orders, blogs, pages, products, coupons, and other essential aspects to WooCommerce.
Most importantly, the plugin uses an API key to undergo the importing process. So, you do not need to worry about data loss or security issues.
Other Features:
Track import with a progress bar
Easy and simple to configure
Import orders at a specific date
Filters to import all or specific products
Pricing: $79 per year with a 30-day money-back guarantee
Download Migrate and Import Shopify ➜
10. Advanced Product Importer by Nxtal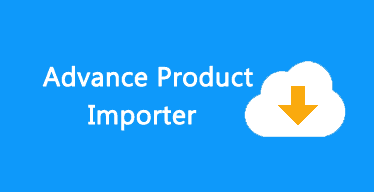 Do you want to import products from different markets? Then, Advanced Product Importer is the best workaround!
With this plugin, you can import products from various marketplaces effectively to your WooCommerce store. The marketplace sites supported by this plugin are Walmart, AliExpress, eBay, and Amazon.
Other than that, Advanced Product Importer allows you to add or make changes to your existing product information. Also, you can import data such as price, description, image, SKU and many more.
Other Features:
Sell the imported products as an affiliate or yours
Secure import by credentials
Free chrome extension
Import product as Simple, Variable or Affiliate.
Additional advanced options feature
Pricing: $169 annually (30-day money-back guarantee)
Download Advanced Product Importer ➜
Which WooCommerce Product Import Plugin Will You Choose for Your Store?
All these plugins are compatible with WooCommerce stores, so no additional apps or extensions are required. Other than that, most of the plugins have Export and Import mode depending on how you use it.
Besides, each plugin in our list comes with a set of different and robust features as well as pricing. Therefore, we suggest you choose the one that suits your store's needs and requirements.
We hope this article has made up your mind about the WooCommerce product import plugin and how it provides advantages to your stores. Above all, such a plugin has a bunch of functionalities that allow you to just pick the data to import.
Also, if you have lots of different products and intend to sell them in a separate store, you can install one of the 10 Best WooCommerce Multistore Plugins to help you manage all stores in one place!