For eCommerce stores, shipping is extremely the most important aspect as it leads to customer experience. The most popular eCommerce platform is WooCommerce as it powers 25% of online stores worldwide. If you are using WooCommerce, you should install the best WooCommerce shipping plugins to make the shipping services easier.
A shipping plugin is necessary for an effective shipping strategy for online stores with a bunch of products and lots of customers in different locations. Other than that, it helps you execute a robust shipping solution and maintain customer relationships.
In this article, we'll go through:
Here we go!
What is WooCommerce Shipping Plugin?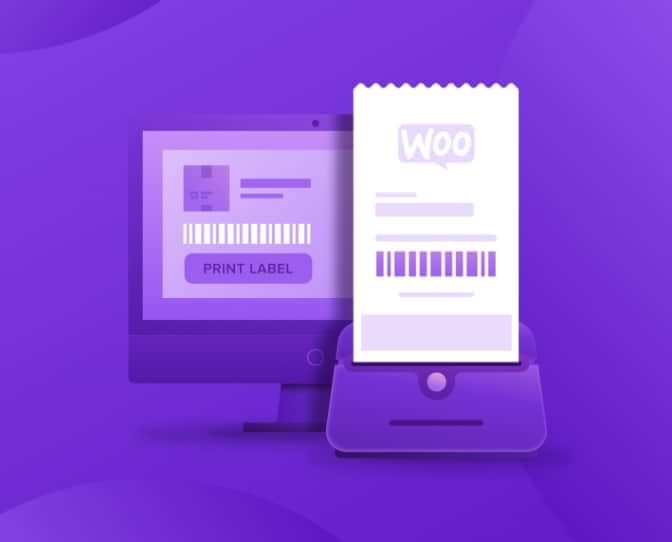 A stand-alone WooCommerce plugin offers a basic store functionality that you can set up easily from the WordPress dashboard. However, it has many available extensions that you can take advantage of, shipping plugin for instance
WooCommerce shipping plugins provide incredible functions to optimize customer experience and cope with shipping-related problems. Also, this kind of plugin helps your store automate the shipping process since it lets customers choose delivery dates of their will.
Other than that, the WooCommerce shipping plugin plays a significant role in sales and revenue. A small mistake in product shipping will make your potential customers upset. Hence, your store is supposed to add a shipping plugin to get rid of any shipping mistakes.
As a result, you can improve customer satisfaction since their purchase arrives at the expected time and in good conditions. And that way, sales are done and complete since your customers receive the purchased product and use it in their hands, right?
Why Should You Use WooCommerce Shipping Plugins?
Little did we know that shipping can involve several moving steps. It begins with rate calculation, printing labels, and order tracking.
It is supposed to be done in a simple way for package delivery. Therefore, choosing the best WooCommerce shipping plugins is significant to increase customer experience and conversion rates.
Here are the benefits of the WooCommerce shipping plugin
1. Expand eCommerce Store Functions
Besides making the delivery process more comfortable, the shipping plugin makes your store easier as well to attract customers. There are multiple shipping options you can set up for your products and customers.
With these built-in options, you can lessen the hassle by offering local delivery and pickup, flat rate, and international shipping. Also, customers can get the lowest rate based on their locations once you set the rate to "Automatic".
Moreover, shipping plugins come with a wide variety of settings such as
Add a shipping calculator in shopping cart
Hide the shipping rate unless the customers input an address
Allow customers to set the billing or shipping address.
2. Automate Communication with Customer
Shipping plugins can help the delivery process work seamlessly because it automatically counts shipping rates, communicates with customers, and prints shipping labels.
It would not be wrong to install the best WooCommerce shipping plugins when you have to ship purchased goods to many customers. Instead, it will make the shipping process much easier and increase revenue.
Also, you can integrate WooCommerce with the right shipping services like DHL to reach customers. Hence, you can sell products globally since all people over the world are able to access your product and close a sale.
What Makes a Good WooCommerce Shipping Plugin?
The majority of all shipping plugins offer similar features catering to the shipping process' requirements.
Here are important features you should take into account before selecting the best WooCommerce shipping plugin.
1. Flexibility
A shipping plugin should be able to calculate a fair price or different rates for a wide range of product quality, product characteristics, quantity, dimension, and weight. Besides, it should support multiple shipping methods that depend on customers' needs.
2. Logistical Support (Domestic & International)
Any kind of business or store owner must be able to cater to all purchase requests. A good WooCommerce shipping plugin should provide both domestic and international shipping options since we never know where the customers come from.
3. Shipment Tracking
Once customers make a payment for the product they purchase, they expect to track it and need shipping information. Tracking is the essential part of an online store to develop trust as well as reputation. This is what customers need and sometimes becomes the reason for any dropout or cancellation.
Besides those 3 features, here are five things eCommerce stores should do for a successful shipping
Accurately calculate shipping rates during the checkout process
Correctly print packing lips and shipping labels
Update and notify customers once their products have been shipped
Give information to customers to track shipments
Be ready to help and provide solution for every shipment problem
Best Free WooCommerce Shipping Plugins
Here are the 10 best WooCommerce shipping plugins to execute and improve your online store's shipping operations
Let's dive right in!
1. Table Rate by Flexible Shipping
This is the first best WooCommerce shipping plugin we recommend to you!

The naming is a little bit confusing indeed as it is known as "Table Rate for WooCommerce by Flexible Shipping" under the WordPress repository. However, the Pro version calls it "Flexible Shipping Pro by WPDesk" for the official name.
Flexible Shipping allows store owners to create multiple shipping methods and cost-calculation rules. Therefore, you can calculate the costs based on quantity, location, weight, and cart total.
Besides, you will be able to add descriptions and names to shipping methods and create COD as well. Moreover, this plugin lets you add an insurance cost or handling fee when reaching a certain order value.
Another attractive feature is you can display a particular shipping method to only users who log in already. This can be a trigger to make potential leads and customers sign up before closing a deal.
Other Features:
Intuitive UI
Set up multiple shipping rates depends on destination and countries
Free shipping override
Maximum and minimum values for cart weight and cart total
WooCommerce 2.6 Shipping Zones supported
Compatible with WPML and Polylang
Notification about shipping zone configuration conflict
Shipping classes support (Pro version)
Price: Free, Premium: $89 yearly
2. WooCommerce UPS Shipping

Integrate and configure United Parcel Service (UPS) Shipping in just 5 minutes for real-time shipping rates. This is the best WooCommerce shipping plugin providing a wide range of UPS shipping options.
UPS Shipping plugin is developed by WPDesk which is known for its high-quality support and plugin. No wonder UPS Shipping is used by more than seventy thousand eCommerce stores all over the world!
Once you put on this plugin, every single shipping cost is counted automatically by the UPS API connection. As a result, customers can see UPS shipping options with its real price on the checkout page.
Furthermore, this plugin has UPS Access Points options for delivery. Hence, customers can select the closest points to pick up the purchased package and save WooCommerce orders.
Other Features:
UPS negotiated rates enabled
Add insurance
WooCommerce Shipping Zones supported
Limit manual UPS service
Pickup types
UPS SurePost services (for US shipment)
Support all currencies
Debug mode
UPS access point flat rate (Pro version)
Delivery confirmation (Pro version)
Price: Free, Premium: $69
Install WooCommerce UPS Shipping ➜
3. Advanced Shipment Tracking

Advanced Shipment Tracking is one of the best WooCommerce shipping plugins to help you track information and complete orders. By installing this plugin, your customer will be well-informed about their order status so that it increases customer satisfaction.
One of the key features is the ability to add shipment tracking information into the WooCommerce order completion email. Consequently, this reduces the time spent handling post-shipping inquiries.
Advanced Shipping Tracker will send email notifications once customers place an order. Soon afterward, they will be able to track the order status and information. Moreover, this plugin also allows you to integrate with external shipping service providers and personalize the display layout, fonts, and colors of the email information.
Other Features:
Shipment tracking API for smoother workflows
Customizable display and email options
Add your own shipping service provider
Tracking info widget
Add multiple tracking numbers to the same orders
Predefined tracking link
Import tracking info from CSV files
Tracking per item (Pro)
Export tracking info to Paypal (Pro)
Price: Free, Pro: $129 per year (single site)
Install Advanced Tracking Shipment ➜
4. WooCommerce Print Invoice, Packing Slip, Delivery Note & Label

Invoice and packing list are standard requirements for an online store to ship a package. Also, invoices should be included when you sell a product globally. Unfortunately, WooCommerce does not let users print any document from the orders page.
Such documents can build company branding and create a good impression for customers. Invoice, label, and packing list confirm what the package contains and details of the purchase.
Therefore, this plugin comes to help you generate PDF invoices, packing lists, packing slips, and shipping labels. By using this extension, you can seamlessly process the order and shipping.
Furthermore, the plugin offers customizable PDF invoices so that you can personalize your own. And yeah, no need to worry about what to display on the automatically generated invoice.
Other Features:
Custom shipping label
Bulk print options
Send PDF invoice by Email
Custom return policy
Set up invoice templates
Preview before printing
Compatible with third-party plugins like WOOCS and Multicurrency
RTL and Unicode languages supported.
Price: Free, Premium: starts at $69 per year
Install WooCommerce Print Invoice ➜
5. WooCommerce Advanced Free Shipping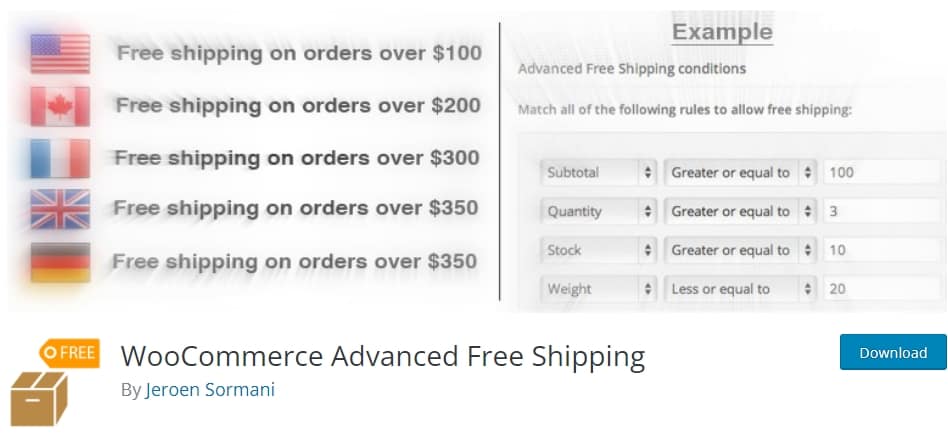 Another recommendation for the best WooCommerce shipping plugin is Advanced Free Shipping. This plugin lets you set up advanced rules that determine the availability of free shipping rates for customers.
As its name implies, the plugin is developed to grant you full access to manage free shipping rules. Hence, you can easily set free shipping rates for many user roles in one shipping rate for instance.
By installing Advanced Free Shipping, you will be able to create multiple 'OR' condition groups along with the various 'AND' conditions inside each group within each shipping rate.
Other Features:
Translation request
Available in some languages (currently English, Spanish, Portuguese, Italian, and Greek)
Free shipping threshold message
Customize the plugin with code snippets
Enable different shipping conditions based on subtotal, zip code, and quantity
Price: Free, Premium: $18 for 6 months
Install WooCommerce Advanced Free Shipping ➜
6. MultiParcels Shipping
MultiParcels Shipping is another best WooCommerce shipping plugin to integrate shipping methods with your couriers. It offers ease of use functionality and real-time shipment delivery prices.
This is a good choice if you want to link the packages to send with couriers. You can set up delivery methods such as via post office, terminal, or post boxes.
The good news is MultiParcels has free shipping options too. Also, you can set automatic appointments for courier pick-up and COD services for buyers as well.
Other Features:
Pick-up point selector on the checkout page
Hide city, postal code, and address fields when a customer chooses 'Local Pickup' and when delivering to pick-up points.
Carrier logo display
Omnisend supported (to send tracking code to customers)
Automatically create a shipping label
Multiple sending locations/warehouses
Price: Free, Paid: €0.10 per month
Install MultiParcels Shipping ➜
7. Fish and Ships

Mostly, online stores set generic shipping costs that are too high for some products and low for others. Fish and Ships comes with the most flexible shipping method and table rate.
This plugin is easy to use since people can set up shipping rates based on weight, volume, price, cart products, and cart total. Also, this offers conditional use cases such as conditional free shipping, conditional flat rate, conditional local pickup, and any other.
Fish and Ships allows you to add on multiple conditional rules for shipping cost calculation based on table rate. Hence it helps boost your eCommerce store's sales and revenue.
Other Features:
Set aggrupation of the items cart
Calculate shipping cost per product weight, price of the product, and many others.
Rename shipping methods and add custom messages to take control of carts and reduce cart abandonment
WPC Product Bundles supported
Multicurrency products supported like Aelia and WOOCS
Intuitive wizard
Multilingual supported by using WPML plugin
Add import and export setting
Price: Free, Premium: starts around $58 + tax
8. Weight Based Shipping

This is a simple yet multipurpose WooCommerce shipping plugin. The weight-based shipping plugin is focused more on computing shipping rates based on order weight.
Although it relies mostly on order weight, this was not restricted to other rules and various conditions. You can still create multiple shipping rules as you need based on subtotals, order locations, weight ranges.
You can also enable a free shipping option for customers in a specific condition. Besides free shipping, each rule is adjustable to show constant price or progressive charge based on cart weight, or both.
Other Features:
Shipping classes support (Plus version)
Conditional free shipping
Shipping price limit
Price: Free, Plus version: $19
Install Weight Based Shipping ➜
9. Booster for WooCommerce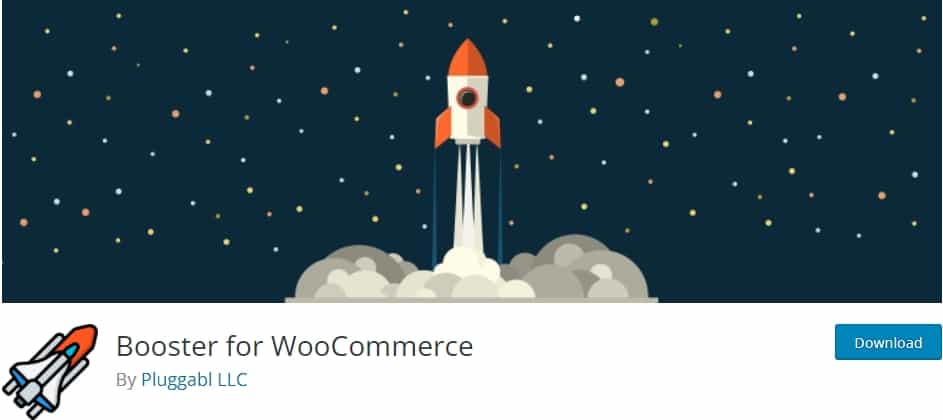 With more than 80,000 active installations, Booster has reached popularity among eCommerce store owners. This is an all-in-one WooCommerce plugin that helps boost the functionality of your website!
By using Booster, there is no need to rely on so many WordPress WooCommerce plugins out there. Booster combines all the things you need in a single bundle with hundreds of features and more to come.
Moreover, Booster is easy to set up and customizable for everyone. You do not need coding skills to leverage its features.
You can also optimize website speed with Booster by enabling the feature you need. Booster is zero bloated as it has a modular architecture.
Other Features:
Add professional PDF invoices and packing docs to streamline orders
Add product custom input fields
Automatic exchange rates to display international customers' currency
One-page checkout to reduce cart abandonment
Customizable shopping cart to add buttons, additional fees, coupons, etc.
Product addons (label and pricing)
Custom payment gateway based on location, currency, and shipping method.
Reporting, emails, and administrative tools
Price: Free (68 features), Plus (198 features): $11.99 – $13.99 annually
Install Booster for WooCommerce ➜
10. Estimated Delivery Date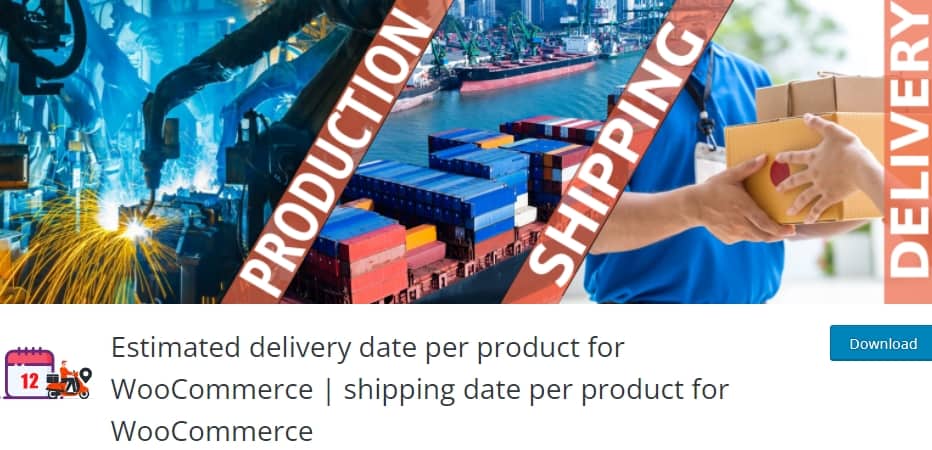 These days, customers always take note of when their product should arrive based on the estimated delivery date shown on the website. The thing is customers can drop out or think twice to purchase the product if the site fails to display the date.
And that's how the Estimate Delivery Date plugin can help!
This plugin will show the estimated delivery time and date on some pages such as the checkout and cart page. As a result, customers surely purchase the product without a doubt.
Also, you can add a range of estimated dates to show the minimum and maximum delivery days the product should be in the customer's hands.
Other Features:
Set shipping days for all products
Add production time for a specific product
Delivery days for each shipping method in a different location
Personalise text and background color of the estimated date message
Set default shipping zones
Disable estimate message on the Cart page (Pro feature)
Add holidays for more accurate delivery estimate (Pro feature)
Price: Free, Pro plan: $27 per year
Install Estimated Delivery Date ➜
So, Which WooCommerce Shipping Plugin Should You Use?
eCommerce stores that sell physical products have to pay attention to the shipping strategy. They need to consider several factors to ensure the delivery process is done successfully. Hence, customers will get satisfied and receive the product in a good condition.
We hope that this list has given you a better idea of what WooCommerce shipping plugins are out there. Now we come to the real question — which one is the best WooCommerce shipping plugin?
Well, all the plugins aforementioned have excellent features and options. It depends on your needs when deciding which plugin to use. It is also on your hand to build a flexible and trusted online store by using such a plugin and a fast-loading WordPress theme that has integration to WooCommerce, Suki for instance.